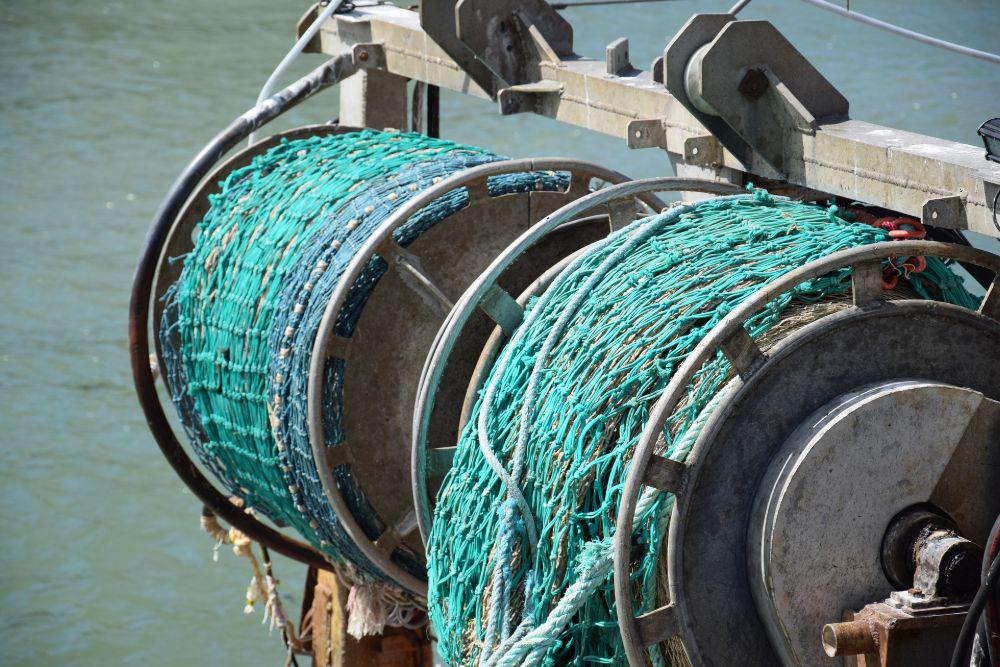 Jersey fishermen are being stopped from landing catches in three French ports, whilst the Guernsey fleet is being advised not to.
The unloading of fishery products by Jersey vessels at the ports of Barneville-Carteret, Dielette, and Granville is not being allowed until further notice.
External Relations Minister Senator Ian Gorst says Jersey's government 'regret this action and don't believe it is compliant with the terms of the Trade and Cooperation Agreement'.
"For that reason, we will refer the notice of this decision immediately to the European Commission."
Meanwhile, Guernsey fishermen are being advised by French merchants to wait until the situation has calmed down. It's understood many are fearful because of this week's tensions.
Deputy Jonathan Le Tocq, Guernsey's political lead on International Affairs says he hopes a swift resolution can be reached.
The action has left many Channel Island fishermen looking for alternative local buyers for their catches.
This development follows the protest by French fishermen in St Helier Harbour yesterday (6 May) over the licence conditions for fishing in Jersey waters.
56 vessels arrived in Jersey's port in the early hours of the morning holding up signs, waving flags, letting off flares, and demanding talks with Jersey officials.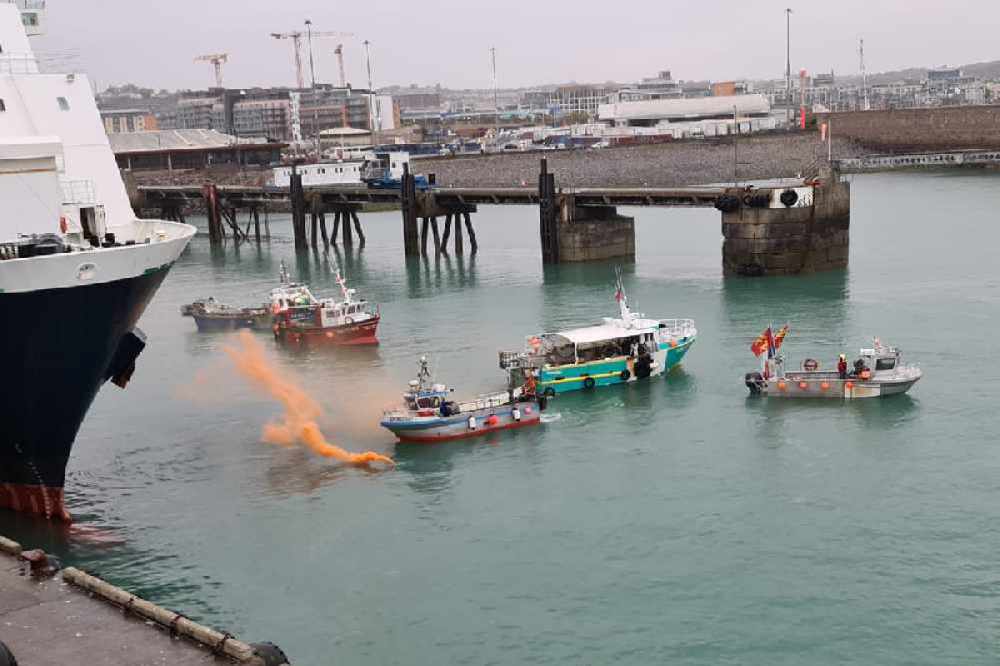 Picture Credit: Macio Agostino
Assistant Environment Minister Deputy Gregory Guida and Greg Morel from Natural Environment Marine Resources went on the Norman Le Brocq Fisheries boat to speak to them on another boat to listen to their concerns.
Deputy Guida told Channel 103 that it was 'a fantastic opportunity to hear their problems' and 'there was no animosity'.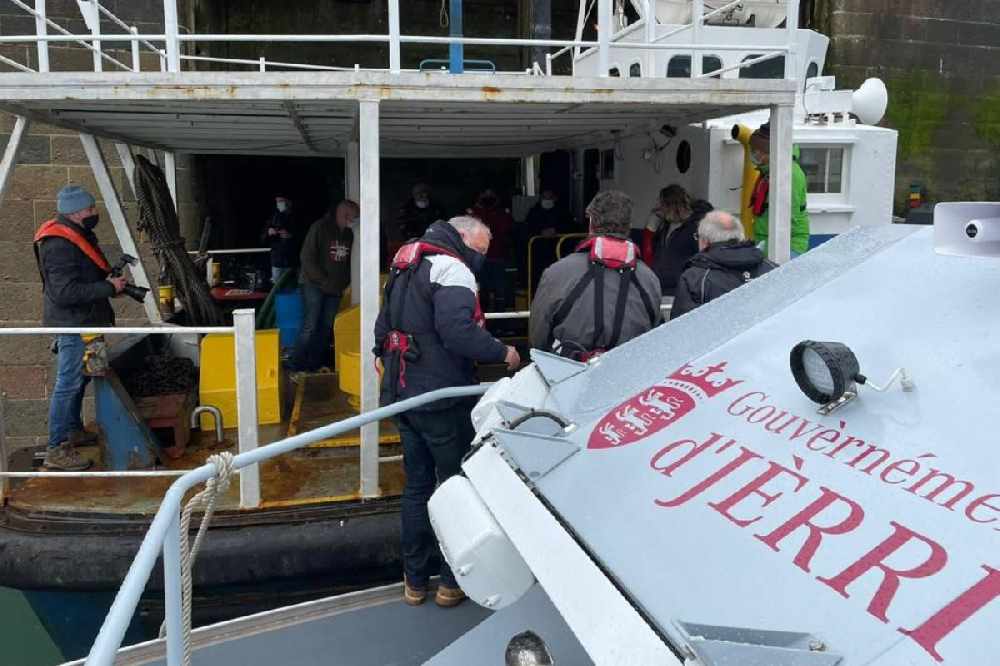 He estimated that most of the issues raised by the fishermen were because of 'extremely deficient' data by which the licences are issued.
That data travels from French fishermen to Paris, onto Brussels, to London, and then to Jersey.
"There were days missing, there were types of fishing missing. When we issued the licence on view of the data that we actually had we didn't try to trick anybody, we just tried to use the data that we had.
"People were surprised that some of their activity was not recorded on it and of course to have a face-to-face meeting allows you to clear things those things very quickly."
The fishermen departed Jersey a short time after that 90-minute meeting.
Deputy Guida also revealed to us
that French authorities have asked their fishermen, upon their return, not to talk directly to government officials - and questioned why French officials 'would want to avoid that'.
"I can't understand why they wouldn't want their fishermen to talk about the people managing the fishing where they fish!
"Especially considering that anything official, any request, any data, has to come through the normal and official challenges anyway.
"I don't understand it."
Following that meeting, Chief Minister Senator John Le Fondre said the government wants to create a forum to allow officers to engage with all fishermen in the region 'openly and constructively'.
Earlier this afternoon, Le Manche Deputy Bertrand Sorre wrote to President Emmanuel Macron asking for a meeting with him, fishermen and representatives from Jersey.
Après l'action des pêcheurs a #Jersey le député de la Manche @BertrandSorre a écrit à Emmanuel Macron. Il propose une rencontre entre le président, les pêcheurs et des représentants de Jersey à #Granville pic.twitter.com/9XFeOgILRN

— Marie Carof-Gadel (@mcarofgad) May 7, 2021
Normandy and Brittany Presidents Hevre Morin and Loig Chesnais-Girard have written to the European Commission asking them to make sure the agreements on fishing in Jersey's waters are respected.
Avec @LoigCG nous demandons à la Commission Européenne et @VSinkevicius d'agir pour faire respecter les accords sur la pêche dans les Iles Anglo-Normandes notamment dans les eaux de #Jersey ! pic.twitter.com/XtAWPz3L1O

— Hervé Morin (@Herve_Morin) May 7, 2021
The European Commission has said that Jersey is not meeting the conditions of the post Brexit trade deal with this licencing system.
Senator Gorst says the government 'does not concur with that'.
Prime Minister Boris Johnson tweeted last night that 'the UK will always stand resolutely by the people of Jersey.'
I'm pleased that the situation in Jersey has been resolved. Thank you to the @RoyalNavy for their swift response. The UK will always stand resolutely by the people of Jersey.https://t.co/8KR99jVVK0

— Boris Johnson (@BorisJohnson) May 6, 2021