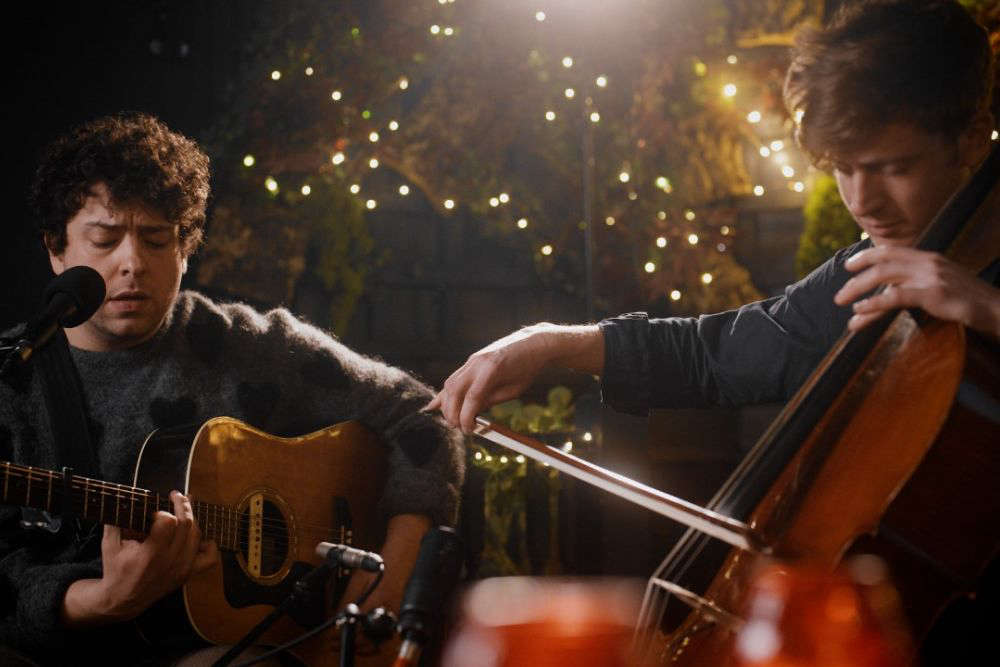 Sam Falle A.K.A Winterfalle (left)
A musician from Jersey has turned a poem by award-winning former Children's Laureate Chris Riddell into a song to raise money for a charity working in war-torn Ukraine.
Sam Falle has developed the song from the poem 'Snowdrops' by Chris Riddell, about the human impact of war.
The folk artist met Chris at a festival, where they agreed Sam's band Winterfalle would out the words to music to 'tell a tale of grief and hope'.
All the proceeds a performance at The Finsbury in London on 18 April will go to the David Knotts Foundation.
The charity trains surgeons in the war-stricken country to make medical treatment more accessible.
Sam says it is doing crucial work:
"It felt appropriate, given the subject matter of the poem is about the human impact of the crisis, to support a charity who are doing everything they can to make a difference.
Everything we're doing around the release is to drive donations to support that charity."
Famous illustrator and writer Chris Riddell, whose books include The Little Prince and the Ottoline series, wrote the poem to show the consequences of the war in Ukraine.
In a post on Instagram Chris shows a photograph of the poem, which reads:
"Snowdrops
The snowdrops have appeared in the woods,
In defiance of the underworld,
Their bowed heads a promise of spring's return.
As the ACK-ACK-ACK of heavy machine guns,
Sounds from the distant battle area,
Four villages away.
And more distant still winter still reigns,
And the stricken face of a mother,
Cradling her dead child flickers on a screen.
As Hades sits at his absurdly long table,
And tightens his grip on his unwilling bride.
But one day soon beneath the lamp post,
From which he swings,
Snowdrops will appear."
The single has been developed with Jersey-based South African producer Nic Dinnie and produced by Brett Shaw(Foals, Florence + The Machine, Daughter).
Winterfalle is made up of Sam on lead vocals and fellow Jerseymen Todd MacDonald (backing vocals, electric guitar) and Jack Chown (percussion) with Dom Main (backing vocals, cello) James Kier (bass).
With the support of ArtHouse Jersey, Chris and Sam have also collaborated with Jersey-born filmmaker Todd Macdonald to create short films that promote the song. It will be released shortly.