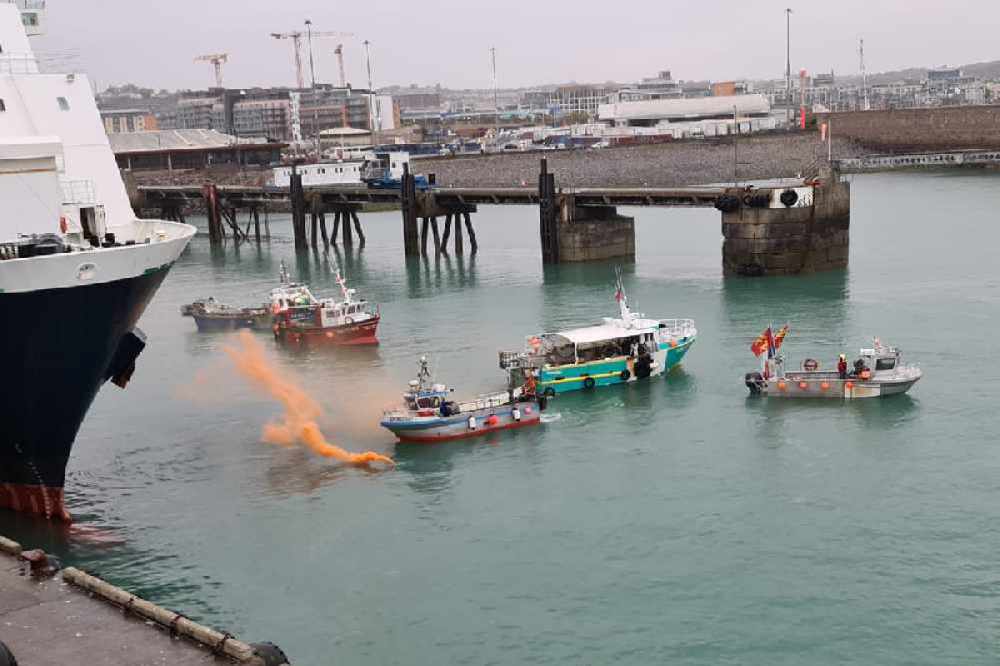 Picture Credit: Macio Agostino
Government of Jersey representatives are meeting French fishermen amid rising tensions over post-Brexit fishing rights, which saw dozens of French fishing vessels descending on the island to stage a protest at St Helier harbour.
They entered the port early this morning holding up signs and flags, shouting, and letting off flares, before returning to St Aubin's Bay under the watch of two Royal Navy gunships positioned off the southwest coast.
Those navy ships were dispatched to Jersey by the UK following talks between Prime Minister Boris Johnson and Chief Minister Senator John Le Fondre 'as a precautionary measure' to try and de-escalate tensions.
Two French police vessels have been deployed to 'guarantee the safety' of people at sea and 'accompany' French fishing vessels.
Athos is now stationed off La Rocque.
Tensions have risen in recent days after the French Maritime Minister threatened to cut the undersea electricity cable connection to Jersey because of the conditions placed on licences issued to French fishermen to use Jersey's waters.
Nous sommes aux côtés des pêcheurs 🇫🇷 dépendant d'un accès aux eaux britanniques. Nos voisins imposent des critères n'appartenant pas à l'accord post-#Brexit. Le droit est formel, les conventions doivent être respectées. Nous veillerons à ce que l'accord signé fin 2020 le soit. pic.twitter.com/vVoEW6duO3

— Annick Girardin (@AnnickGirardin) May 4, 2021
Following talks with Jersey's External Relations Minister on Wednesday, the President of Le Manche said the 'relationship of trust is very seriously damaged'.
Cet échange a surtout abouti au constat de ma part que la relation de confiance est très sérieusement entamée. Il est inacceptable que Jersey fixe unilatéralement les conditions d'agréments en toute contradiction avec les termes du traité@Herve_Morin @MancheCD50 @RegionNormandie https://t.co/xRa2lcIT77

— Marc Lefèvre (@MarcLefevreCD50) May 5, 2021
The European Commission says EU-UK agreement conditions are not being met in Jersey in relation to the fishing dispute between France and the UK and has called for calm - adding that talks with the UK are continuing.
The scene became a bit quieter at around 8am today where French boats moved back into open water towards St Aubin's Bay, but some then approached the port again about an hour later.
There was a huge sense of frustration amongst the incoming French fishermen that no government officials were speaking to them, but government officials have since agreed to board the Norman Le Brocq Fisheries Boat so their concerns can be heard directly.
Assistant Environment Minister Deputy Gregory Guida, a French speaker, is one of those on board.
BREAKING: Jersey government representatives are due to meet with French fishermen, after they asked for their concerns to be heard directly.

It follows 50 boats arriving into Jersey waters off the south coast.

More on this story: https://t.co/7Mz8TkbDH3 pic.twitter.com/mOT3cvn91e

— Sky News (@SkyNews) May 6, 2021
Senator Ian Gorst says the answer to the difficulties is without doubt talking and diplomacy.
UK sent two Royal Navy ships to Jersey 'as a precaution' after France threatened to blockade the main port over a post-Brexit fishing rights row.

Jersey minister for external affairs, Sen. Ian Gorst says he is "pleased" the protest has been "peaceful."https://t.co/4WPwKDjJM3 pic.twitter.com/L3Mvz49UqC

— Sky News (@SkyNews) May 6, 2021
"We are meeting with French fishing leaders this morning to listen to their concerns regarding fishing rights. There are continuing extensive political and operational efforts with both our local fishing community and French fishing associations, their regional representatives in France, and both the UK and French governments, in order to resolve the current dispute and resume previous good relations."
The French fishermen re-entered harbour, for the boats to come alongside, to ensure Covid regulations are met.
The government says the Emergencies Council and Jersey Maritime Security Group, which includes Ports of Jersey, the Royal Navy and Communications, and States of Jersey Police, are continuing to assess and monitor the situation.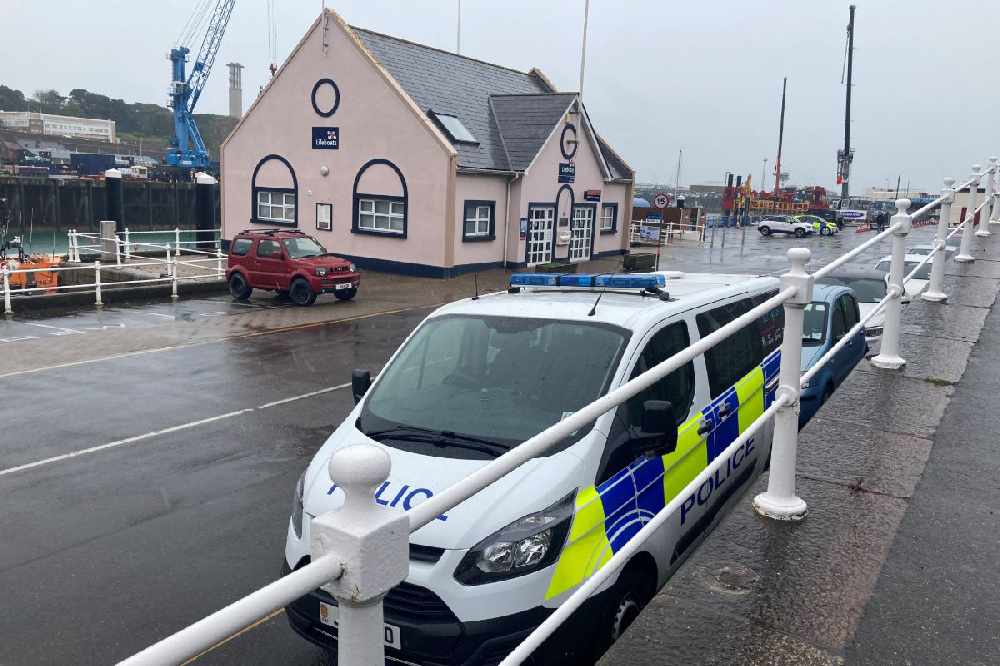 The Commodore Goodwill freight ship left St Helier.
Condor boss Paul Luxon earlier described her as 'trapped', but she has since departed for Guernsey.
Commodore Goodwill has just left St Helier completely unimpeded pic.twitter.com/WRQIFBLeSQ

— Cap'n JE3® 🇯🇪 (@PaulJE3) May 6, 2021
She began her journey unimpeded at 10:45am, just over four hours behind schedule.
Timings have been revised to accommodate the delay.
Operations Director Elwyn Dop says there is no impact on the supply chain and they expect the Commodore Clipper to operate to Jersey from Portsmouth and Guernsey as normal.