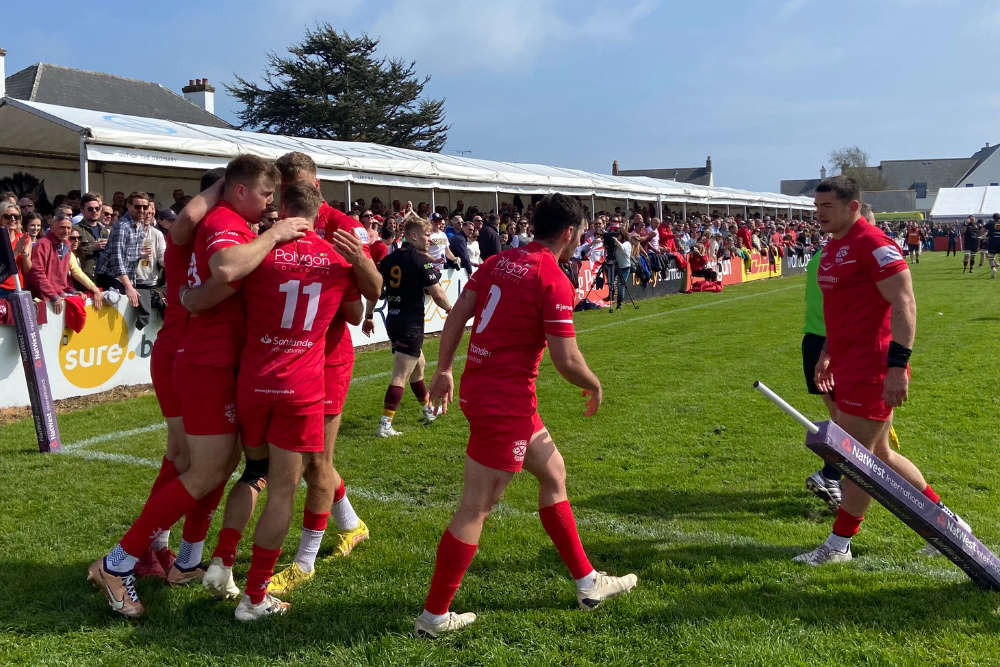 Jersey Reds has ceased trading. The RFU Championship club has issued a statement saying liquidation 'appears inevitable'.
The Championship title-holders say the move to cease trading comes amid an ongoing back-drop of uncertainty about the future of England rugby's second tier.
The club has been unable to pay September salaries, and won't be travelling to England for tomorrow's (29 September) schedule fixture against Cornish Pirates.
Reds Chairman Mark Morgan says he is devastated.
"We had been able to start the season and maintain sufficient funds to cover the summer, but regret that our conversations with potential new investors as well as existing ones have been unsuccessful."
"At one stage at the end of last season it appeared there was a viable way forward for the second tier once the new Professional Game Agreement was implemented from summer 2024, but Championship clubs have been left in the dark since that point and this led to a growing fatigue among those who may have invested, but could not be given any concrete assurance about when the new structure would come in, or how it would be funded."
Players were told at meet early this morning, where they were told of the closure decision.
Championship clubs have reported mounting financial challenges since funding costs by the RFC in 2020.
Then came the pandemic, which brought further challenges as revenue was hit when fixtures were halted.
In March 2022, the club announced a restructuring, separating the professional and amateur sides.
Other details covering the implications of this news have yet to be finalised, but are expected to emerge in the coming days and weeks.
Mr Morgan said he very much regretted the impact that would be felt by many people as a result of the move.
"There are a large number of players, coaches and other members of staff who have made huge contributions to the club in recent seasons, and we regret that the massive effect this will have on all of them – it's a very sad day."
We can confirm that following the sad news that @JerseyRedsRugby have ceased trading, tomorrow nights game has been called off. Ticket holders will be contacted and reimbursed in due course. Our thoughts are with the players, staff, supporters and everyone at Jersey Reds. pic.twitter.com/RIFp6IXluF

— Cornish Pirates (@CornishPirates1) September 28, 2023
The RFU has released a statement saying it's 'deeply concerned' by the news.
"It is extremely disappointing that investors would take decisions at this early point in the season to place the club in such a position.
Championship clubs had clear confirmation from the RFU on funding for the 2023/24 season and we have been working with the Championship and Premiership Rugby on the new Professional Game Partnership and shape of Premiership 2 with funding levels to be confirmed at the end of this calendar year.
The Championship has been fully involved in these discussions since February which are aimed at stabilising and strengthening the professional game.

This news will clearly impact the season for the Championship league and Premiership Rugby Cup competition, which was introduced this season as a way to offer a new format to supporters, bringing with it the experience of playing Premiership sides and the opportunity to welcome new fans into Championship clubs and assist them to grow new audiences."
The island's football club, Jersey Reds says its a 'heartbreaking day'
The whole of Jersey is heartbroken to hear the news coming out of St Peters this morning. The difficulty of providing elite level sport in Jersey just got harder.

We're standing with you @JerseyRedsRugby ❤️ https://t.co/WCr18CGORL

— JerseyBullsFC (@JerseyBullsFC) September 28, 2023
🔴 THIS IS A BREAKING NEWS STORY