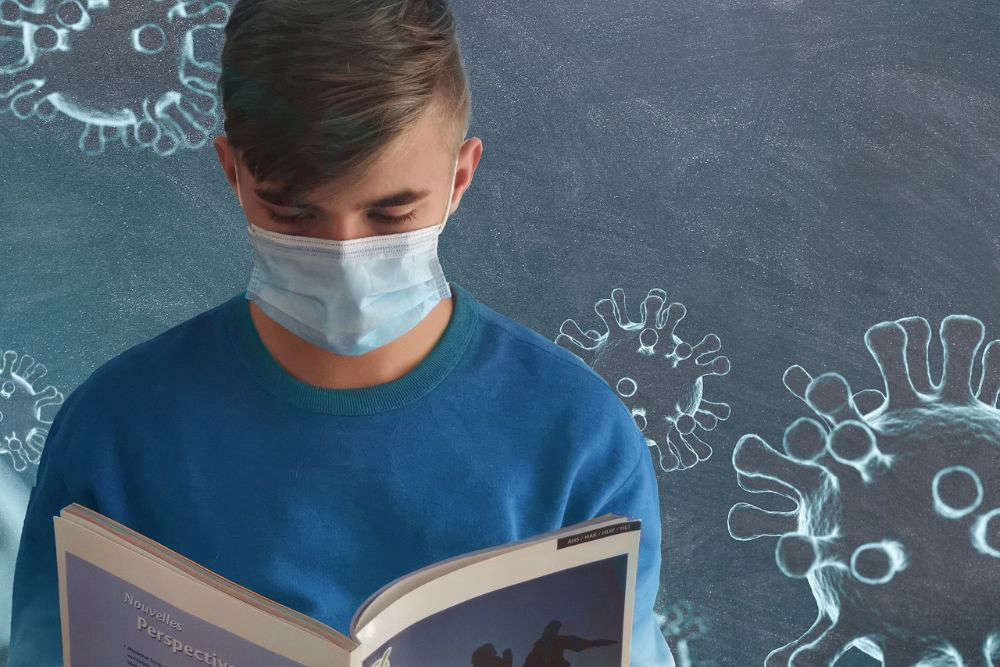 Secondary school students in Jersey have to wear a mask in class this term as the number of known active infections reaches 3,492.
1627 people tested positive for Covid-19 over the new year.
23 people in hospital have the infection.
Senator Lyndon Farnham says coronavirus is the primary reason for admission in 40% of those patients.
The Deputy Chief Minister has tweeted that he hopes those figures can be published regularly:
I would say a good average is (currently) approximately 40% of hospitalisations being primary covid. Fortunately the Omicron variant appears to be milder and therefore brings reduced risk of severe illness. I'm hoping aggregated figures can soon be published on a regular basis.

— Sen. Lyndon Farnham (@lyndonfarnham) January 4, 2022
The Education Minister has confirmed the requirement for secondary school students to wear a mask in the classroom, in line with England and Guernsey.
They had previously only been required in communal areas such as corridors.
"In our schools and colleges, staff, secondary school students and visitors are required to wear masks in school buildings and corridors. As an added mitigation I have agreed that the requirement to wear face coverings will be extended to secondary school classrooms for pupils and staff and also for staff in primary school classrooms. The policy will be discussed further with STAC and CAM and kept under review, with any changes made when appropriate.
We have introduced a comprehensive testing programme for pupils and staff which utilises Lateral Flow Test devices (LFT). These LFTs have enabled staff and pupils to regularly test for COVID, and their continued use is seen as a key defence in stopping the spread of the virus. All those in the school community have been asked to undertake a LFT prior to return and we believe this is a proportionate response.
In addition, all staff in the school and childcare sector have been offered a PCR prior to return as an added layer of protection of testing. These measures and the entirety of our approach is based on advice from our colleagues in Public Health." - Deputy Scott Wickenden
Several year groups from four schools - Les Quennevais, Le Rocquier, Grainville and Samares - are having to learn from home because of Covid outbreaks among staff.
Deputy Wickenden says 'a number' of CO2 monitors have been purchased and distributed and are being used in schools.
He says headteachers will have the final say on what measures are in place in their schools.
"We are fortunate to be able to tailor the control measures available to the situation in particular school settings, which means blanket decisions across all schools is not always necessary or appropriate.
We knew it was going to be a difficult start for schools and colleges as Covid continues to impact our Island and I'm grateful to officers who have worked with school and college leaders to monitor and assess the situation."
Measures to curb the spread of Omicron were reintroduced in Jersey on 4 January, including mandatory mask-wearing and work-from-home guidance.
Meanwhile, the government has published the latest statistics for its ongoing vaccination programme. The data is for up to Wednesday 29 December.
Fort Regent is continuing to operate as a walk-in clinic for first, second and booster doses, meaning an appointment is not necessary.