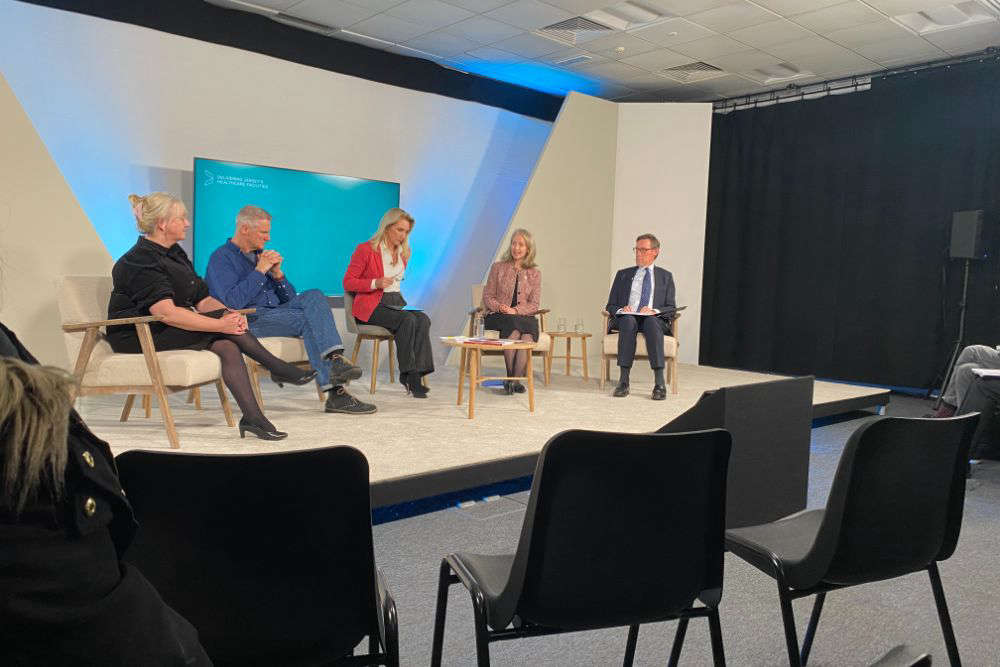 Health staff and members of the public have questioned Ministers about scrapping existing plans for Jersey's new hospital.
The Chief Minister was joined by Infrastructure Minister Deputy Tom Binet, Health Minister Deputy Karen Wilson and Treasury Minister Deputy Ian Gorst for the panel discussion.
The studio audience of around 50 people included doctors and nurses. The Q&A event was also live-streamed online and questions could be submitted to be posed to the politicians.
The government arranged the event following the outcome of its Our Hospital Project Review which recommended shelving the Overdale development in favour of a phased build over multiple sites.
Many in the audience were wondering how that would be staffed, with the panel asked 'how are we going to staff two sites if we can't staff the current one?'
Health Minister Deputy Karen Wilson said an understaffed workforce is not just a problem in Jersey but globally.
"There will never be enough, no health system in the world has enough. But, we must build our capability and capacity to make Jersey attractive to work in."

The Chief Minister was asked where the £100 million that has already been spent had gone.
"That money has been spent on various iterations of the number of different projects that have been considered over the last ten years. Money has been spent on planning, consultations and various other things that have got us to this point.
So that money hasn't been lost, it's given us a wealth of Information available to us to assist us in the decision making going forward."
The public Q&A came after former project lead Deputy Lyndon Farnham challenged Deputy Kristina Moore to a head to head debate on the reviews findings.
He was present at the conference, and said that the independent adviser to the review told States Members that the single site Overdale project was the best option clinically but was 'unaffordable'.
He hit back at that claim, saying that Jersey was in a good financial position to pay for the site, but the government didn't want to spend the money.
However, Deputy Ian Gorst says that no administration would be able to go ahead with the agreed plans because of higher inflation and interest rates.
"(The previous government) could not have delivered what has got planning permission within the agreed decisions. Nor should they sensibly have signed a contract because they wouldn't be able to control that contract, and it would be liability to taxpayers.
We should stop arguing about the past and start thinking about how are we now going to deliver suitable health facilities that are affordable within the current economic climate."
Pressed on the numbers, Deputy Gorst said the estimated cost of Overdale has risen to up to £970m (from £804m) and that the multi-site option offered 'substantial savings'. He described an estimate of £170m savings as 'conservative'.
Consultant Gastroenterologist, Dr David Ng asked when ministers would 'stop using the hospital and staff as a political football?'
Speaking to Channel 103 after the event, Dr Ng said the decade of delays has left hospital staff feeling demoralised.
"Every time the hospital has been rejected, there has a big sigh among staff. We are already under pressure from the post-Covid recovery, and to have this recycling just makes the situation and feelings worse."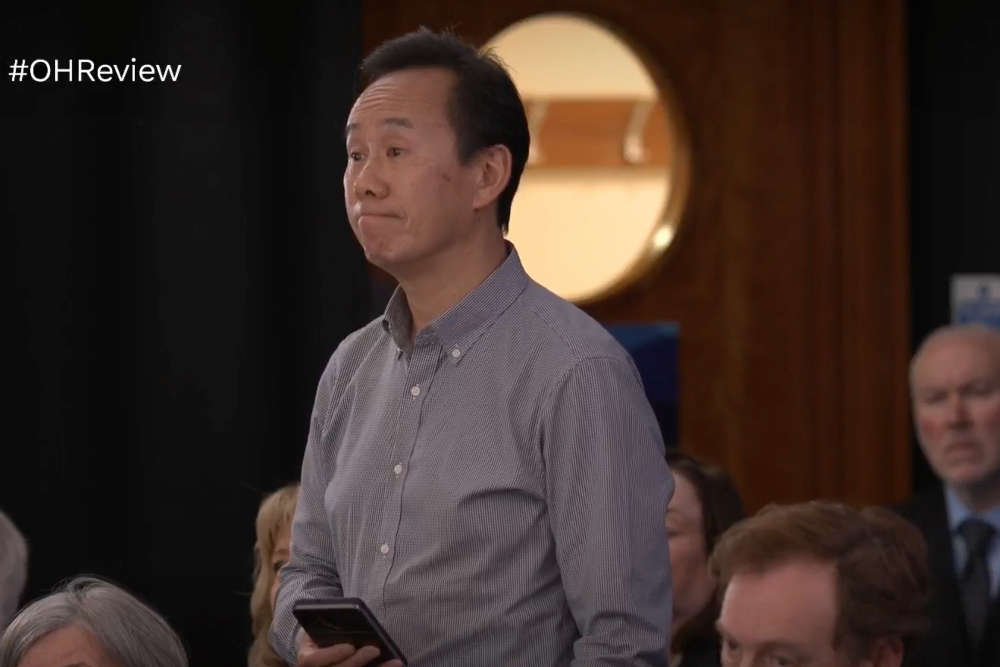 He said he had not been reassured by anything he had heard:
"I hope the (States) Assembly will reject the proposals (for a multi-site hospital) based on clinical grounds, and that is that we don't have enough human resources -healthcare workers - to run multiple sites."
The Chief Minister outlined the next steps:
"We will be bringing, before Christmas, a proposition to the States Assembly to ask them to endorse this new direction and, having given Scrutiny time to go through the proper democratic process, we would expect to be debating that around February."