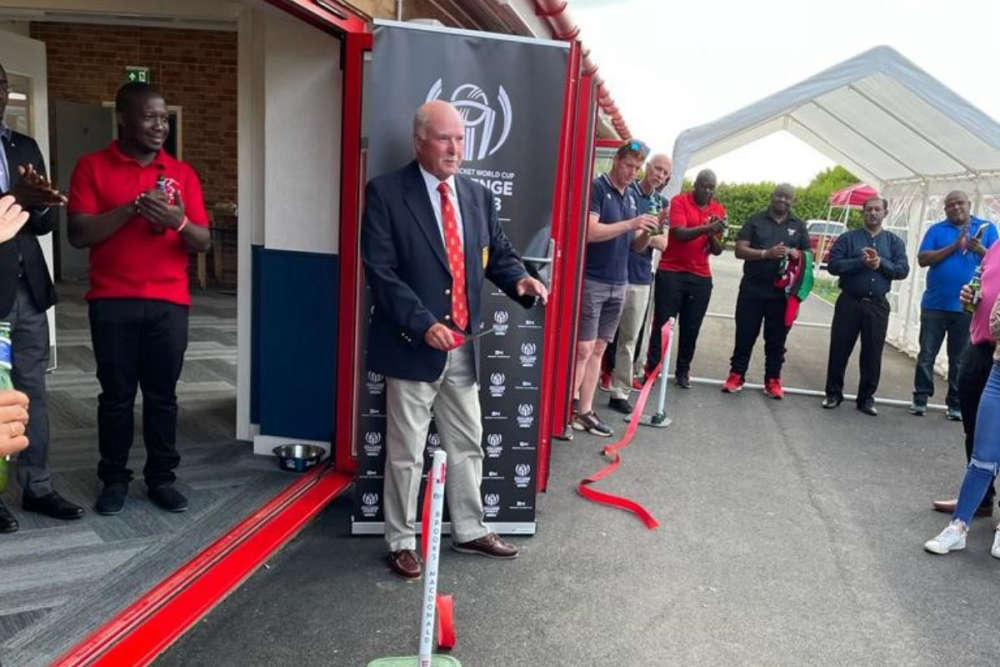 Former Jersey Cricket CEO Chris Minty cut the ribbon for the official launch.
The new Jersey Cricket Centre at Grainville has been opened in a special ceremony.
It coincides with the island hosting some of the world's best sides in the ICC Challenge 'B' tournament.
Jersey Cricket has taken ownership of the Grainville facility from the States of Jersey.
The clubhouse has been rebuilt and a new restaurant and bar have been opened.
Chairman John Harris says it's now something they're really proud of.
"I think it's very welcoming and that will be seen to full effect during the days of the tournament that lie ahead, because we have several key matches there - Jersey vs Bermuda on Monday for example.
I encourage people to come along and take a look for themselves and see what they think. We're really pleased with the results that we've got.
The Jersey Cricket Board has just published a new strategy for three years and at the heart of it is the consistent sort of investment in, and enhancement of, the facilities that we have.
You can't play cricket without good facilities. You need good pitches, you need good grounds and if we're going to continue to attract young people to the game and grow the base of the game with women's cricket etc, then facilities are a must.
We're very happy with Grainville, but there's more to do."
Bermuda, Hong Kong, Italy, Kenya and Uganda are all in the island for the tournament, which runs until Saturday 14 August.
Matches are being played at Grainville and Farmers Field, with fans able to watch for free.
🚨 CLB FIXTURES 🚨

Here are the fixtures for @ICC Challenge League B.

All matches are at Grainville and Farmers Field.

✅ Free entry for all spectators
✅ No tickets required
✅ Refreshments available at both grounds#BrooksMacdonaldCricket | #backingred 🇯🇪 pic.twitter.com/QDL98gEj2H

— Jersey Cricket (@cricketinjersey) July 29, 2022
Sport Minister Deputy Lucy Stephenson is due to go to next week's match between Jersey and Hong Kong.
"This is just one example of a fantastic sporting event for both competitors and Islanders to enjoy, and how Jersey continues to punch well above its weight on the international sporting stage.
With our continued involvement in the Commonwealth Games in Birmingham, it is great to see such a high standard of sport being played on the Island too. I wish our Jersey players the best of luck over the next ten days."
Jersey's first game is tomorrow (Friday 5 August) against Uganda at Farmers Field.
Mr. Harris says this is all aimed at growing the game.
"That means growing the game at junior level. We're already very healthy in numbers.
We're trying to really grow the women's game and that is clearly something that the International Cricket Council, of which we're an associate member, has as a core strategy for itself and we emulate that strategy.
It's all about also growing the domestic game. International success is a great showcase, aspirational for everybody who plays the game in Jersey to try and get through to that, but Jersey is also a recreational game."