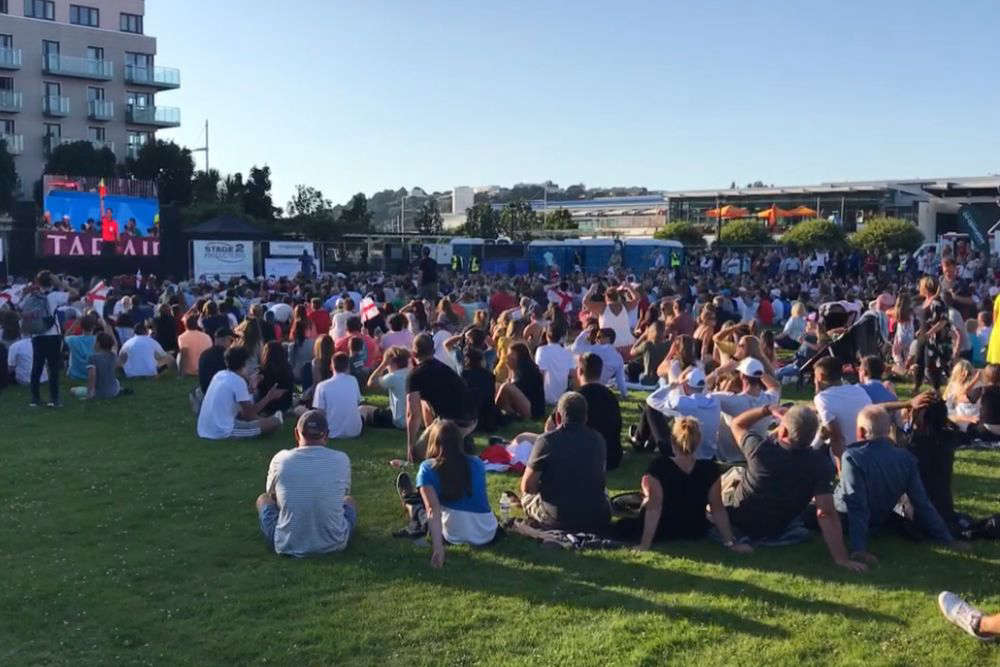 Islanders gathered in 2018 to watch England play Croatia in the semi-final of the 2018 World Cup.
The government looked into arranging a big screen for islanders to watch the England Lionesses play in the Euro 2022 final, but decided that it didn't prove to be value for money.
England will play Germany in Sunday's showpiece after thrashing Sweden 4-0 earlier this week.
A big screen was set up in Marina Gardens in the summer of 2018 for the World Cup semi-final between England and Croatia.
The government also wanted to hold a fan zone in Jersey last year for the Euro 2020 final between England and Italy, but it didn't go ahead because of safety concerns amid a spike in coronavirus cases at the time.
The newly-elected Minister for Sport, Deputy Lucy Stephenson, says it just didn't work for the government on this occasion.
"The government did work hard to look at if we could make it possible for the Euros this time as well.
The fact that it's not happening is certainly nothing to do with the fact that it's women's football.
I think there's a wider conversation we could explore about our access to such infrastructure for big events.
Obviously we're an island and it's tricky, but it would be great to look at other things we could do more easily in the future if we had some of our own infrastructure or we looked at other solutions."
A government spokesperson says it is looking into longer-term solutions for future events.
Jersey football coach James Scott says it's a shame that the island doesn't have its own screen, as it could be used for so many different things.
"Fingers crossed that maybe they can look into that and then any big events... obviously it can be used for a number of other things such as arts and drama.
It doesn't just have to be the sporting occasions and I'm sure, if we had it on island, it would definitely get used on a regular basis.
I would be fully supportive of getting a big screen and turning it into a massive event for the island."