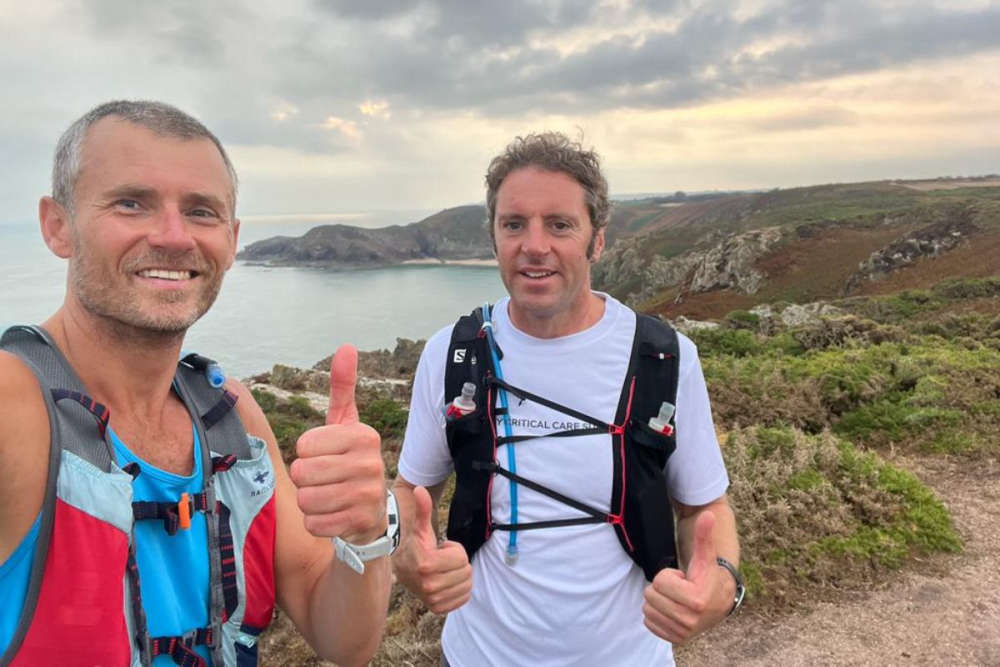 Mark Grenyer and Dr Alun Roberts swam, ran and cycled 121.5 miles non-stop around the island
The triathlon challenge - thought to be the first of its kind - was all in aid of Jersey Critical Care Survivors, a charity intensive care consultant Alun himself is the deputy chair of.
The duo completed three laps of Jersey's coastline, by sea, by bike and on foot.
It took the pair 28 hours, starting at seven o'clock Monday morning (15 August) and crossing the finish line at 11am the next day.
Mark says it was nice to do it with his mate:
"A lot of these events you tend to do individually, but having a friend to do it with is really rewarding and it's nice to have that shared experience"
During the round-island swim, the sea conditions nearly forced the pair to stop the challenge, with the water becoming choppy around Bouley Bay.
"Swimming along the north coast we thought we'd have to abort. We had to have a guard boat to take round and their was one point where it felt like the waves where 5 metres high and we looked at the boat and it was almost toppling in the water.
We asked the guard if it was safe and he said it was, but any worse and we'll have to call it off."
Alun doesn't yet know how much they've raised from doing the triathlon but he says whatever money is donated will go along way
"The charity is looking at providing individual care for patients including psychological support and also physical assistance as well.
The pair don't have any plans for anymore gruelling challenges, with Mark joking he's going to take up yoga!
You can donate to Jersey Critical Care Survivors here.