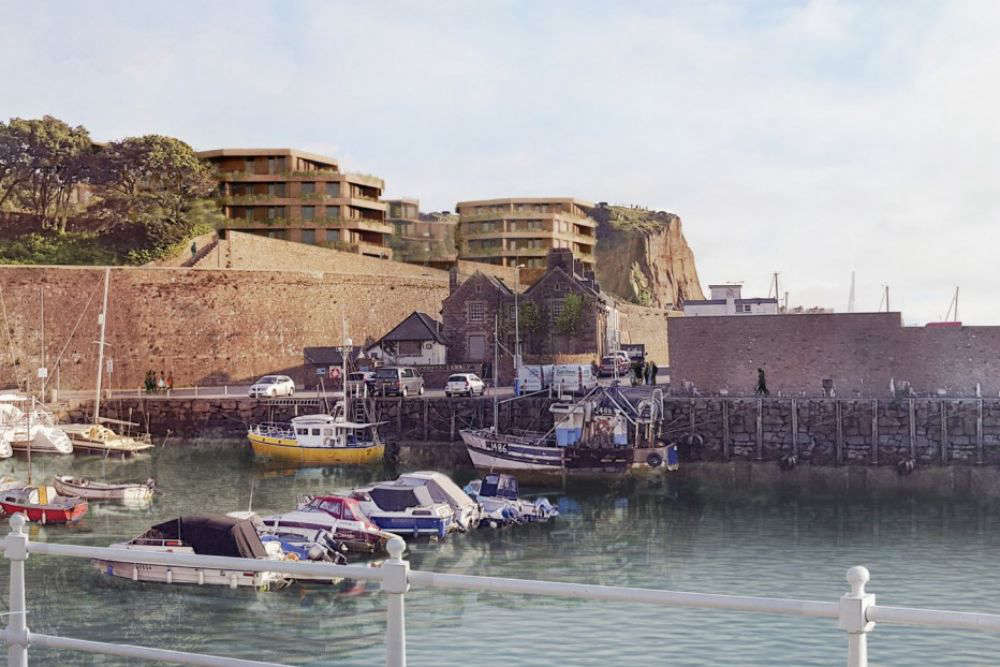 How the new South Hill flats would look from the English Harbour (Credit: JDC)
Plans for more than 100 homes at South Hill have been rejected for a second time.
The Planning Committee has refused the Jersey Development Company's plans for 139 apartments on the site of former government offices.
JDC has failed to win permission to demolish the old planning department offices and build 64 one bedroom, 69 two bedroom and six three bedroom flats.
A previous application for 153 homes was rejected last May.
Scaled down designs were later submitted, reducing the overall size of the development and the height of some of the blocks.
The development was to have included a courtyard garden, basement parking for 70 cars, and improvements to the nearby children's playground.
JDC also intended to turn the existing listed building - a former military barracks - on the site into a gym and wellness centre.
Following States votes, at least 15% of the homes would need to have to be classed as 'affordable' and none sold to buy-to-let investors.
The revised application had been recommended for approval by officers, but politicians voted six to three against it.
Concerns included the size of some of the flats and the amount of daylight those at the rear of the blocks would get.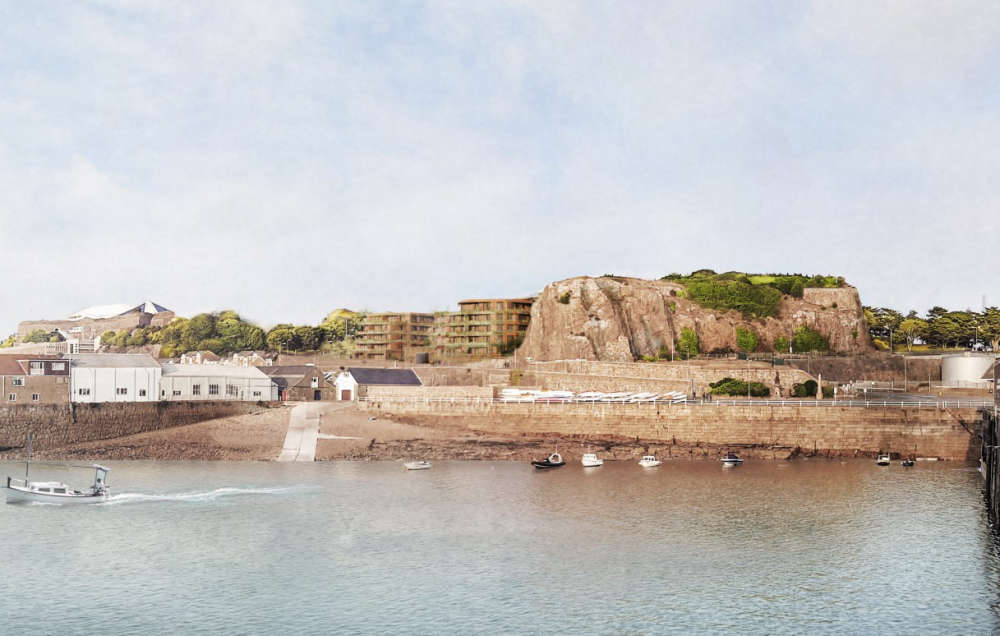 An illustration of how the development would look from Victoria Pier (Credit: JDC)
Reacting to the refusal, Housing Minister Deputy David Warr says he is growing increasingly concerned about the housing issue in Jersey.
"What I want to see is new homes being built and not being delayed. Every delay means people can't have a new home.
If we continue to delay and think about it all the time instead of actually doing things, [it will make the issue worse]."
In April, the government will be publishing its homelessness data, which includes people who are sofa surfing and those in overcrowded accommodations.
"I'm just being to wonder what they feel, you know that if we are unable to develop any more homes, is that the life they are resigned to live?
I think that's probably as extreme as an example I can give, but those are some of the implications of these decisions."
Deputy Sam Mezec is pleased the plans have been turned down.
He is calling for any development of South Hill to be paused until a Town Masterplan has been agreed.
The Reform Jersey leader is adding to Constable Simon Crowcroft's demand that the Waterfront regeneration be halted.
He also says the JDC should be forced to only build affordable homes in St Helier in future.
Those proposals will be debated at next week's States sitting.