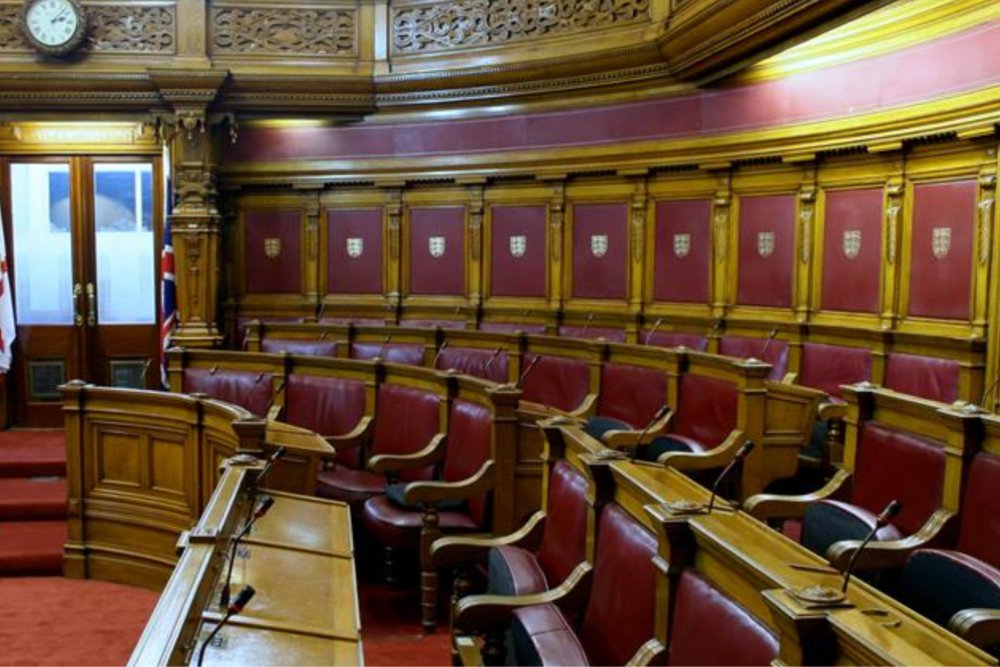 Just over an hour after returning to a full in-person States sitting for the first time in 18 months, the assembly is back to a part-virtual format.
An emergency proposition put forward by Deputy John Young called for States members to be given the choice in how they attend sittings, arguing they should put their health first and the pandemic isn't over yet.
He also raised concerns about a lack of distancing in the States Chamber and insufficient ventilation systems in place within the chamber, which poses a heightened risk to members.
"The States Chamber does not comply with public health guidance. Members cannot maintain physical distancing in their seats; ventilation is not adequate, and Members must spend several hours in the room or alternatively congregate in the small rooms outside of the Chamber.
"While some Members may feel relaxed about the potential risks to their health, others do not. If case numbers rise, as is happening elsewhere, there will inevitably be more Members testing positive or becoming direct contacts. It makes no sense, in this context, to require physical meetings to resume.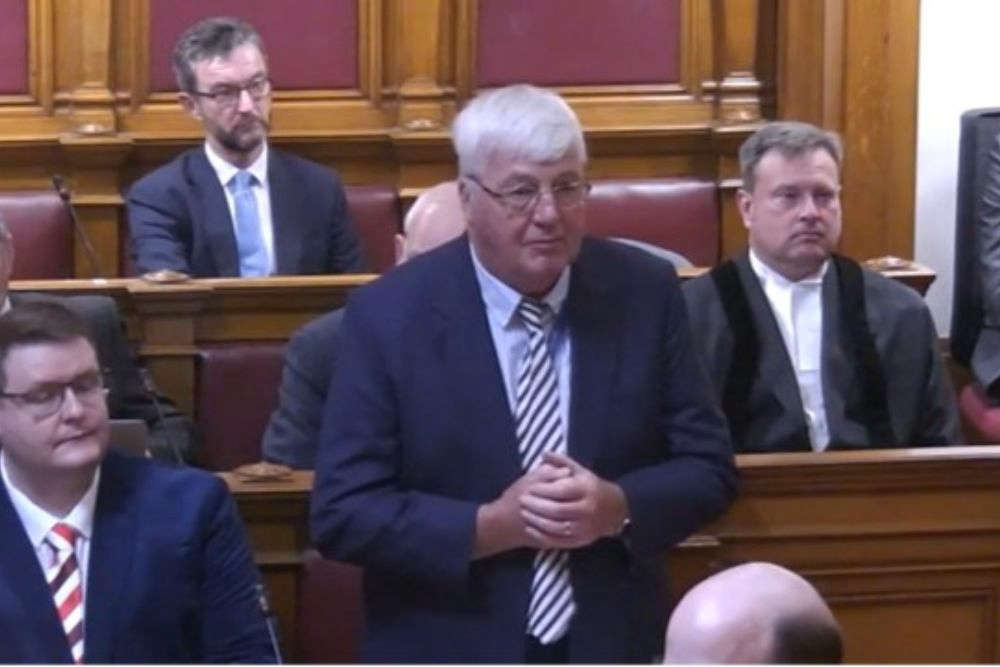 Deputy John Young speaking in the States Assembly before it returned to a hybrid format.
"If you vote this down, I think what you would be saying to members with great vulnerabilities, sorry you are going to have to make a choice between performing your democratic duties or allowing what is a sensible, practical arrangement.
"Hopefully at some point we will get back to no risk, but we are not at that point now."
Constable Jehan also pointed to the poor ventilation in the States Chamber and said it's an unsuitable environment to work in at the moment.
"The full return of the States Assembly should be seen as a supreme symbol of a return to normality and the sooner this can happen safely, the better, but I don't believe that today it is safe."
Jersey became the first Parliament in the Commonwealth to hold a full virtual legislature meeting in April 2020.
These virtual meetings continued in a full or hybrid fashion until today's sitting because of the coronavirus pandemic.
Senator Kristina Moore agreed that States Members should feel safe at work, but told colleagues they're not the only ones affected.
"We should remind Ministers that they have a duty to the island's children, to set out some rules and set out guidance to parents. Parents who today do not know whether to send their children to school or not. I would prefer that Ministers focused their efforts on that."
It was passed despite concerns that it could become permanent and politicians could decide to work from home even if they don't need to.
Deputy Kirsten Morel said it can't be allowed to drift.
"I'll certainly speak to Deputy Young and the Greffier, I think, about bringing a proposition to make sure that we revisit this regularly and it doesn't just become 'left on the books' so to speak."
Whilst accepting people who feel at risk should be given the chance to attend virtually, Deputy Rob Ward also raised concerns - he said he doesn't want to see it as an excuse not to attend the assembly because it is more convenient for them or 'for Ministers to sit in Broad Street with their officers next to them giving them advice'.
"I think we need to look very carefully about how we manage that situation because there is nothing in this proposition really to stop that happening.
"We need some reassurances that we cannot misuse this and I know there are concerns that if we move down this pathway, we may not come back."
The emergency proposition was passed 72 minutes after the sitting first began, and the assembly then adjourned so that members could return home if they wanted to.
Around a third of States members left the chamber and continued the meeting remotely.
The agenda continued a short time after, which saw Constable Andy Jehan elected into the Public Accounts Committee and Deputy Jeremy Maçon returning to his role on the Planning Committee after stepping down last year ahead of his ministerial appointment.