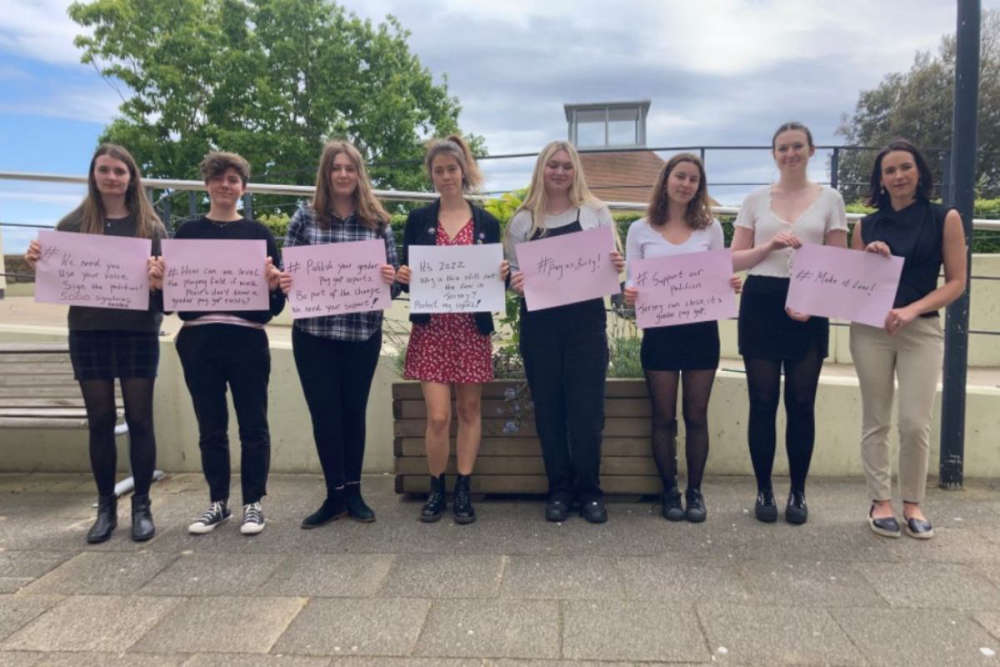 Picture Credit: JCG
A group of JCG students are calling on the government to make it mandatory for Jersey businesses to publish their gender pay gaps on a yearly basis.
The latest government figures show that women in the States of Jersey earn an average of 24.3% less than men.
Some other companies have chosen to voluntarily reveal their pay gaps, but the majority haven't.
Companies in the UK with more than 250 employees are required by law to reveal their data, but that is not currently the case in Jersey.
Year 12 student Ruby Filleul says it's not possible to address the pay gap properly unless all the data is there.
"It's 2022 and yet our government still isn't doing enough to try and make sure that we're paid fairly and when we enter the workplace, we're treated just the same as all of our male counterparts will be.
There are companies in Jersey that do publish their pay gap reports of their own volition and from those, we can see that there definitely is a gender pay gap in Jersey and that's worse for women of colour, for women with disabilities, and so on.
We think that getting this information into the right hands, hopefully, will be the first step in people being able to address the issues that cause this and try to make sure that by the time we get into work and by the time our daughters get into work, they'll be treated exactly the same as their male counterparts will be.
As part of the Lean In Elective, students are petitioning the Government to make it law in Jersey for workplaces to publish yearly gender pay gap reports.
Currently workplaces are not required to do this. It is the law in Europe and the UK. pic.twitter.com/2HqDo3zaz4

— JCG (@jcg_live) May 11, 2022
The main consensus, especially among my peers, is that this is an issue that people didn't really know about but now that they do, are almost enraged about because it's something that they assumed was just a given with the age that we live in and the fact that we live in a western democracy.
This should be a top priority because it's something that affects so many people."
The petition, set up by teacher Danielle Mynes, has been signed by more than 160 people so far.
Petitions that reach 1,000 signatures will get a Ministerial response. If it gets to 5,000, it will be considered for debate in the States Assembly.
There will be no responses until after the June election though because the States Assembly is now restricted in what it can do for impartiality reasons.
In a report published in April, the Gender Pay Gap Scrutiny review panel demanded statutory reporting 'as a matter of urgency.'
Following that publication, Assistant Chief Minister Constable Richard Buchanan said that updated government gender pay gap figures would show a significant improvement.
He said that data would be released last month, but that hasn't happened yet.
It is an improvement as you will see next week. https://t.co/1DJrF0i3VQ

— Richard Buchanan (@Richard12283487) April 14, 2022
Channel 103 has asked for an update.