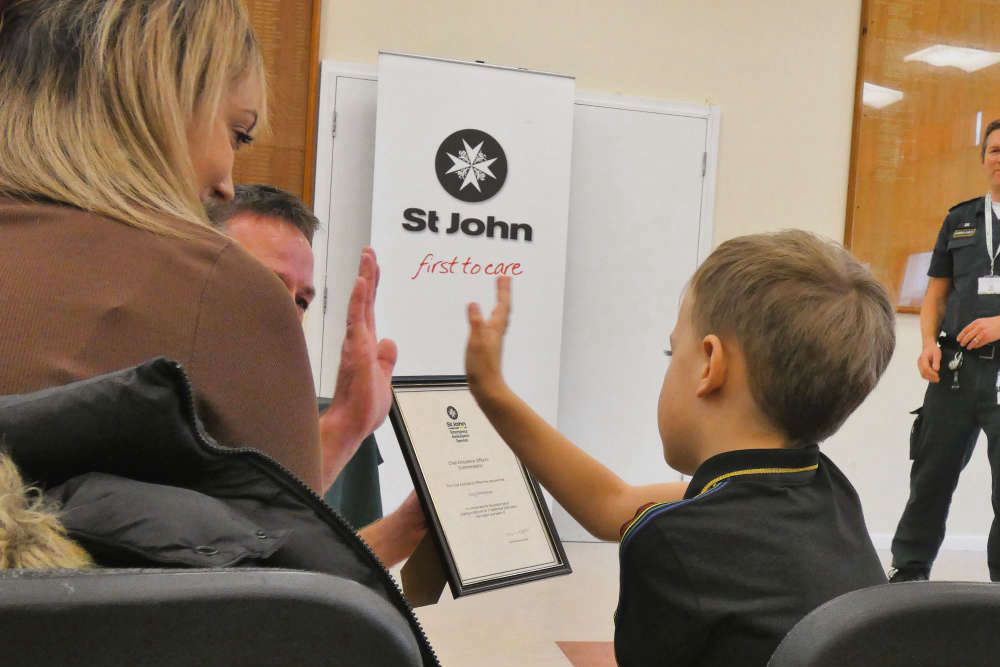 Colby Bridgman knew what to do when his mum collapsed at home. The 5 year old calmly dialled 999 and told the call-taker 'mummy can't breathe properly'.
Colby, now 6 and accompanied by his mum Jess Payne, has been to Guernsey's Ambulance Station to receive a Chief Officer's Commendation for this potentially life-saving 999 call.
He rang for an ambulance when Jess suddenly collapsed at home last September.
LISTEN: Colby's 999 call:
Jess explains why she taught Colby how to call for help:
"I live alone with him, so I wanted him to be aware, so if something bad happens to mummy, or if there is an emergency, he knows what to do.
My mum taught me how to do it when I was little, so I did the same with him.
I'm really proud of him."
The ambulance crew said Colby handled the situation very maturely:
"He was calm, helpful and so grown up at a time that must have been really frightening for him.
Colby was able to answer all our questions and provide us with lots of really valuable details which helped us to understand what had happened to his mum.
He was so polite and kind and even gave us one of his special stones to thank us for looking after his mum. Well done Colby you're an awesome young man."
At the presentation, Colby received a certificate with his name on it, a toy ambulance and some chocolate.
He also got to explore a St John ambulance.
Mr Mapp knowing what to do in an emergency is a life skill:
"One of the most important things is recognising that someone is unwell and calling 999 for help. And that is exactly what Colby did when his mum experienced a medical emergency.
Because his family had spoken to him about how to call an ambulance and how to call 999 – Colby knew exactly what to do.
During the call, Colby remained calm and answered all the questions he was asked, which ensured an emergency ambulance was quickly dispatched to the house so his mum could get the care and treatment she needed."
The JESCC call-taker Liz Arklie also received a Chief Officer's Recognition of Performance Award for her calm and professional handling of the 999 call.