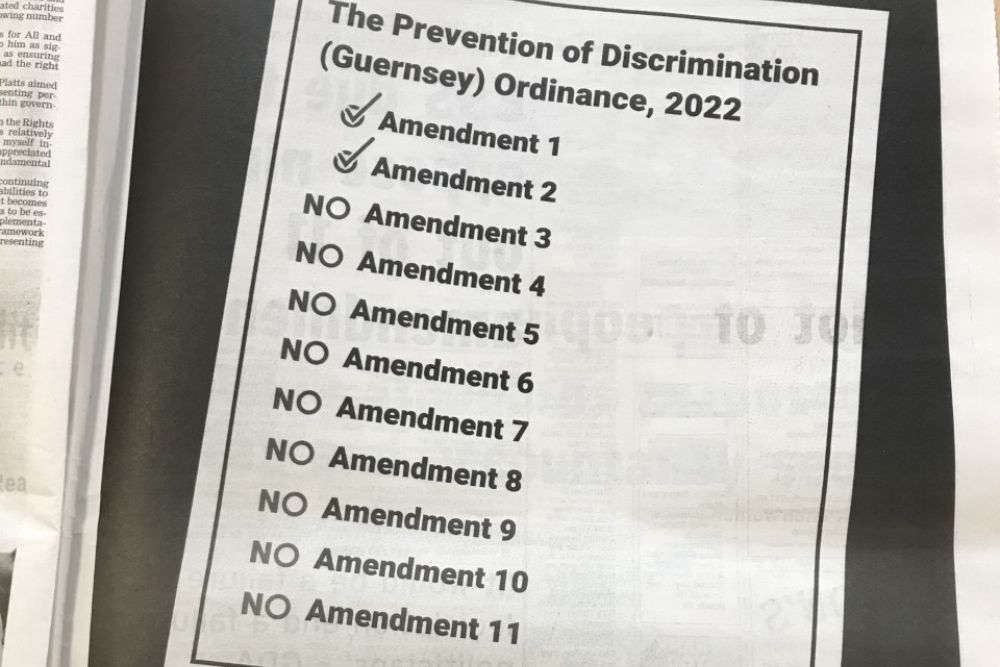 Deputy Carl Meerveld says deputies behind Amendment 8 should be free to question the new anti discrimination law.
Deputy Meerveld says a coordinated and hard hitting email and social media drive by equality campaigners has gone too far at times.
He, and deputies Chris Blin and David de Lisle have received a large number of open and private emails asking them to withdraw Amendment 8 to the law.
It seeks to exempt small Guernsey businesses from having to adapt their premises or take on carers for a period until the law has bedded in.
They say small companies are at a financial and resource disadvantage, compared to larger ones.
One Twitter post has a picture of deputies Blin, de Lisle and Meerveld and says 'If a deputy votes for amendment 8 don't vote for them come the next election.'
Deputy Meerveld says wording like is inflammatory and unnecessary:
"I'm very disappointed by the tone, and the demands. It almost smacks of harassment and intimidation, which is rather ironic considering this is legislation trying to prevent that happening."
Let's not leave anyone behind!
If a deputy votes for amendment 8 don't vote for them come the next election #WithdrawAmendment8#H8TE #ChrisBlin pic.twitter.com/K95YZLQXON

— Ellie (@ellieobscura) September 24, 2022
Open letters, including one from the social policy director of the Guernsey Disability Alliance (GDA), Carol Le Page, asks for the deputies to remove their amendment before the debate:
'I ask you to withdraw amendment 8 to the Prevention of Discrimination (Guernsey) Ordinance, 2022. I would ask all Deputies to vote against amendment 8 if you decide not to withdraw it.'
Deputy Meerveld says this goes too far and gets in the way of democracy:
"They can't make a decision on their own. They have to persuade more than half the Assembly that they are right in their concerns. But they are being challenged and told to withdraw their concerns because some people don't even want it discussed."
For their part, campaigners believe amending the law at this late stage could water it down, a view shared by the president of Employment and Social Security, deputy Peter Roffey.
The founder of the GDA, Rob Platts, agrees, and says this is his letter to deputy Blin:
'The amendment will be disastrous for both persons with disabilities and for carers: it is discriminatory in effect and seeks to fix issues that do not exist.'
The anti discrimination legislation has been discussed by a number of States Assemblies since 2003, when it was originally intended to prevent discrimination on the grounds of disability. It now encompasses race, carer status, sexual orientation and religious belief.