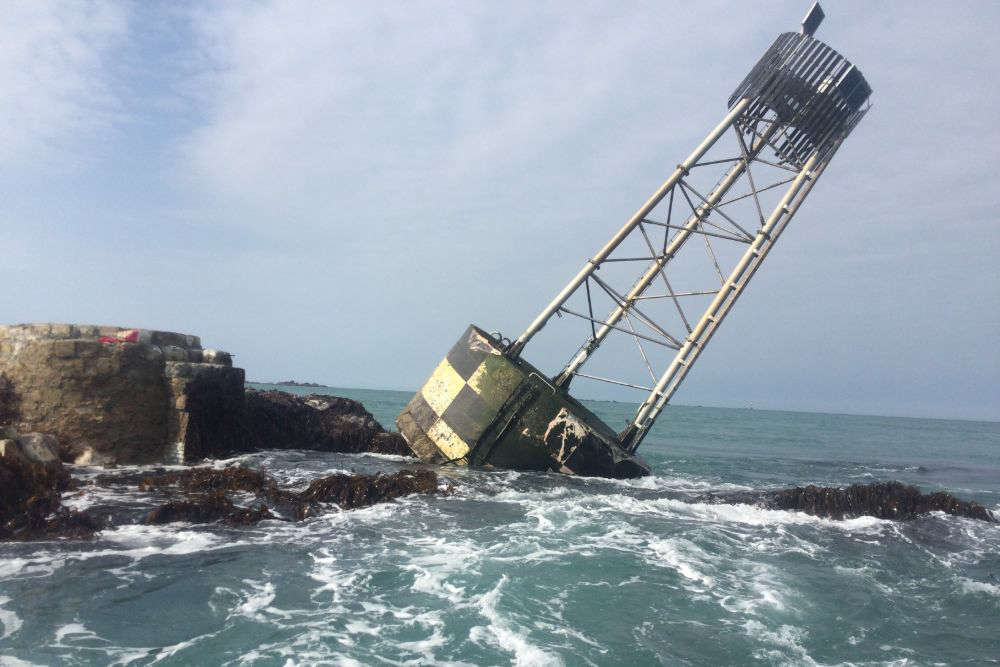 The Roustel Beacon has developed a 45 degree list since being hit by a freighter on 19 March.
The Roustel Beacon was damaged after being hit by a freighter leaving St Sampson's harbour.
Guernsey Ports say the freighter MV Bozat struck the beacon shortly after leaving port on Saturday morning (19 March).
It developed a serious list and its light no longer works.
Roustel sits at the northern end of the Little Russel and is an important navigation aid for shipping.
A beacon has been in place on the reef for more then 100 years and the current structure was put up in the 1990s.
Guernsey Ports have advised all shipping to keep at least 50 metres away from the beacon as it is unstable.
Harbourmaster, Captain David Barker, says they're looking at options to bring the Roustel Beacon back into service and what action, if any, will be taken against the vessel's owners.
"We noticed it because VTS, the Vessel Traffic Services officers, were watching and also the pilot boat was observing as well so we contacted the vessel and they confirmed that they'd made contact with the beacon but they said they had sustained no damage so carried on with their passage.
We don't think there's any way of recovering the stuff that is there. It isn't safe to put people on to the tower to recover the navigational aids, the electronics at the top. So eventually we'll need to remove that so it's no longer a hazard and replace the beacon with a new structure.
Guernsey Ports has notified the Bailiwick of Guernsey Chief Inspector of Marine Accidents, who will decide whether to investigate the circumstances of the incident."