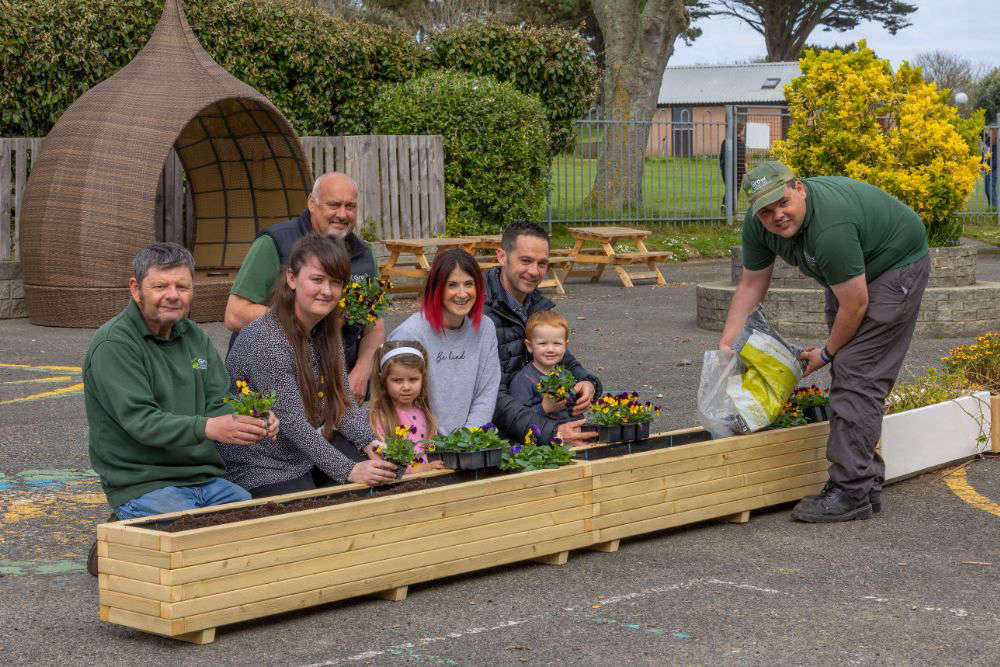 The charity GROW has built new planters and repaired the decking at a vandalised play area.
The Bright Beginnings Nursery play area at Delancey was vandalised late last year.
Shards of glass, nails and wood were left strewn around a children's playground.
Officers said at the time that children could easily have been injured if the damage had not been spotted early.
"Not only has this incident rendered these items unusable by toddlers (who may not have toys and equipment of their own to play with at home), but had the damage not been observed prior to use by staff, it would have posed a clear risk of harm by shards of glass and nails scattered about the grounds that may have caused an injury."
The Sure Community Foundation donated the money to enable both charities to mutually benefit from the repair work, and the funds will go towards GROW's running costs.
The planters have been filled with new spring plants.
"Our Crew hate to see vandalism and were happy to be involved in replacing the damaged parts of the nursery's garden after their senseless destruction. We love giving back to the community, which is why Grow has also donated compost and viola plants to the nursery so the children can plant a spring display of flowers." - Darren Brehaut, Workshop Senior Supervisor at Grow
Karyn Le Marquand, Nursery Manager at Bright Beginnings, says the children are pleased to have their play area back:
"The children have not been able to use the stage and wooden houses, which they've really missed. We're delighted that the generosity of others will improve our children's day-to-day enjoyment of our facilities."