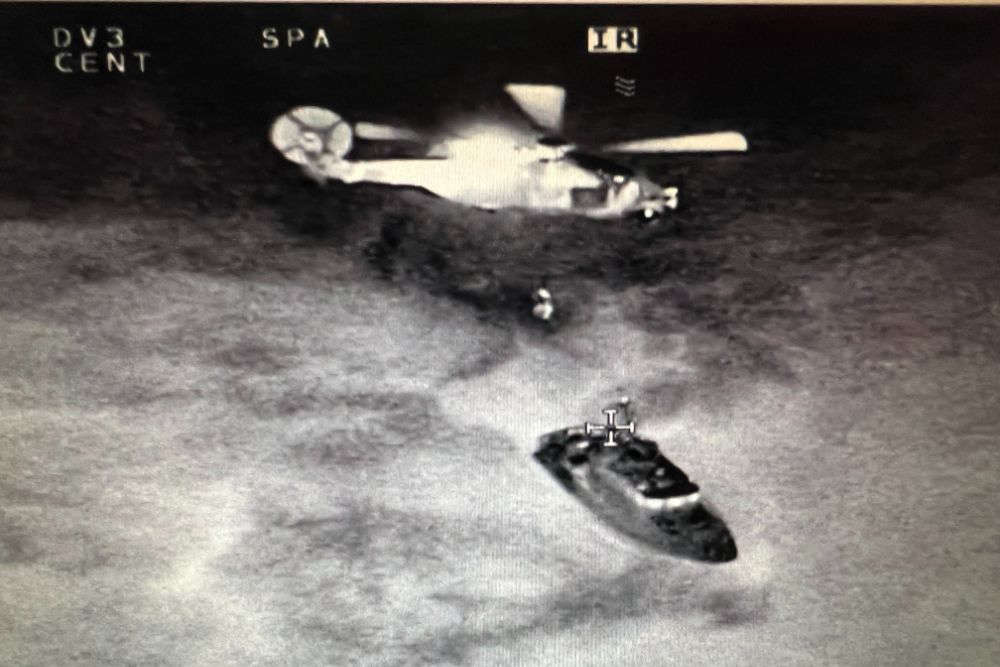 Yachtsman being winched into the French Navy helicopter from the lifeboat 'Mona Rigolet.' Picture from C.I. Air Search.
A solo yachtsman was airlifted to safety by a French rescue helicopter in an operation involving craft from Guernsey, Alderney and France.
Early on Saturday morning (10 September) the French coastguard on the Cherbourg peninsula contacted Guernsey Coastguard for help in rescuing a solo yachtsman with a suspected broken shoulder.
Channel Islands Air Search was scrambled, along with the Alderney lifeboat, and a yacht matching the description was spotted one and a half miles from the Casquets reef; taken there by the strong tides.
"We were tasked early this morning to assist in the search for an injured lone sailor around the Casquets. Using our technology, our crew located the vessel 14 minutes after taking off from Guernsey and passed the position to the CoastGuard. We then maintained watch while a winching operation took place in very rough conditions. A great job by CIAS, the Alderney RNLI crew (Roy Barker), the Mona Rigolet and the French Navy helicopter team all co-ordinated by Guernsey CoastGuard and Cross Jobourg." - CI Air Search.
A French navy helicopter and the lifeboat from nearby Goury were sent to the area and a Navy crewman was winched aboard the yacht.
The yachtsman was transferred to the lifeboat, from where he was winched into the helicopter and taken to hospital in Cherbourg.
The yacht was towed to the French port by the Mona Rigolet.
The Guernsey search coordinator was James Way:
"We are delighted that the casualty vessel was located, and the injured crewman winched to safety. Incidents like this demonstrate the excellent working relationship Guernsey Coastguard has with our French counterparts, as well as the interoperability between our search and rescue units."
In a separate incident late yesterday afternoon, (11 September) a Guernsey fishing boat rescued two people from the sea near Lihou.
A family of six had got caught out by the rising tide and while four stayed on Lihou, two decided to try to swim to Guernsey. They got swept south by strong currents and a mayday was called.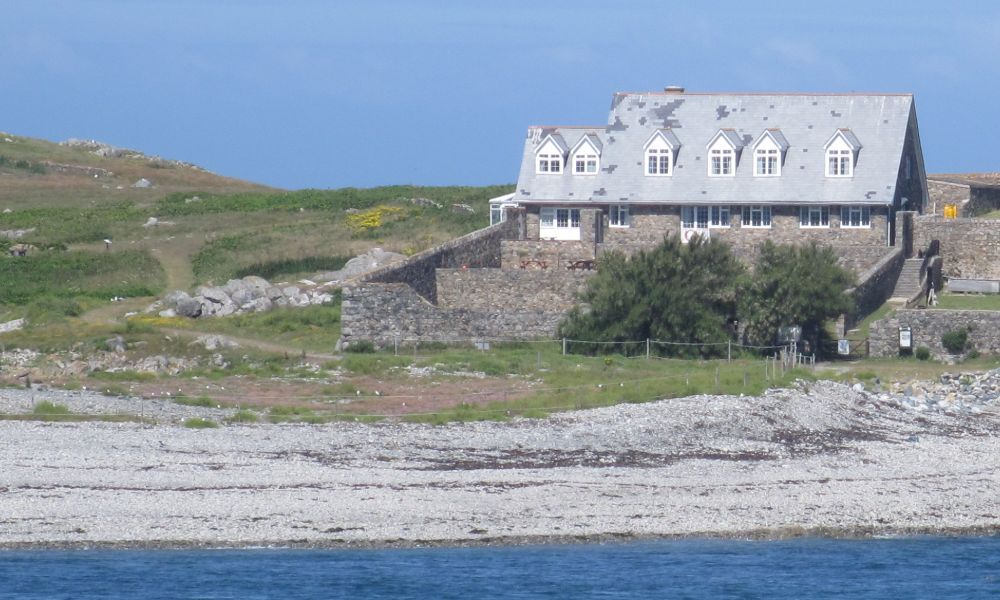 The stretch of sea between Guernsey and Lihou is notorious for its strong currents.
The alert was picked up by the Little M, which was fishing in Rocquaine Bay.
It was guided to the swimmers by a police officer on Lihou headland.
The lifeboat was standing by to collect the swimmers and the other family members on Lihou and take them back to St Peter Port.
In a further call out last night, (11) the St Peter Port lifeboat had to tow a motor boat into the harbour after it lost power two miles north of Herm.
The call was received at 8.30pm and the lifeboat was back at its pontoon by 11.45pm.