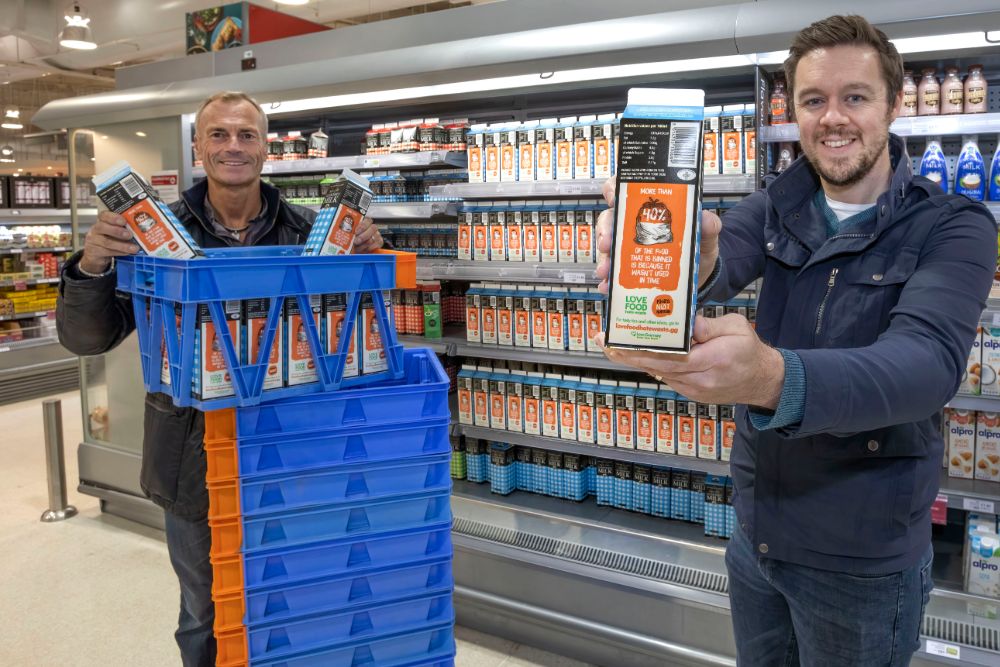 L-R: Andrew Tabel, general manager at Guernsey Dairy and Ben Henry, waste prevention and recycling officer.
Messages encouraging us to waste less food are being put on milk cartons in a bid to reduce the amount of produce that ends up in the bin.
Guernsey Waste's 'Love Food Hate Waste' campaign is now being promoted on milk cartons and it's hoped everyone will get the message when they open their fridge door.
Ben Henry, States Waste Prevention and Recycling Officer says the campaign aims to reduce the 4,000 tonnes of food that local households throw away each year.
He says it's estimated that good food ending up in the bin costs islanders more than £10 million a year and the average family could be wasting as much as £800 annually.
"A lot of the food that ends up in the bin is stuff that has been lurking in the fridge too long, and wasn't eaten in time, so it is the ideal place for us to be.
"And one of our top tips for reducing waste is to check your fridge and cupboards before you go shopping, to see what you already have. That way you only buy what you need, and can make sure you eat what you buy."
For more information on Guernsey's Love Food Hate Waste campaign, visit: https://www.lovefoodhatewaste.com/