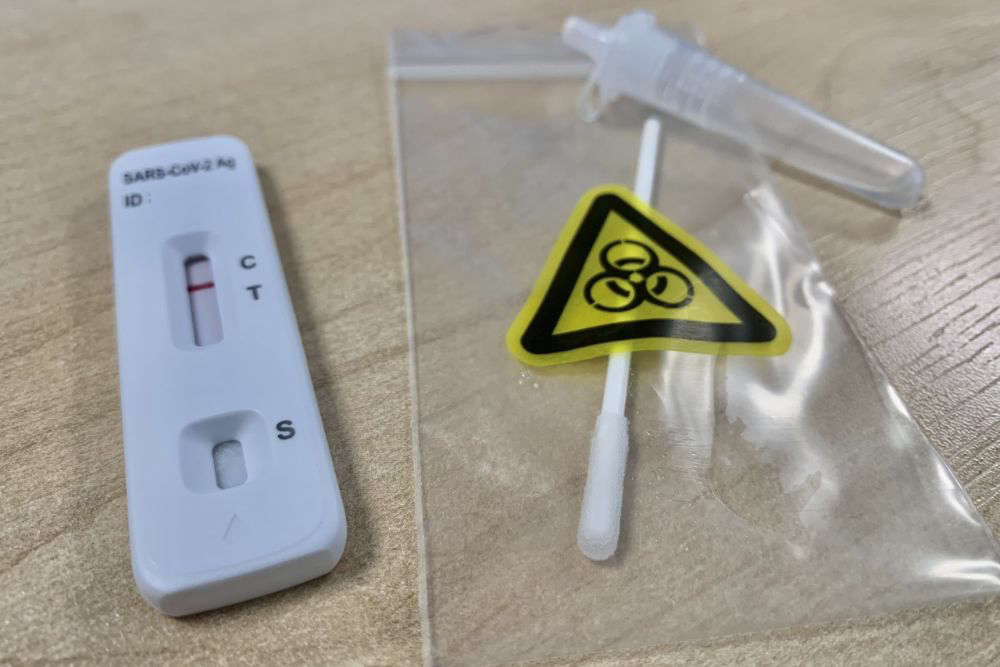 Guernsey's government has announced it is increasing its reliance on Lateral Flow Tests because of rising Omicron cases and the risk of services being overwhelmed.
Islanders who test positive on a home LFT will no longer have a PCR to confirm that result.
PCR testing will focus on 'high risk' surveillance, and on health and care and critical infrastructure staff.
Community testing will use LFTs and islanders who develop symptoms are being asked to take one first.
On Christmas Eve the number of known active cases in the Bailiwick exceeded one thousand, reaching 1027. There was one case in Sark and two in Alderney.
No results were returned on Christmas Day and Boxing Day.
"As we are now in an Omicron wave of infection, it is possible that our ability to manage cases of COVID-19 effectively could become overwhelmed. We must ensure this does not happen so the decision has been taken to streamline processes and primarily focus PCR testing capacity on surveillance testing in high-risk situations, and testing of health and care staff, and staff serving other parts of our critical infrastructures.
This forms part of our business continuity planning and something that we anticipated may occur." - States of Guernsey.
Islanders are being asked to support the change in strategy by taking an LFT if they develop symptoms.
The authorities say that if the LFT is negative, they should book a PCR test.
Islanders are also asked to take regular LFT even without symptoms, and especially before going to gatherings or visiting elderly or vulnerable people.
Dr Nicola Brink, Medical Officer of Health, says Guernsey is now in an Omicron wave and should prepare for 'large numbers of cases'.
'In the days leading up to Christmas we started to see significant increases in the number of positive cases. While we only sequence 10 random cases a day, we were seeing that 80 - 90% of these were Omicron. This tells me that we are now in our Omicron wave and we should expect large numbers of cases in the coming weeks.
During that time, we must continue to do everything we can to slow the spread of the virus and streamline the management of cases.
We simply don't have the resources to effectively manage such significant case numbers while also scheduling everyone for PCR tests and handling all the necessary contact tracing. We have to prioritise what we do to ensure that our measures are as effective as possible in the face of an Omicron wave of infection.
As such we are pivoting our testing strategy to focus community testing on lateral flow tests, relying on the high levels of accuracy of these devices.
We're asking islanders to continue using LFTs, we have significant supplies that are available for collection from the Guernsey Information Centre, both as part of routine surveillance – so before you go out to an event for example – and if you're symptomatic.
Any positive LFT result must be reported to us with the individual then put into self isolation. We really need the community's support, by everyone continuing to do the right thing, to help us slow the spread of this variant. We simply cannot afford to have huge numbers of people, particularly those delivering essential services, catch the virus at the same time. The island will struggle to continue running if that happens."
A drop in PCR clinic for anyone who tested positive at home over Christmas is open on the East Arm between 2.30- 5pm.