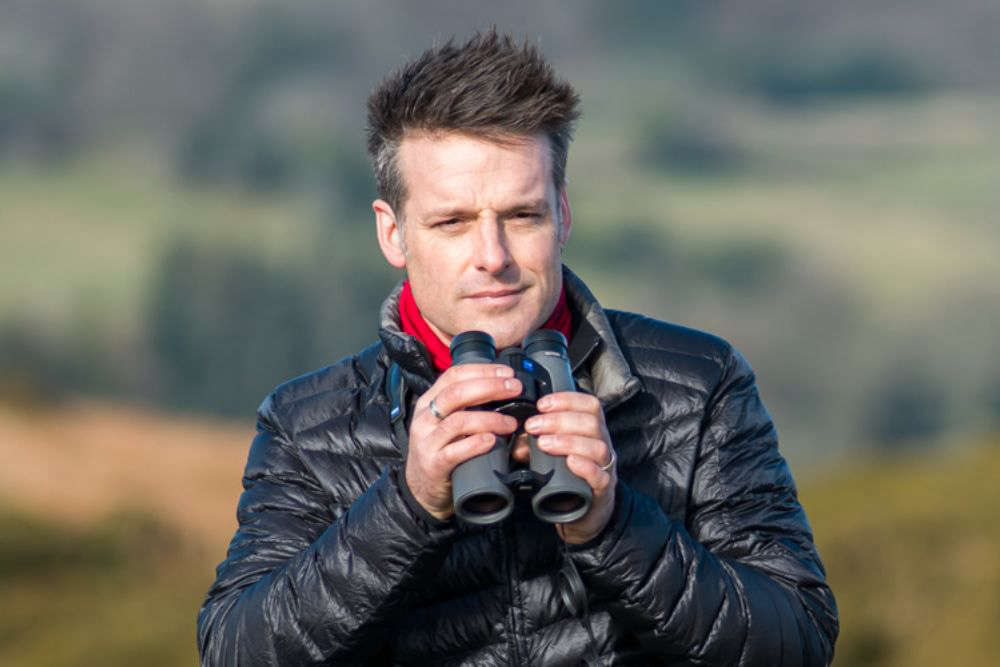 The TV wildlife expert is meeting Guernsey children to help them record different species on Lihou headland.
This is Guernsey's second BioBlitz of the year and hopes to record as many species as possible from a site in a single day.
Organisers say it aids better understanding of the island's nature and also provides an opportunity for schools to get involved in searching for, and recording, wildlife.
Following his appearance at St James, the SpringWatch and Killer Shark Live presenter is helping children from Vale Primary School and La Houguette School identify the many creatures and plants on the west coast shoreline and in the rock pools.
Nick says rock pools were very important for him when he first discovered nature.
"Rock pooling is particularly exciting because you don't know what you are going to get under the next rock. Also it changes between tides, so what you had yesterday will be re-set like a kind of living etch-a-sketch, and will be different tomorrow. You don't know what you are going to get, but what you will get is good stuff.
"There's a whole world, all interacting and rock pools are full of it. It's where I cut my teeth. Before I learned to dive I was a rock pooler. In fact the very first time I stuck my head beneath the surface of the ocean was in a rock pool. I didn't like swimming or dark water and slowly but surely the rock pools got deeper and I became a diver.
"Nature, whether it is a hedgerow, a rock pool or a meadow, that's where adventure comes from. Real adventure doesn't come from a computer console. It doesn't give you a real thrill, it doesn't satisfy you in the same way. So if you want to have a happy healthy human, you have to put hem where they evolved which is outside in nature."
The event is being hosted by the Biodiversity Partnership, Guernsey Biological Records Centre, La Société Guernesiaise and the Pollinator Project.
Lihou headland forms part of the Lihou Ramsar site - a site of international importance which has been designated under the Ramsar convention because of the diversity of species which can be found there, including over 214 different species of seaweed.
Barry Wells, co-founder of the Pollinator Project and bee recorder commented: "It's great that the Biodiversity Partnership is supporting the Pollinator Project to bring Nick Baker to Guernsey. He's a huge wildlife enthusiast and a renowned TV naturalist - so it's an amazing coup to have him here to join school groups and record local wildlife at Lihou headland. Plus, he'll learn about specific Guernsey species and see their habitats. We have some European species here that are not seen in the UK and some larger species (like the Guernsey Vole) too so we think it'll be fascinating to get his perspective on our island's wildlife."