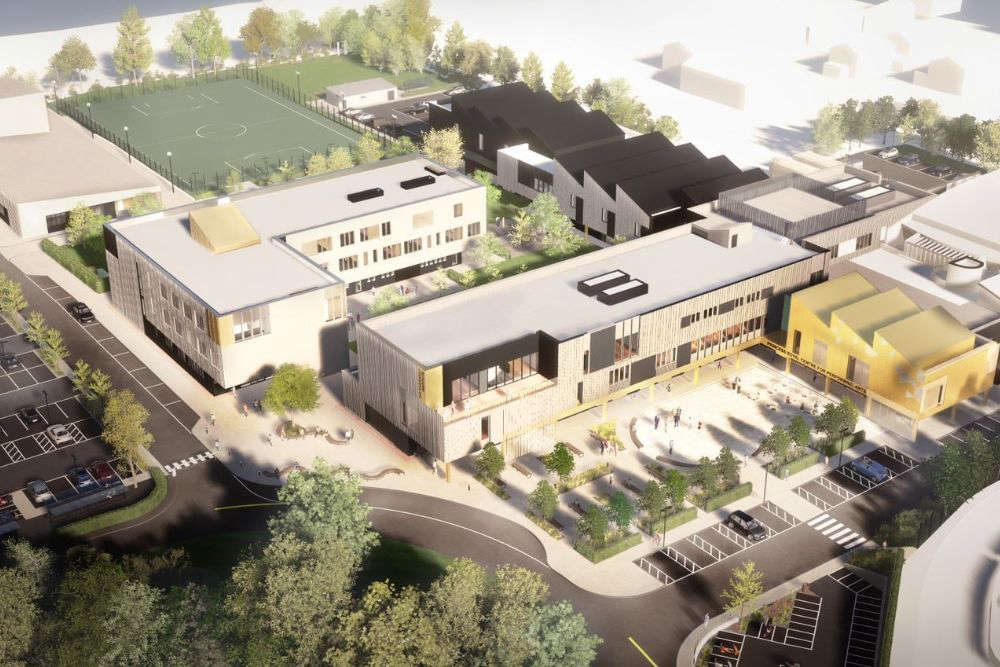 The planning application for Guernsey's new post 16 campus at Les Ozouets has been submitted.
If approved, it will deliver 15,000 square metres of learning space and a further 1,700 square metres of indoor sports facilities.
Education Sport and Culture has unveiled the vision for the proposed development.
Deputy Andrea Dudley Owen says it's an 'exciting milestone on the journey to a purpose built facility for the Guernsey Institute and the Sixth Form Centre'.
The complex includes a main building around the existing Princess Royal Centre for Performing Arts, incorporating the theatre. It will include specialist facilities for nurse training, arts students and hair and beauty courses.
The third floor will be the GTA University Centre, and there will be a campus cafe.
Adjacent to the TGI main building will be a Construction and Engineering building, including a design and technology workshop for the Sixth Form Centre.
A small Horticulture building on the site will provide a standalone classroom next to allotments.
The Sixth Form Centre will be over three floors with specialist facilities for art and design, media, photography, ICT and computer science.
Finally a Sports Centre will include a four-court full-sized sports hall and spectator area.
"The Committee has been very excited to see the plans for the post-16 campus come to life and is delighted to now be able to share them with the community. The new campus could a be a cultural game-changer for Guernsey and Alderney.
Not only will the post-16 campus provide a truly adult learning environment for our young people, but it will also offer many educational and training opportunities to the community as part of our commitment to lifelong learning.
Having had this vision supported by the States, we are extremely pleased with how the plans have progressed to develop the site with the right facilities to make it a reality." - Deputy Andrea Dudley Owen
The aim is to have the campus in use in September 2025, after the target date for achieving agreed reforms to education was pushed back a year.