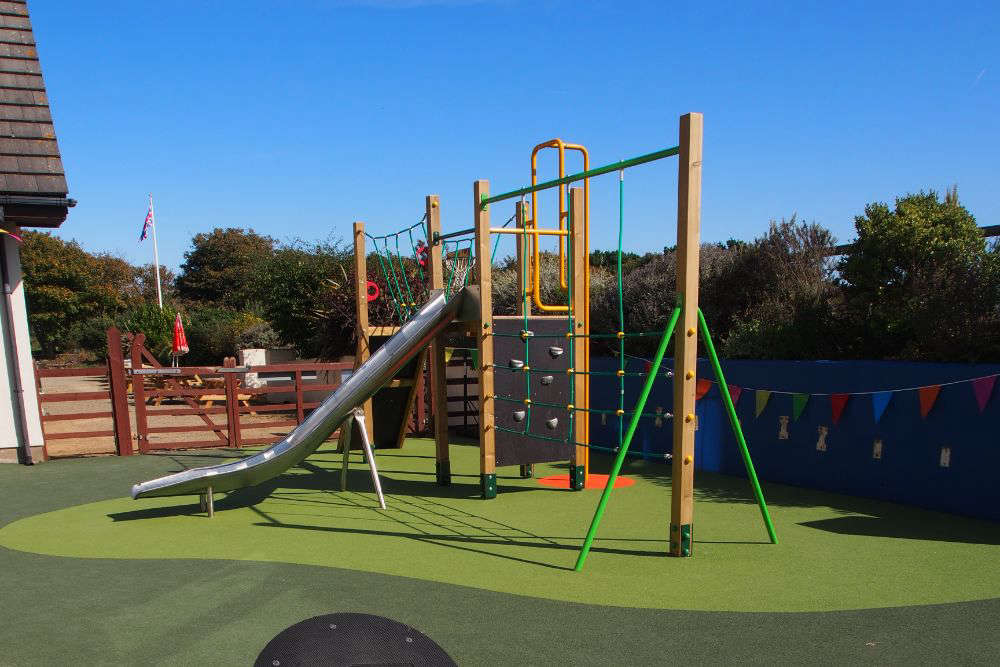 Children at Sark School now have new playground to spend their break and lunchtimes in.
A range of new equipment has been installed around Sark School for the pupils, who are aged 3 to 13.
After a year of planning and building, Sark's Head of School Michelle Brady opened the new playground this week.
It is the first tailor-made playground and outdoor learning area on the island.
It was designed to last many years and be on par with standards expected for children in Guernsey or the UK.
The Chairperson of Friends of Sark School, Rosalie La Trobe-Bateman, has been telling Island FM the benefits of the new equipment:
"The children are just so eager to get to school in the morning because they're excited to have something to play on, and at break times as well - to see them so excited, but also respecting what has been done for them, is fantastic.
There's physical development, stimulation, creativity, imaginative play, and just generally a boost of morale for the students and the staff.

She added that as the playground wraps around the entire school building it is making use of previously wasted space.
About half of the space was previously blocked off because it was around the corner and you couldn't have anything there because of the concrete.
So now we've expanded the useable space which means that the children have a lot more room to run around and play."
The area now includes a large climbing frame with a slide, a buddy board, a basketball hoop, a play train & station, a sandbox, an outdoor play kitchen with wet-pour safety surfacing and a bespoke track design for bicycles.