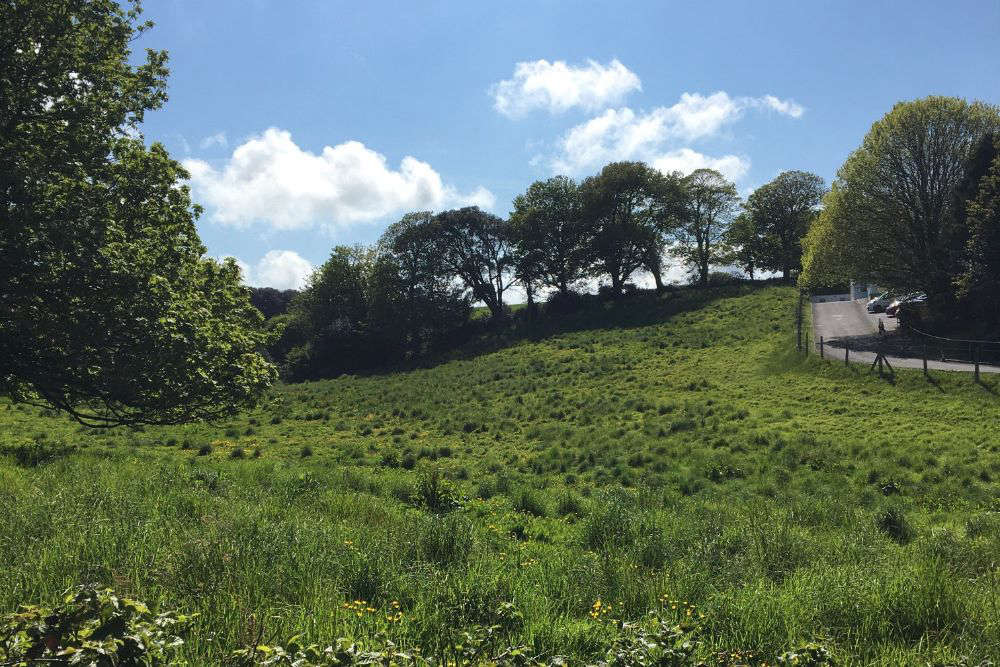 The green field off Le Vauquiedor that could be built on. Credit: @steve_falla
Seven deputies want any plans to build keyworker accommodation on the large field at the western edge of Guernsey's hospital to be debated by the States.
P&R's Deputy David Mahoney has suggested the site could provide housing for 150 nurses and other key-workers who are priced out of the housing market.
Deputy Steve Falla, has brought the requete - or petition - saying it must be scrutinised.
" As far as we are aware, no options appraisal has been carried out and we need to have the opportunity for the States to give direction on the basically u-turn of policy to build on a green field.
It is a green lung within the built-up hospital site, it is an agricultural priority area and green field should only be used as an absolute last resort when all brown field sites have been exhausted."
Deputy Falla says there are better options available:
"We're aware that the previous HSC had considered turning the Duchess of Kent building into staff accommodation. We feel that would be a much better solution. In our view, it needs to come to the States so that this option can be properly debated."
The requete asks the States 'to agree to the need for more key-worker housing in Guernsey; that this housing should be at various sites in the island and suit the full range of key staff and that accommodation on or near the PEH should be on brownfield sites and include the redevelopment of Duchess of Kent House'.
It also asks the States to agree not to seek planning permission for staff accommodation on Agricultural Priority Areas or other greenfield sites.
The other signatories to the requete are Deputies Tina Bury, Peter Roffey, Lindsay de Sausmarez, Adrian Gabriel, Heidi Soulsby and Simon Fairclough.