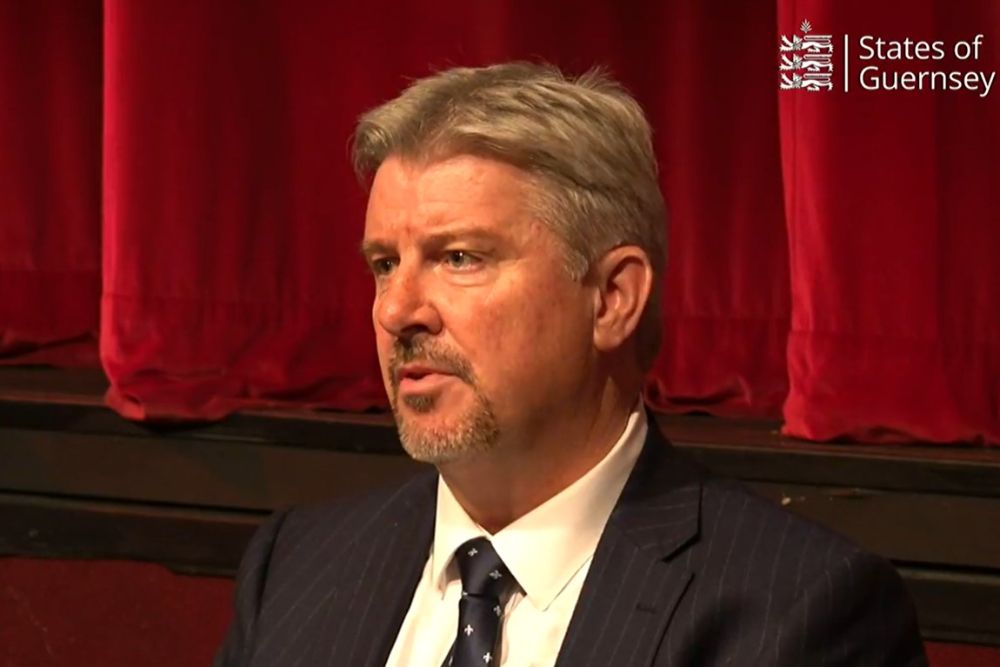 Treasury lead Deputy Mark Helyar
Tensions are rising over proposed revenue-raising measures after Treasury lead Deputy Mark Helyar insisted he doesn't want to put up taxes.
Deputy Mark Helyar - who presented Policy and Resources' possible tax options, which include GST of up to 8% - took to social media this week to 'set the record straight'.
He says the tax review report that has been presented is a product of answering objectively the question 'if we had to raise tax to 24% of GDP, how would we do it?'
He says it is not his 'belief' that it's the right thing to do.
"What I want and believe is that the States should stop wasting money, cut cost and actively seek out ways to do that, not just put up taxes."
Deputy Helyar says islanders should be demanding a government-wide plan to stop spending on things the public have neither asked for nor want.
He says the public has every right to be angry about possible tax rises - 'the more angry in my view the better, because there remains many who are committed to doing things the way they have always been done, and we know that does not work.'
The deputy's Facebook post blames the previous States for asking 'the wrong question' and therefore reaching 'the wrong answer'.
Deputy Peter Roffey says he's flabbergasted by the comments.
"If either he, or the Policy and Resources Committee, believe that why on earth did they not seek to change the terms of reference before embarking on the task? Why waste the time and effort of top civil servants at a time when we know such resources are painfully scarce."
The Employment and Social Security President, who contributed to the tax review working party, says he can't stay silent 'when I see a public statement, from a very senior politician, which suggests we chase unicorns.'
He says that the biggest driver of the need to raise revenue because of the ageing population is not the rising cost of services, but the 'enormous funding gaps' facing the state pension and the long term care fund.
He says closing that gap by cutting public spending along is 'dangerous fantasy' and would require a 'slash and burn approach'.
"The line that the estimated requirement of circa £75M in extra revenue can be avoided through cost cutting will no doubt prove very popular and go down well in many quarters, but it doesn't hold water when looked at in depth.
To even try to fund the pressures which we all know lie ahead by spending cuts alone would require a policy of "austerity on steroids" which would devastate front line services. "
Former Chief Minister Deputy Gavin St Pier has also been responding to Deputy Helyar's statement, with a series of twitter posts.
So because it's getting a bit too hot in the kitchen, this is the response?

It's a pathetic attempt to deflect ownership and responsibility for the work undertaken by THIS administration under THIS leadership. https://t.co/Z81kSlLlH2

— Gavin St Pier 🇬🇬 (@gavinstpier) August 11, 2021
He later added:
"I look forward to reading his minority report then - because that's what you do if you don't agree with rest of committee - or resign of course.
First we had 2021 budget which were told was 'inherited' so couldn't be changed; then financing and investment plan in GWP which was THE chance to spell out how this government wanted to make cuts and reform but didn't do so; and then this. This government is rudderless.
Truly struggling to find right words: shambolic? shameless? absurdly populist?
Only traducing going on is by P&R lead of own review. Treasury lead has enthusiastically led review from day 1.
If it helps, as a member of public I'm angry at proposals…and absence of leadership."
The Policy and Resources Committee has since issued a statement saying that Deputy Helyar 'expressed his personal views' which are 'helpful in stimulating debate'.
"Alongside any new or increased taxes, the States must prioritise efficiencies and reductions in its spending, and this should form part of any solution to the problems we face with our public finances in the future. Deputy Helyar makes that point clearly and well.
...The Policy & Resources Committee remains fully committed to publishing the Tax Review, in the form of a green paper, later this month to facilitate a debate in the States Assembly.
...The Committee believes the review will provide a foundation for the States to fully and openly debate the direction it wishes to pursue, and allow for firm proposals to be developed and brought back in June 2022 on how to meet the financial challenges our community faces."