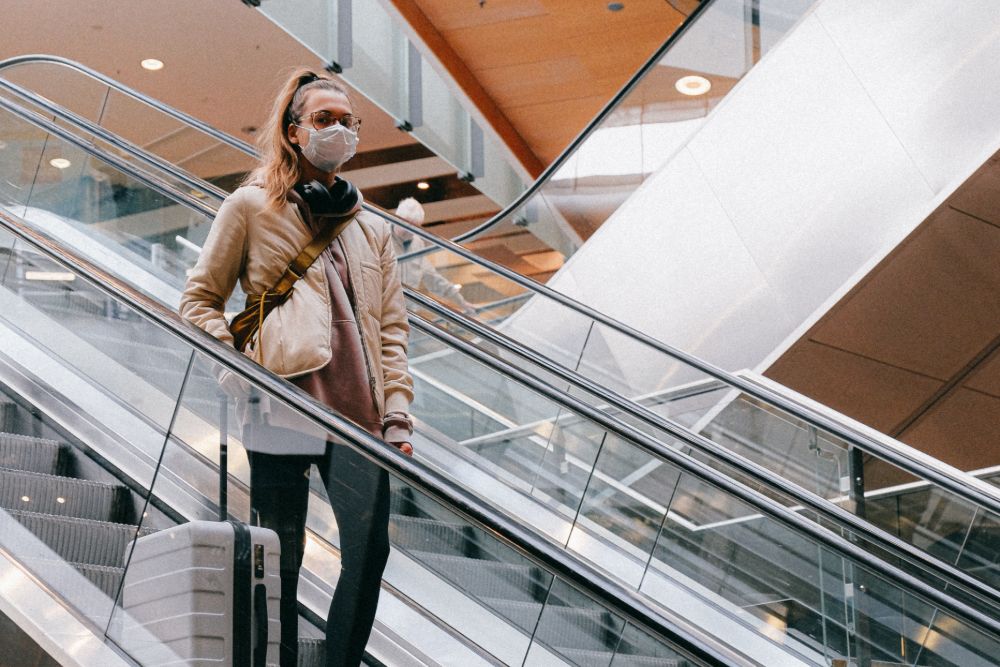 Anyone planning journeys in or our of Guernsey should check the government's travel map and guidance regularly.
That is the advice from the States, which has published a map of UK regions likely to meet the criteria for Category 2 when it comes into effect on Friday.
Places with fewer than 30 cases per 100,000 of the population will require isolation only until a first negative test, taken on arrival in the Bailiwick, though that could be up to 48 hours.
Passengers will be tested again on day 7. Tests will be charged at £25 each from Friday 14 May.
Dr Nicola Brink, Director of Public Health, says the numbers - and therefore categories - are subject to change;
"What we have seen in recent times is that the numbers in the UK have declined, but they are plateauing off, so you do need to consider this when you travel.
The watch list are countries or regions that are about to change categorisation, and I'd encourage people to take this into consideration when planning their travel."
Data will be updated three times a week, on Mondays, Wednesdays and Fridays.
Government guidance also states:
* Passengers must observe 'passive follow-up' rules until 14 days after their arrival.
* If travelling as a family or group, everyone in the party must receive a negative test result before anyone leaves self-isolation.
* Category 2 visitors who depart from Guernsey before completing 7 days will be asked to take a test on departure at the airport or harbour (instead of a test on day 7).
*Arrivals into the Bailiwick are again reminded that they must provide details on their travel history on the online Travel Tracker before they arrive.
*Travellers have to provide their travel history for the 14 days prior to arrival in the Bailiwick.
* If your journey to the Bailiwick means you transiting through a port or airport in a higher category region, that higher category WILL effect which category is applied to you and will therefore effect your self-isolation requirements.
This does not apply if you transit directly through in a private vehicle (which includes a taxi) where:
• The private vehicle does not stop at all in the Category 3 or 4 region; or
• The private vehicle only stops in the Category 3 or 4 region and
o No new people get into the vehicle
o No one gets out, comes within 2 metres of any other person (other than those they are travelling with) and gets back in again
An indicative map has been published to give islanders an idea of potential Category 2 areas, but the authorities say it is not possible to be certain how this will look on Friday, when the category is introduced.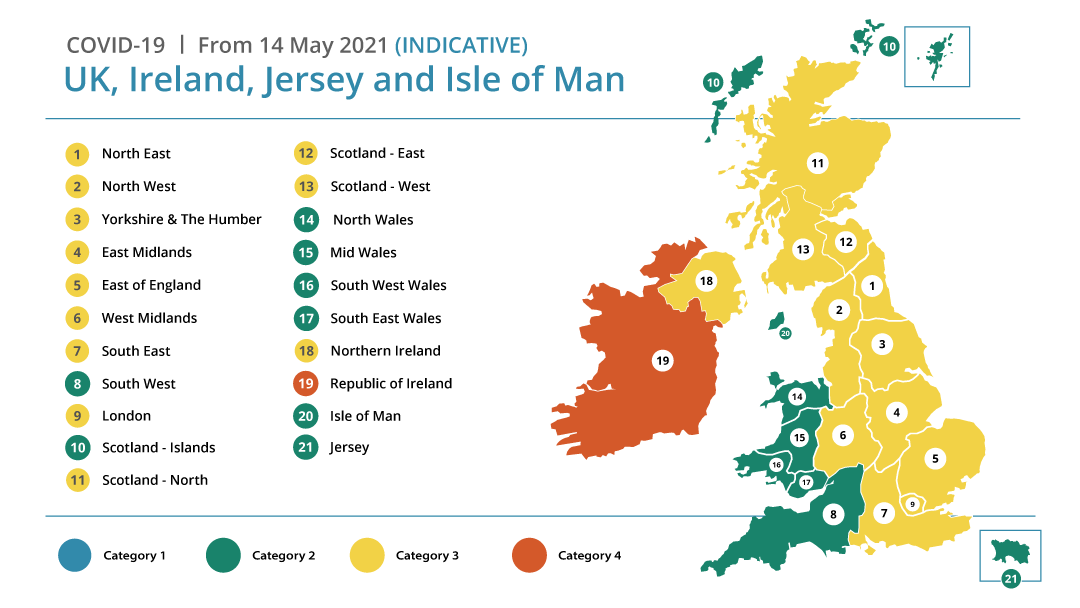 A revised map will be published on Wednesday (12 May)
Maps, country and region lists and the watchlists can all be found at gov.gg.
The authorities also say that anyone making travel plans should check their travel insurance beforehand, to see whether it covers changes to flights and accommodation and covers medical bills as a result of COVID-19.
They warn it is possible you could test positive for the virus or be a close contact of a positive case while away from the island, meaning you would need to self-isolate before being able to return to the Bailiwick.
The States says we need to take full responsibility for our own travel arrangements and be aware of the requirements of the countries we travel to and through.