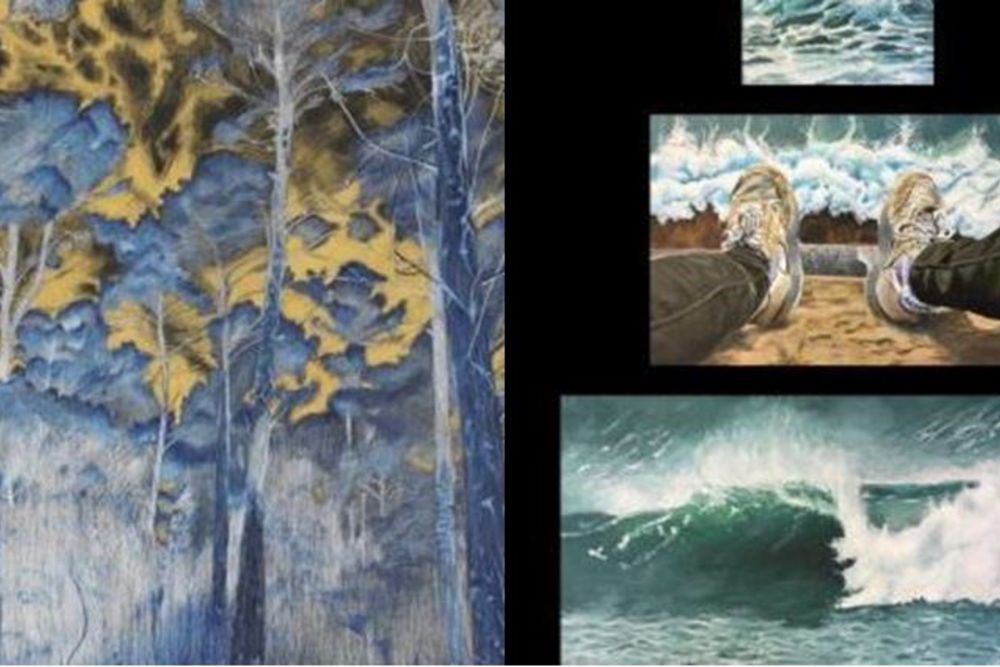 Isabella Lee and Catherine Lees are representing Guernsey in the Sovereign Art Foundation Art Prize Global Final.
If voted for by the public, £4,300 in grants is awarded to the winning entry and their school.
The Sovereign Art Foundation is a non-profit organisation, launched in Hong Kong in 2003. It promotes contemporary art talent through its international art prizes; raising funds for various charitable programmes.
The first students prize was established in Hong Kong in 2012, later followed by Guernsey in 2015. Since then, secondary schools across the Bailiwick have entered their students best work each year.
This year's regional competition took place late last year with the entries put on display in the Beau Sejour foyer.
The Global Students Prize sees finalists who were previously named winners in their respective regions during 2020 being selected either by a local judging panel or the popular vote from members of the public.
Among the 14 talented young artists in the final are the winners from Guernsey. Isabella Lee of Ladies College and Catherine Lees of Blanchelande College are representing the island up against the 12 other finalists from the likes of London, Hong Kong and Singapore.
Isabella tells Island FM she is thrilled to be in the running for the global prize.
"Honestly, I am so happy. I won the judges prize in Guernsey and even that was such a massive achievement because all the art was so amazing, and the same with the global competition. It's just amazing to be part of that.
"I was entered by my school but, I'd always seen other people above me being entered with their pieces, and I always thought that's so amazing.
"I always strived to be part of that competition. I always thought that's an amazing standard of work, I hope I can reach that one day."
She added what it what would mean to her if she won the global prize.
"It would just be amazing. It would be like the icing on the cake - I'd be so happy!
"Part of the prize is that I get money to go towards my school, so I'd use that to help out the art department. I'd have a chat with some of my friends and see what needs to be done to really improve the art department."
Island FM has also been speaking to Catherine, who says she still cannot believe her work is in the final.
"It hasn't quite set in that my work will be viewed on a global scale, it's such a great opportunity for young artists like myself and Bella, especially when coming from Guernsey as we mostly are just compared to local artists.
"Being up against a wide range of art forms is really pushing me to try new mediums in my art and put more thought into the meaning behind my pieces.
"It would be wonderful if myself or Bella won either of the prizes, but I think we are both just happy to have made it this far. I was really grateful to have received the public vote prize for the local competition, especially as I want to pursue a career in the fine arts."
You can view the online gallery, and cast your vote for Isabella and Catherine here. The voting closes on Monday 22 February and the winner will be announced on 26 February.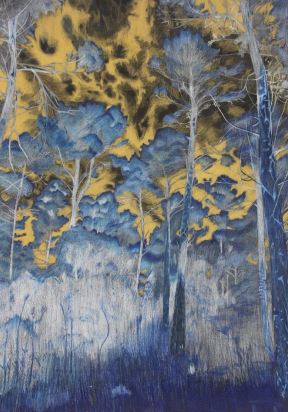 Above: 'Inverted - Forest Colours' by Isabella Lee, Ladies College
"A pencil drawing of a forest in France where the colours have been inverted. I did this to show how landscapes change and become unfamiliar due to climate change."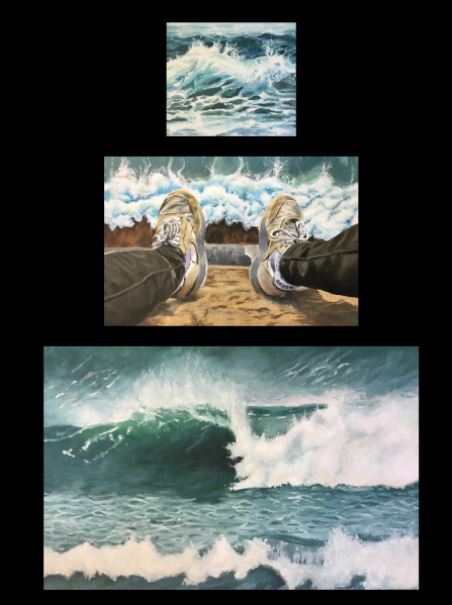 Above: 'A Day At The Beach' by Catherine Lees, Blanchelande College
"I have captured three different moments of a visit to the beach. The first piece is painted in watered down acrylic, the middle painting is acrylic and the last piece is in oil paint. The water crashing in the first painting represents feelings of stress and anxiousness.
"The middle piece demonstrates looking at things from a different angle, and the last painting shows how we can bring out the beauty in things from a distance."