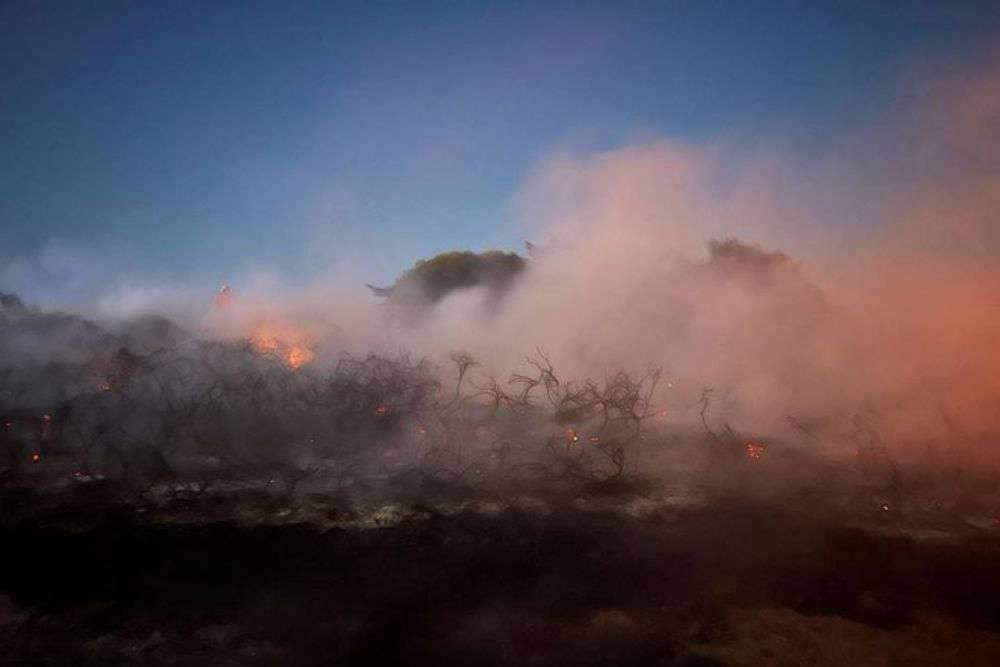 On the same day Jersey's firefighters pleaded for the public's help to avoid wildfires, crews were called to a blaze in St Ouen.
People from nearby homes tried to battle the flames with their garden hoses.
It took the Fire Service around two and half hours to put it out and damp down.
More than 1,000 square metres of vegetation has been destroyed.
The fire was caused by a group of young people with a small fire they thought they could control.
A spokesperson for the Fire Service says:
"The fire was a result of misjudgement of how quickly and easily fires can spread in the current conditions. Firefighters on scene gave appropriate words of advice to those involved.
As a reminder to the public, the current hot weather and dry conditions are significantly increasing the risk of fire spreading, with temperatures continuing to remain high. Because the ground is so dry, and with large amounts of gorse around the Island, a fire could catch easily and spread very quickly."
The Control Room received multiple calls at around 8pm reporting a large open land fire threatening properties.
Three fire engines and a water carrier were sent to the scene.
No buildings suffered damage.
The fire broke out within hours of JFRS issuing a plea for islanders' help to avoid wildfires during the ongoing dry conditions.
Chief Officer Paul Brown asked people not to light bonfires or campfires, or burn their garden waste.
He said we should also think very carefully about about how to make sure disposable barbecues don't cause a fire in soaring conditions. - keeping them well away from any vegetation and dousing them in water to endure they are fully extinguished.
"We would like to remind the public that this sustained period of dry weather means the likelihood of an open land fire is dramatically increased. The lighting of fires should be avoided and always consider the possibility of the fire spreading." - JFRS.
Firefighters put out a blaze on the headland near La Pulente last weekend. The cause is still being investigated.
Jersey's government repeated the Fire Service warning on its social media channels, along with photos of the fire-damaged land: