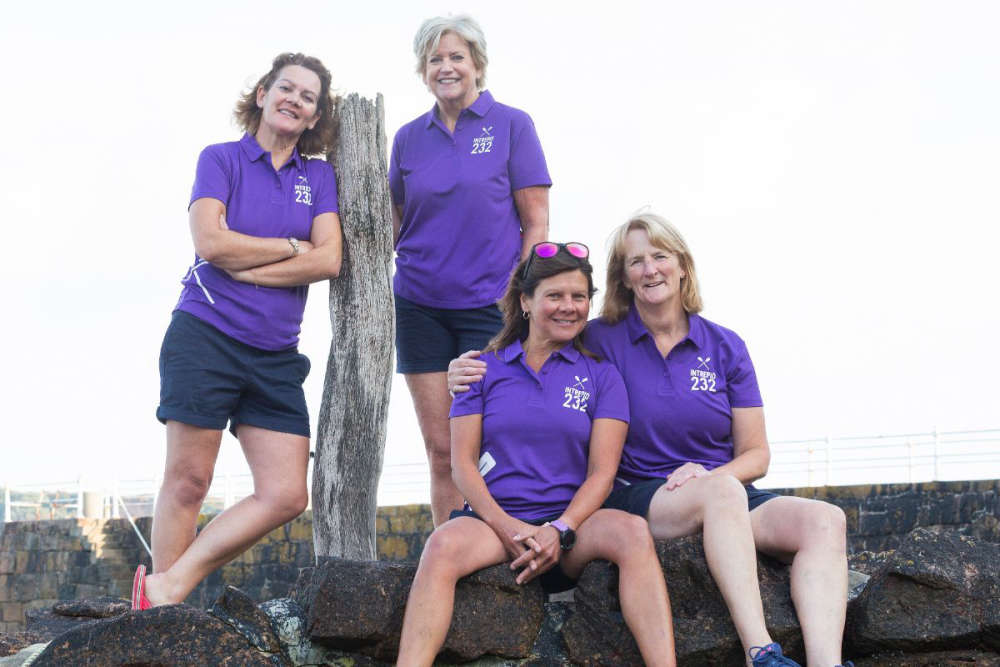 L-R Rosemary Satchwell, Alison Smithurst, Helene Monpetit, Julie Brady
These four women are hoping to become the world's oldest female fours crew to row across any ocean.
Alison Smithurst (59), Rosemary Satchwell (55), Helene Monpetit (56) and Julie Brady (60), dubbed team Intrepid232, are taking on the Talisker Whiskey Atlantic Challenge in December.
It'll see them rowing more than 3,000 miles from La Gomera in the Canary Islands to Antigua.
Julie has told Channel103 where the idea to take part and to try beat the record came from.
"Our name Intrepid came up and then we thought 232 is our ages at the start of the race combined and it progressed from there.
We are slightly older, but we thought let's see who else has attempted it."
The current record holder is the crew of Yorkshire Rows who took the title in 2016. Their combined age was over 188 years.
Jersey duo Steve Hayes and Peter Wright took part last December and finished in 54 days, 16 hours and 45 minutes.
But, Julie says the team aren't focusing on that but is concentrating on their own journey.
"Obviously we're all competitive people because we all have a sporting background whether that's rowing basketball or netball.
I think our aim is to do the best we possibly can, it's difficult because there are so many factors and variables."
She says that the pandemic actually convinced them to take on the challenge.
"Rosemary has always been keen to row the Atlantic and kept on asking us but we all kept refusing.
But after COVID, we all sat down and said life's too short so let's go for it!"
The foursome are raising money for both the Grace Crocker Foundation and the Blue Marine Foundation.
"The main thing for the Grace Crocker Foundation is their aim of keeping parents and their sick children together when they have to go the UK for treatment, so that really resonated with us as mothers.
We also chose the Blue Marine Foundation because being from Jersey we're either in, on or under the sea, we love it so much. It was important we kept that connection."