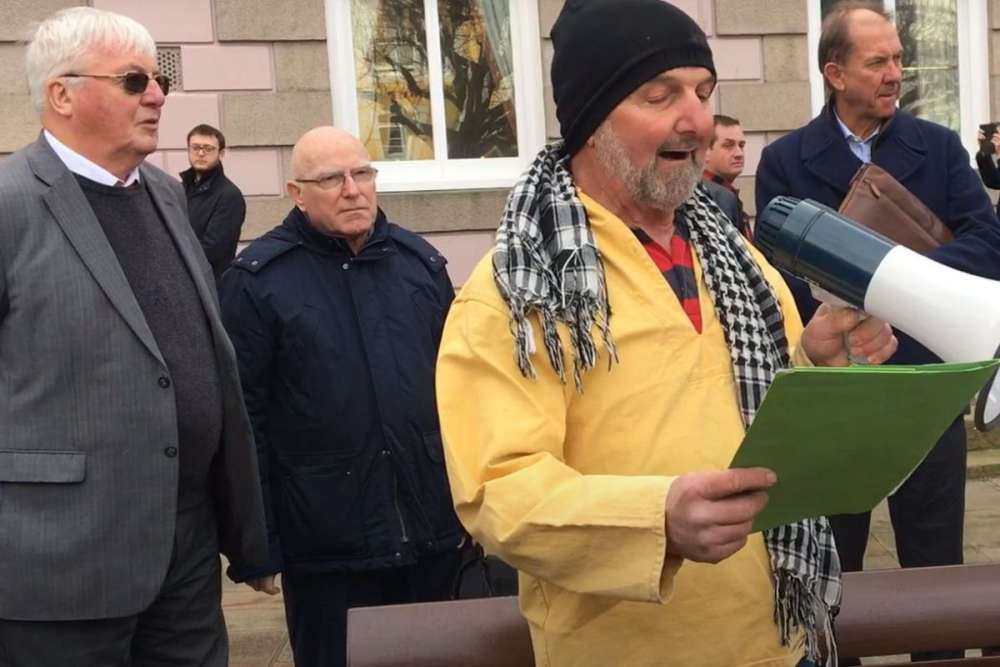 Don Thompson speaking after a march through St Helier in 2019, with the Environment Minister (far left) watching on.
The president of the Jersey Fishermen's Association says ministers have been bullied and manipulated into issuing so many licences to French fishermen to use island waters.
64 permanent and 31 temporary permits have been given out, on top of the 47 confirmed earlier this year.
That brings the current total to 111, which could go up to as many as 142 by the end of January 2022.
The 31 vessels given temporary licences have been given four months to provide the additional evidence required for a permanent licence.
Don Thompson says Jersey fishermen are shocked.
"It's effectively double the number of French boats that previously fished here. It's a very sad day for Jersey fishermen.
"We had at least thought that in return for access to our waters that we might get some licences for our boats or we might get some assurances that we could start to land and trade our fish like scallops and whelks back into France as we did prior to Brexit, but Ministers have forgotten about Jersey's fleet and forgotten about free trade.
"None of those assurances have been fulfilled. We just cannot believe that so much has been given, with so little in return.
"The Environment Minister absolutely promised that Jersey would take control of its marine resources, of our fish stocks and they have absolutely let go of that part of the TECA (Trade and Economic Co-operation Agreement) that says that Jersey would control and reflect the nature and extent of previous fishing.
"Licences have been issued for free and 20 to 30 million euros worth of fish will be taken from our waters every year with no benefit to this island."
The transition period that allowed certain French vessels to fish in island waters expires today (30 September).
75 other French vessels have been denied permits and given 30 days to stop fishing here.
The government says licence conditions on 'days at sea' and 'gear used' will stay suspended so talks can continue between Jersey, the UK, the EU, and France over how to interpret 'extent and nature'.
"We want to know if the (Environment) Minister intends to take a proper look at the terms of the TECA where nature and extent of previous fishing has a real meaning and whether he does intend to control what French boats, how much fish they can take from our waters, what type of gear they can use, and how many days they can spend fishing in our waters.
"Otherwise, his promises are somewhat idle and have not been fulfilled." - Don Thompson.
The UK has granted 12 new licences for smaller French vessels to use its waters. 47 applications were made.
France's Maritime Minister Annick Girardin responded by saying that French fishing 'should not be taken hostage by the British for political ends'
Licences are due to be issued to French fishermen to use Guernsey waters by 1 December.