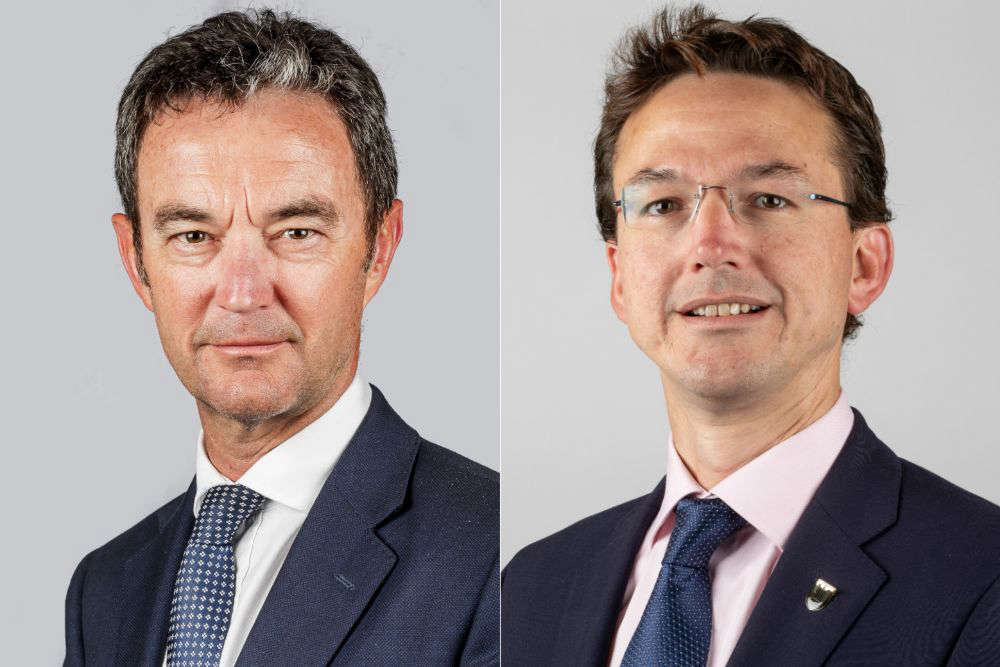 HM Solicitor General Matthew Jowitt QC and Deputy Kirsten Morel
Jersey's first female government CEO is due to be appointed - after a proposal to halt the recruitment process was withdrawn.
Deputy Kirsten Morel wanted the interim chief executive, Paul Martin, to stay in post until after next year's election after praising the impact he's had since coming into post in January.
He also wanted the Comptroller and Auditor General's recommendation for a review to be carried out first to be finalised.
Lynn Pamment recommended that a review into the appointment process for the former CEO, Charlie Parker, be sorted so lessons could be learned, and action could be taken, to address the issues that led to Mr Parker receiving a £500,000 payoff.
Deputy Morel said the interim CEO Paul Martin is doing a good job and given the civil service is in a much better place, why gamble with Jersey's future.
"There is no doubt (that) when you appoint somebody new, you could be going to better places, but as we've seen in the past, you could also be going to places which aren't as good.
"When we gamble, we can win more, and maybe this new CEO will be even better.
"But the flip side of any gamble is that you can lose it all and it is that potential loss because it is a loss for the island, not for anyone else of us in here or any group of us in here, if there is a loss, it is the island that will feel it and this is what my proposition seeks to avoid."
But an offer has already been made and accepted to appoint a permanent CEO - and the Solicitor General advised that pulling the plug on this now could lead to a legal challenge.
"This proposition, I'm bound to say and it is the opinion of the Law Officers if adopted, and if acted upon by the States Employment Board, would entail them calling an abrupt halt to a lawful and legally binding selection process prescribed by law.
"I think it would be fair to say, colourfully, it would involve driving a coach and horses through the law."
Belfast City Council boss Suzanne Wylie is reportedly the preferred candidate to become permanent CEO.
Senator John Le Fondre, speaking to Scrutiny last week, said the offer was made before the proposition to delay the recruitment process was made - and that's why they've held off on making the appointment.
"You have to have your main plan, which is you have to know that you've got certainty that you can get your permanent post in.
"We don't hang around on these things.
"We were very clear that we get the interim post and we start immediate recruitment for the permanent (post)."
It was announced on 24 March that a recruitment process for the permanent CEO had started, just over three weeks after Mr. Martin started as interim CEO.
Deputy Morel said while he doesn't agree with all of the Solicitor General's advice, he knows most States members will listen to it and cull their support for his proposition.
Deputy Morel has withdrawn his proposition regarding the Government of Jersey CEO recruitment process.

— States Assembly (@StatesAssembly) September 15, 2021
"This advice raises a much more significant issue and that issue is the primacy of this assembly.
"We have a situation in which the SEB can not only ignore the Comptroller and Auditor General's recommendations, but is also exempt from acting according to the will of this assembly.
"This concerns me deeply.
"I agree that recruitment processes should be fair and free from political influence in the selection of a candidate, but that does not mean the sovereign political body that is this assembly should be rendered impotent in terms of choosing whether or not to stop or start a process of recruitment.
"Perhaps if I believed that SEB and the Appointments Commission had overseen fair and transparent recruitment processes during the time I have been in this assembly, then maybe I would begrudgingly be willing to accept the primacy of SEB in this matter.
"But, in my eyes, I have seen cronyism and proof that the processes currently being used and overseen by the Appointments Commission are clearly insufficient."