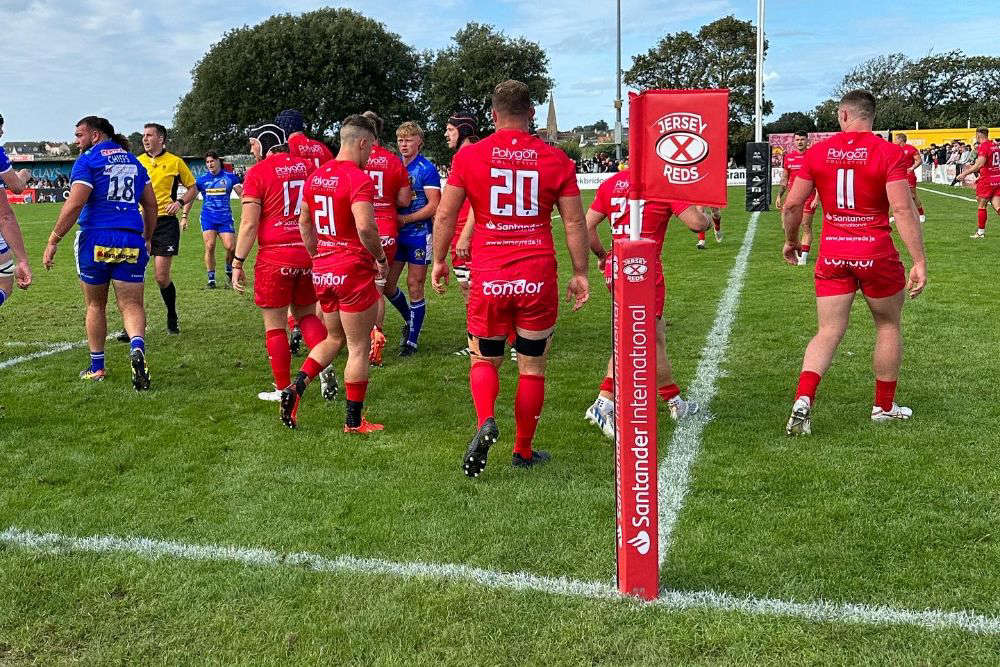 Players, fans and the sporting community have been taking to social media to voice their feelings on the Jersey Reds ceasing trading.
Players, staff and coaches were pulled into the office for a meeting this morning, which announced the second-tier rugby union club faces liquidation if there is no solution to its financial issues.
The Jersey Reds' announcement feels like Groundhog Day for many fans of the sport, as they follow the Wasps, London Irish and Worcester Warriors, in a painful blow to the English rugby community.
The Rugby Football Union is coming under scrutiny from supporters across Britain, who wonder how this could happen in the middle of the World Cup and during the Premiership Rugby Cup.
Absolutely gutted, unbelievable set of lads and so many great players in this team. Rugby community please help the lads out 👍 https://t.co/It8foApPGy

— James Mitchell (@JamesMiitchell) September 28, 2023
I'm absolutely devastated for the club and everyone involved. So sorry this has happened to you. Jersey Reds have punched above their weight over the years and have been incredible ambassadors for the sport. I sincerely hope a solution may be found. Thinking of you all. ❤️😢

— Howie Davies 🇺🇦 🏴󠁧󠁢󠁷󠁬󠁳󠁿 🇮🇹 🇯🇪 🇺🇦 (@Howie_Davies) September 28, 2023
More and more clubs in the second tier are finding life difficult after the RFU slashed their Championship funding in half in 2020.
Former Reds player Tomi Lewis, who helped the team win the Championship last season, posted on Instagram saying:
Terrible news! Such a great club with some quality players.

Thoughts go out to all players and staff 💔
Current players, including Second Row player John Hawkin and Centres Jordan Holgate and Charlie Powell, have posted "💔" on their stories accompanied by the post from the team.
Absolutely gutted 💔 https://t.co/rz2sT79KpX

— John Hawkins (@johnhawkins1996) September 28, 2023
Some ride with an incredible group. Devastated 💔 https://t.co/KTkIpIN1qA

— Alun Lawrence (@alunlawrence1) September 28, 2023
Dan Barnes, who plays Centre, took to X (formerly Twitter) to say it is a disgrace.
Back Row's Ciaran Booth says he is absolutely gutted:
What a waste.

I've met an incredible community of people in the short time I've been here and loved it all.

Hopefully this stops happening to good people.
Some players have been approached by clubs and the RFU has announced it is helping players in the meantime.
Absolutely devastated.

Anyone looking to get in contact please chat to @AnzoSports https://t.co/XxtPOJjp8a

— Alex McHenry (@AlexMcHenry97) September 28, 2023
If anyone is looking for a tighthead in the interim, it would be greatly appreciated 🙏🏽

Contact myself or my agent Tom Beattie

Devastated 💔 https://t.co/89xPhAvzcK

— Steven Longwell (@Longwell28) September 28, 2023
Devastated. Having watched the club grow from a distant amateur club to one of the best in the land. We should be in the Prem this season. I am proud to have played a small and insignificant part in making jersey reds what they are. I can't understand how we got to this stage 😢

— JAMES HEWLETT (@hoffsports) September 28, 2023
Many fans are confused as to how the Rugby Football Union has 'allowed' the island side to almost fall into administration amid global celebration for the World Cup in France.
More confusion comes from how the 22/23 Championship winners could not secure solid investors for the new season.
The Reds thrashed Ampthill 43 - 15 last April and held off Premiership club after club at the start of their 23/24 Prem Cup campaign.
Jersey Sport's CEO, Catriona McAllister, says the closure will have wide-reaching impacts.
"Maintaining a professional club is important, in that it is also important in terms of driving the economy and visitors to the island.
Winning the Championship put Jersey on the map, worldwide.
It would be a real shame for sport in Jersey to be missing that professional standard in one of our key sports."
I can't believe this how has the RFU allowed this to happen 💔

— Cheryl Bresset (@cheryl2703) September 28, 2023
This is disgusting….@RFU you need to take a long hard look at yourself! As the richest union in world rugby, you should be stepping into help clubs that are struggling. Bill Sweany is an embarrassment and needs to be shown the door! @AndyGoode10 @stephenjones9 @chjones9

— David Popple (@DavidPopple) September 28, 2023
The RFU released a statement saying it, like the Jersey Reds' players, staff and supporters, is deeply concerned by this news.
It is extremely disappointing that investors would take decisions at this early point in the season to place the club in such a position.

Championship clubs had clear confirmation from the RFU on funding for the 2023/24 season and we have been working with the Championship and Premiership Rugby on the new Professional Game Partnership and shape of Premiership 2 with funding levels to be confirmed at the end of this calendar year.

The Championship has been fully involved in these discussions since February which are aimed at stabilising and strengthening the professional game.

This news will clearly impact the season for the Championship league and Premiership Rugby Cup competition, which was introduced this season as a way to offer a new format to supporters, bringing with it the experience of playing Premiership sides and the opportunity to welcome new fans into Championship clubs and assist them to grow new audiences.

Further information on the impact of this to the Premiership Rugby Cup and Championship League season will follow.
Our thoughts firstly go out to the players, backroom and operational staff involved in Jersey Reds following this devasting news.

Jersey RFC Committee are in contact with Jersey Reds board and will update members with further informaton when we can.

— Jersey RFC Women (@JerseyRFCWomen) September 28, 2023
A sad sad day for rugby, our thoughts got out to everyone at Jersey Reds. A terrible day for everyone. https://t.co/ITsoEsFWAG

— London Scottish Rugby (@LSFCOfficial) September 28, 2023
Sports Minister Deputy Lucy Stephenson released a statement saying she is saddened by today's announcement from Jersey Reds, who have been a much-valued addition to island-life.
The previous Government provided extensive financial support to the club, and Jersey Reds also enjoyed significant support during Covid.

With the welfare of players, coaches and their families in mind, in the last three months this Government has twice given Jersey Reds short-term grants totalling £370,000 to provide them with the opportunity to try to find alternative funding sources.

Sadly, their efforts have not been successful.

Government could not commit further money at a time when there so many other demands on the public purse – including responding to the cost-of-living crisis – and in fairness to other sports and businesses in the Island.

The Reds' announcement shows how prudent it was for them to separate the professional and amateur arms of rugby.

Participation in amateur rugby remains strong, and the minis, juniors, and parts of JRFC will continue to thrive. Government will work to ensure that any impact on the amateur game is minimised.
The club is not making any further comment for the time being.