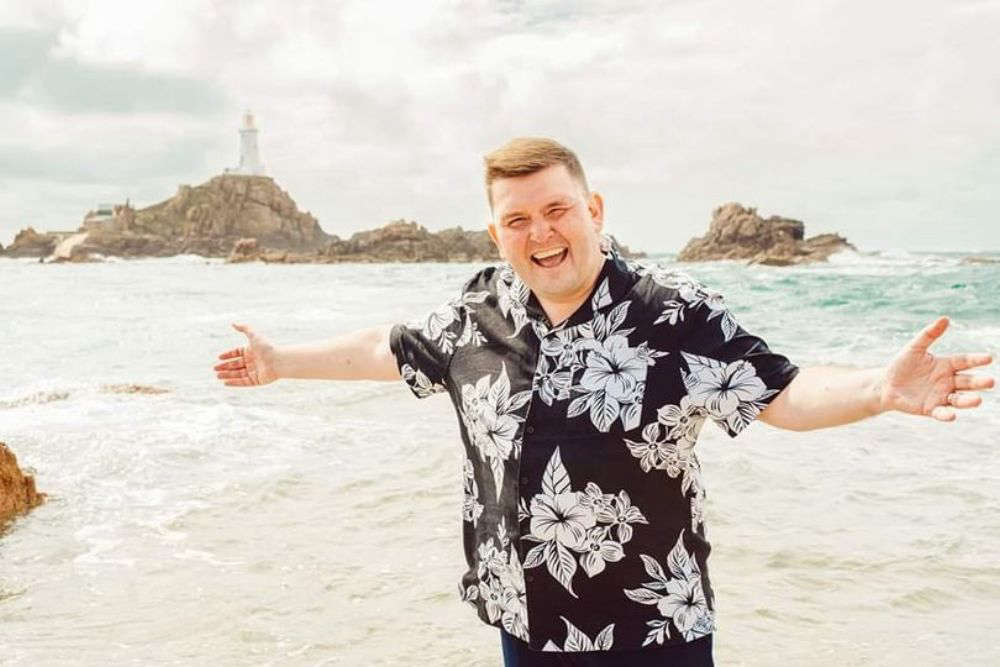 Thousands of people from across the Channel Islands and beyond have been celebrating the life of the late broadcaster Gary Burgess.
He died peacefully at Jersey Hospice Care on New Year's Day, after being diagnosed with terminal cancer two years ago.
Among those leaving tributes were Jersey's Chief Minister, Senator John Le Fondré. He says Gary's courage, wit and good humour were an inspiration to many:
So sorry to hear of the passing of @GaryBurgessCI. His courage, wit and good humour were an inspiration to many. He will be greatly missed, my thoughts are with his family and friends.

— John Le Fondre (@John_Le_Fondre) January 2, 2022
Guernsey's top politician, Deputy Peter Ferbrache, says his contributions to island life will be remembered and talked about for years to come.
His predecessor, Deputy Gavin St Pier, called on islanders to 'be more Burgess' and show some of the same kindness, tolerance and optimism Gary 'carried with ease':
Receiving this news was no less sad for its inevitability. It was an honour to have known Gary and to have called him a friend. Among his many attributes, some - kindness, tolerance and optimism - many of us aspire to show more often but he carried with ease. #bemoreburgess https://t.co/OYEZnU1K5N

— Gavin St Pier 🇬🇬 (@gavinstpier) January 2, 2022
Jersey's External Relations Minister, and ex-Chief Minister, Senator Ian Gorst, was no stranger to being on the receiving end of some of Gary's probing questions. He says he'll be 'missed by us all':
So sorry to hear of the passing of @GaryBurgessCI he will be missed by us all. Even during his suffering he was courageous and gave others hope. Thank you Gary for enriching our lives. My thoughts and prayers are with his family RIP. #bemoreburgess

— Deputy Ian Gorst (@Ian_Gorst) January 2, 2022
Outside of politics, many of Gary's media colleagues - from the Channel Islands and further afield - have paid tribute.
BBC Breakfast editor, Richard Frediani, shared a fond memory of his time working with Gary on ITN's coverage of the 2015 UK General Election:
A fond memory of Gary Burgess was 'playing' politicians as we rehearsed @itvnews coverage of #GE2015 with @AlStewartOBE.
Gary did wonderful impressions of Cameron, Miliband, Clegg and Farage.
A brilliant journalist. A friend to so many. We've lost a good 'un. pic.twitter.com/xGQCuBc2ic

— Richard Frediani (@BBCFrediani) January 2, 2022
Former ITV News At 10 anchor, Alastair Stewart, also said he's sorry to have lost Gary so young:
So sad to read of his death...so young.

— Alastair Stewart (@AlStewartOBE) January 2, 2022
BBC political correspondent and Radio 4 presenter Chris Mason says he recently spoke with Gary and called it 'a life-affirming exchange I'll treasure forever':
Can't stop thinking about Gary, husband Alan&family today. What a guy. A master storyteller to the end: warmth, candour & humour in bucketloads. Loved our chats @BBCGuernsey. We had a life affirming exchange a few days ago that I'll treasure forever.https://t.co/Fwqx4wXxnM

— Chris Mason (@ChrisMasonBBC) January 2, 2022
Susanna Reid, who presents Good Morning Britain, said "my love to his family and friends. I am so sorry for your loss."
Gary's media colleagues from across the Channel Islands also paid respects to a much-loved and inspirational friend:
He lit up the world with his dazzling wit, kindness and positivity in the face of adversity. You knew him as the narrator of our islands, I knew him as my friend. And I will miss my friend enormously. Love you GB. Xxx pic.twitter.com/FUcC7kEVIf

— Jess Dunsdon (@Jessdunsdon) January 2, 2022
We are all devastated by the loss of our dear friend and colleague Gary. Our thoughts and prayers are with Gary's husband Alan and his family. https://t.co/s455TZ5wQm

— Karen Rankine (@KarenRankine) January 2, 2022
Gary, you are one in a million. You were such a mentor for me, you taught me so much about believing in myself and of course, radio which is what you are so passionate about. Thank you for being an inspiration to us all. All my love goes to you, Gary. ❤️ #BeMoreBurgess pic.twitter.com/YbcLsyxRHi

— Darcy Kelly (@DarcyKateKelly) January 2, 2022
This is, without a doubt, the hardest story I've ever had to write.

Gary will be fondly remembered by all of us at Island FM and Channel 103 as not only a terrific broadcaster but a fun, funny and loyal colleague and friend. https://t.co/MiUO0ybZdt

— Alex Watson (@imalexwatson) January 2, 2022
You are a best friend, one of the most important people in my life; and I am really going to miss you @GaryBurgessCI.

Love always. pic.twitter.com/TNcGKRurhk

— Katie Chiang (@KatieChiangITV) January 2, 2022
As a broadcaster & journalist, one of the best in the business.

As a friend and colleague, he always had that natural charm that lit up any room. A nice, kind and warm person that had time for everyone.

Thoughts are with Alan, family and friends.

RIP Gary x https://t.co/x5l5jp5ktD

— Carl Ward (@carlward) January 2, 2022
Gary may be gone, but his legacy very much lives on in the many, many people he inspired. (And continues to inspire)
Thank you for everything @GaryBurgessCI. We carry your baton on x pic.twitter.com/1kWnwITh0M

— Finola Miles (@finolamilesITV) January 2, 2022
thanks for all the fun my friend, your bright spark will never leave those you met, rest easy🤍@GaryBurgessCI pic.twitter.com/O1a6YUZR5J

— Oscar Puffin (@OscarPuffin) January 2, 2022
Macmillan Jersey, which supported Gary over the last few years, says he was a friend, a supporter, a service user and a people's champion:
"First and foremost - we remember Gary Burgess as a man of principle. Someone willing to ask the questions we all wanted answers for, be it as an eloquent and unflappable journalist - spearheading important community issues, or later as someone diagnosed with terminal cancer willing to delve into the difficult conversations one in two of us may come to have in our lifetimes.
"We remember a man whose legacy (amongst others) is campaigning to raise awareness of the help offered to islanders affected by cancer - no matter if directly or indirectly. Gary's stoic, heartfelt and moving blog posts allowed us to follow this difficult journey with him, and having the island's support and well wishes during this time meant a great deal.
"At this time, we want to wish Alan and all of Gary's family and friends our condolences. His smile, laugh and that wonderful sense of humour will be sorely missed."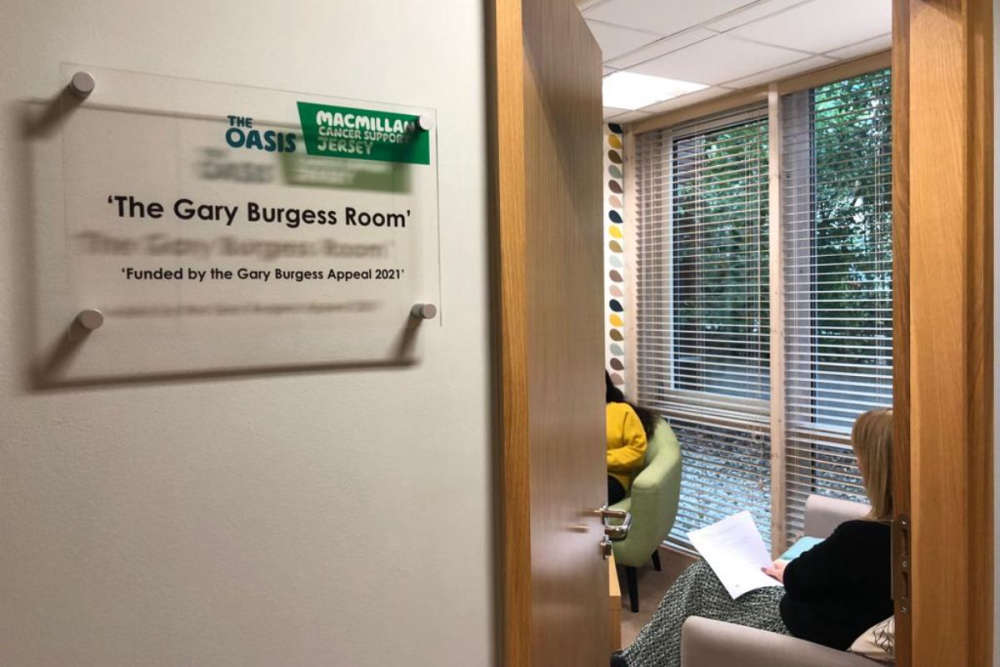 The charity dedicated one of its treatment rooms to Gary, after a fundraiser started in his honour raised more than £30,000
As well as supporting Macmillan, Gary also championed for greater visibility of ME and chronic fatigue syndrome.
We are sorry to hear of Gary's passing and send condolences to his family and friends.

Gary, who suffered with #MECFS as well as cancer, recorded a series of podcasts in collaboration with the @MEAssociation, these can be found here, https://t.co/WXa3SPkPYQ https://t.co/akN6sdepZY

— Science for ME online forum (@s4me_info) January 2, 2022
Such sad news @GaryBurgessCI was a lovely guy and did so much for @MEAssociation #pwME
I still have his podcast on my phone. RIP and our condolences go to Alan and his family. pic.twitter.com/1l90eQMVW3

— Gill💙 (@mecfsmum) January 2, 2022
Very sad news about the passing of Gary Burgess. His podcast the ME Show was superb and he was kind enough to let me use some clips in my videos.

Here is my favourite clip of Gary speaking to Carol Monaghan MP about one of the PACE authors.

He will be greatly missed. RIP. https://t.co/Gu7y82vNh5 pic.twitter.com/idNBTnVWfS

— Adam (@ABrokenBattery) January 2, 2022
Many other islanders and organisations have also been celebrating Gary's life and achievements.
Guernsey's Director of Public Health, Dr Nicola Brink, says he was 'an exceptional man with an exceptional career':
An exceptional man and an exceptional career. Gary will be so missed by many. My thoughts are with Alan and his family. https://t.co/rIbl3cA3j3

— Nicola Brink MBE (@DrNicolaBrink) January 2, 2022
Local performers Nerina Pallot and Georgi Mottram likened him to 'sunshine in human form' and say he showed 'grace, humour and courage' right until the end:
Very sad to hear that @GaryBurgessCI died yesterday. He faced his diagnosis with grace, humour and courage right until the end; humbling and awe inspiring to others. Sending love to his husband and family. XX

— Nerina Pallot (@ladychatterley) January 2, 2022
This man was such a bright light, sunshine in human form. Sleep well @GaryBurgessCI 🕊 Sending my thoughts and prayers to his soulmate Alan x pic.twitter.com/5E0hRZpqLW

— Georgi Mottram (@GeorgiMottram) January 2, 2022
Sarah Hague, the headteacher at Jersey's Les Quennevais School, says he was an 'inspirational role model' who left a great legacy:
Very sad to hear reports that @GaryBurgessCI has left us.What an inspiring role model he has been & what a great legacy he has left. A great supporter & voice for the need for our new school,he sadly never got to see it for himself.Thoughts are with all those who loved him. https://t.co/7rl9m9RvY7

— Les Quennevais Sch (@LesQuennevaisSc) January 2, 2022
Thousands more tributes have been paid to Gary since the news of his death was announced yesterday.