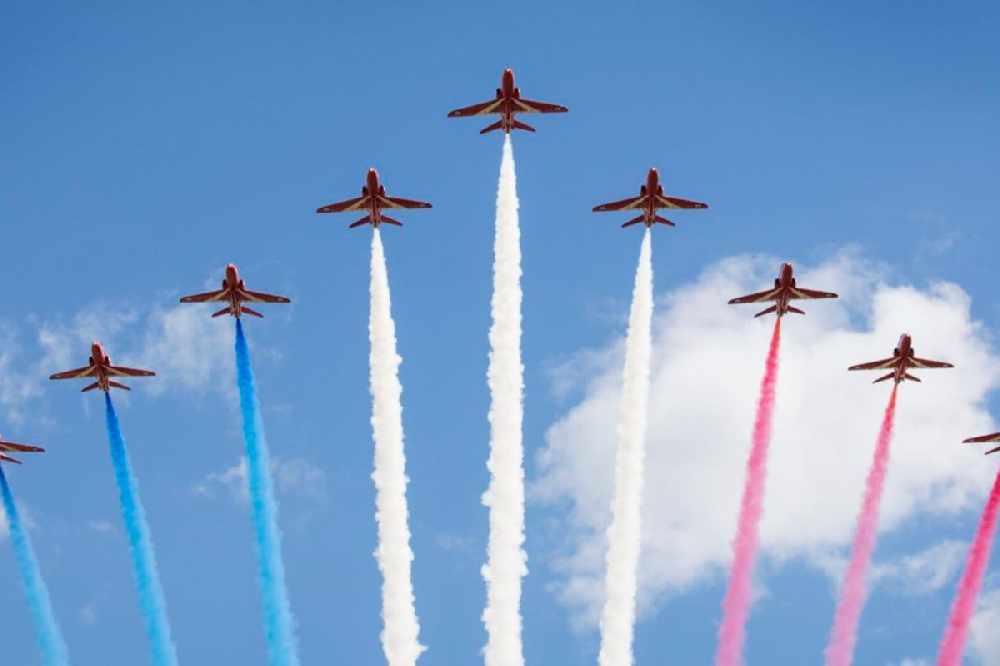 Guernsey's air show is back, with the RAF Red Arrows among the aircraft scheduled to fly over the Bailiwick.
Many islanders will be headed to St Peter Port to get good views of the different displays along the coast to the north and south of town.
A full schedule of aircraft are taking to the island's skies. The timetable is subject to change, but is currently:
11.05am The Blades
11.22am P8 Poseidon
11.32am RAF Chinook
11.49am RAF Typhoon
12.00pm Muscle Biplane
12.14pm Spitfire
12.30pm The Starlings
12.47pm RAF Red Arrows
Due to forecasted conditions, the Battle of Britain Memorial Flight will no longer be part of the line up.

Air Display Director Barry Neal has been telling Island FM where the best views will be and how people can get involved.
"Obviously, St Peter Port itself and along the coast to the north and south of St Peter Port - they will be the best opportunities to see the display. But if they truly want to get involved, then there are several methods of becoming friends of the Guernsey Air Display.
"We all know, from a public perspective, the Red Arrows are the ones they want to see. They're already in Jersey."
Mr Neal is asking islanders not to fly drones today.
"One thing I would put out strongly is if there is any drone activity at all anywhere within the Bailiwick, then I have no alternative but to suspend the Air Display immediately."