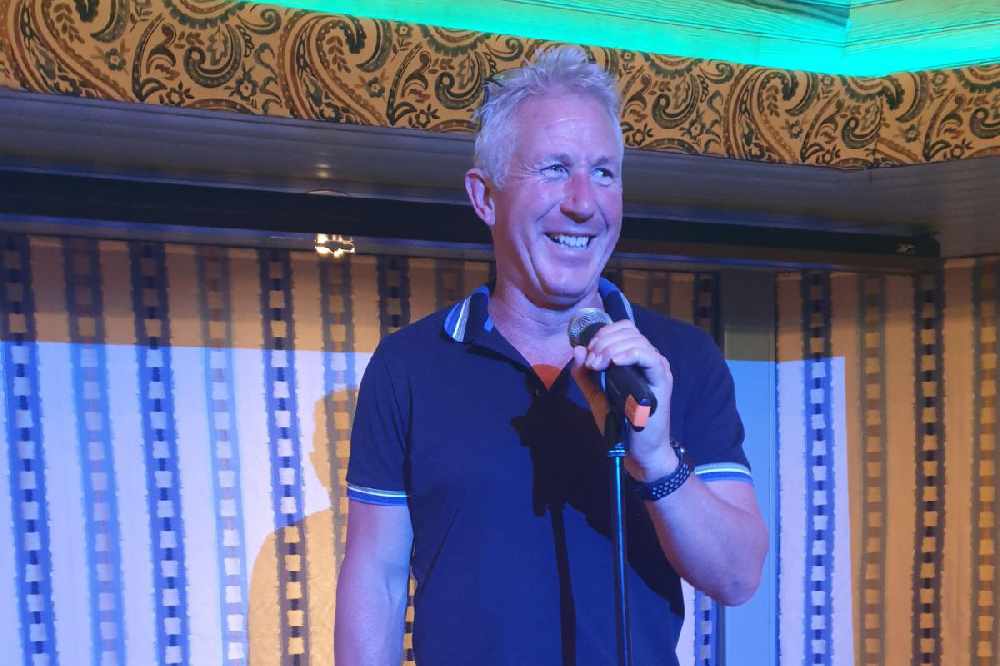 Tennis coach Andy Privett performing at the Big Word of Mouth event.
Tennis coach Andy Privett was voted best storyteller at last night's Big Word Of Mouth event at the Rocquettes Hotel.
Andy's tale of being roped into a male performance troupe and having to do a balloon dance in front of a large crowd of women armed with peashooters while wearing wellington boots, a top hat and very little else, drew roars of laughter from the 70-strong crowd.
Several other speakers, including renowned local musician, GADOC chairman Dennis Burns, and leader of the Hope Choir Jill Chadwick, entertained the audience with stories that ranged from the beguiling to the unbelievable, raising nearly £1,000 for charity Guernsey Mind in the process.
Organiser, fitness instructor Paula Kontelj, who has helped run similar events in her home town of Geelong in Australia, says she was impressed by the standard of story-telling and delighted with the feedback from the audience.
'It does take a certain amount of courage to get up in front of a room full of people and speak openly and honestly about a subject, which this year focused on them telling the naked truth about what ever subject they wished.
'I've realised since moving to Guernsey that islanders love a good tale and have plenty of stories to tell themselves, and they tell them brilliantly, with great warmth and candour. It's very refreshing and extremely entertaining.'
Andy will celebrate his win with a gin-tasting, meal for two and overnight stay at the Bella Luce Hotel.