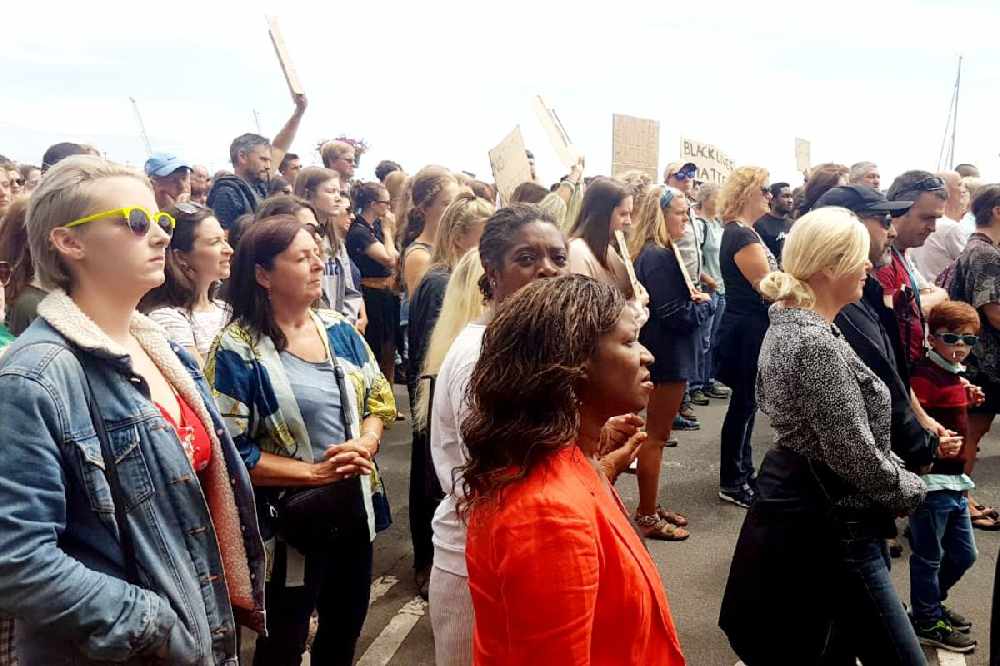 Hundreds of islanders gather on the St Peter Port seafront to support international movement.
The sun came out on a large gathering of islanders today (20 June 2020) who were showing their support for an international campaign that has seen protests all over the world. The Black Lives Matter protest was intended to take place a week ago but organisers agreed to move the event so that it could take place in phase 5 of our exit from lockdown.
With no restrictions on the size of gatherings or on social distancing islanders came out in force along the St Peter Port quay armed with placards supporting the movement.
Many speakers took to the stage to talk about their experiences of discrimination. Some grew up in Guernsey while some came from London or South Africa and have moved to the island. All of them expressed their pride at seeing such a large turn-out.
Deputy Emily McSwiggan, a long-time champion for the introduction of anti-discrimination laws in the island, gave the crowd a short history lesson on the years of trying to get make progress. She said she was thrilled to see such obvious support:
"This is saying we stand together until everyone is equal within the law. But forgive me if I have sounded jaded, I am a little because I have been doing this work for 10 years.... and for most of those 10 years it has been like pushing water up hill, faced with the combined indifference or active resistance of bureaucrats, politicians or business people.
"You need to know that because we have a moment now. But if this moment does not become a movement everything that we gain here will be lost again. It is great that men in power are suddenly waking up to injustice recognising that things need to change, and for some people that is a truth that will sink into their bones and change the way they act forever but for others it's a passing fashion, because the moment you stop caring is the moment they will go back to something more comfortable."
The Chief Minister Deputy Gavin St Pier also took to the microphone describing himself as a white, middle aged, middle-class, privately educated, married man who had not faced any discrimination in his life. He urged those present to sign-up to vote at the next election or stand themselves to ensure that change would be forthcoming.
"We need to recognise that Guernsey is at a crossroads. We have the opportunity for step change or we can carry on with mediocrity and incremental change. You need to rise up through the ballot box. You need to go home now, go on line and register to vote and some of you need to stand for election. You need to organise yourself to represent your values and behaviours to deliver the vision you have to make Guernsey the happiest and healthiest place to live.'