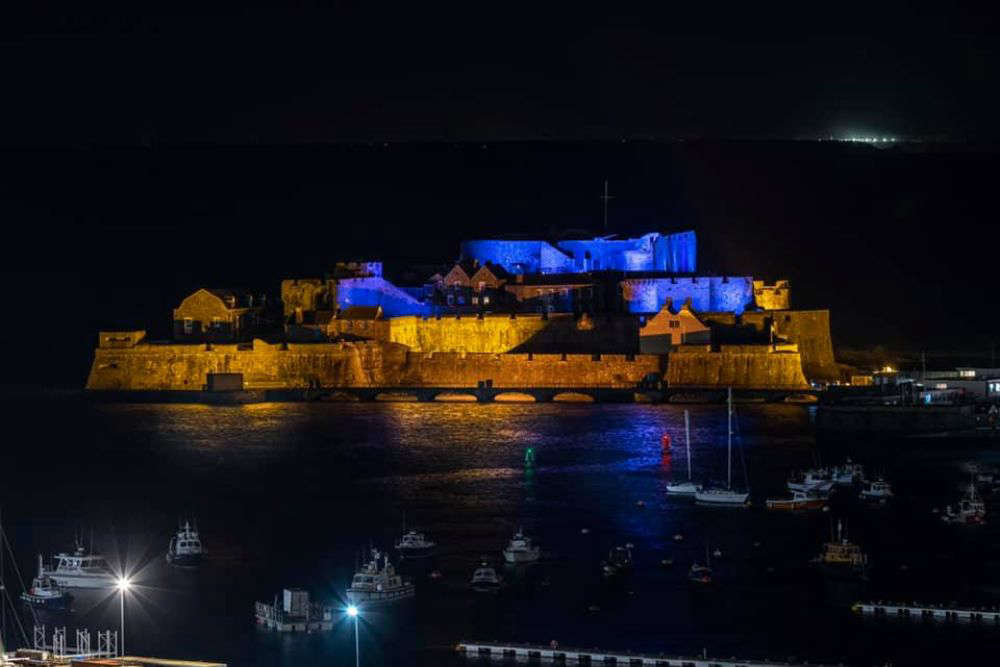 Credit: Chris George
Guernsey's Castle Cornet has been lit in the colours of the Ukrainian flag.
The landmark has been illuminated in blue and yellow to show support for those caught up in the ongoing conflict.
The Ukrainian flag is also flying from the Weighbridge roundabout mast.
Chief Minister Deputy Peter Ferbrache says the gestures demonstrate the island's strength of feeling about the current situation.
"I have been off-island recently and it is clear that the way our community feels about the terrible circumstances faced by the Ukrainian people mirrors the condemnation from nations around the world.
But what has always stood our community apart is the
desire and commitment to take positive action and offer tangible support to those in need.
This is evidenced by the positive response from islanders to our Committee's commitment of £500,000 on behalf of the people of Guernsey and Alderney to support those in need in Ukraine.
We know lots of people want to give in their own right too so I'm delighted that the Bailiff has launched a fund to support this aim.
As a further sign of our solidarity with the people of Ukraine, we have tonight (Friday) lit up Castle Cornet in their national colours. We are also flying the Ukraine flag at the Weighbridge roundabout.

These may be symbolic gestures but they make very clear where this island stands on such an important international issue."
Guernsey's Bailiff has opened a Disaster Relief Fund for the country, while a Polish cafe owner in St Peter Port has begun an appeal for clothing and toiletries.