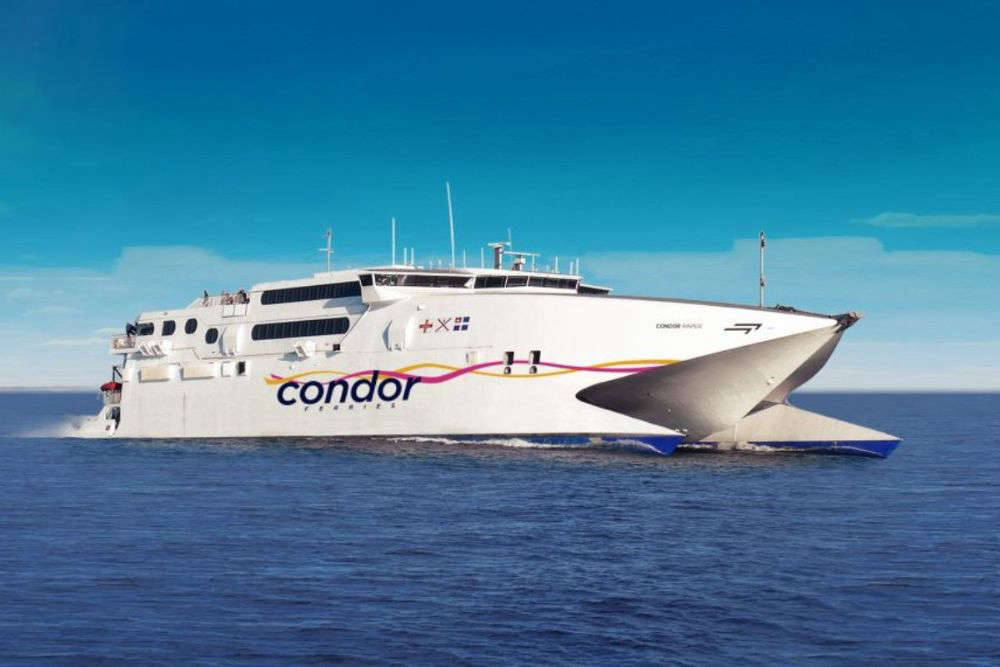 Credit: Condor Ferries
Condor's Rapide has been sold following the arrival of its replacement, Condor Voyager.
After 11 years' service sailing between the islands, the UK and France, Condor Rapide will start a new life in Spain for another ferry company there.
Trasmapi Fast Ferry Ibiza Formentera announced the acquisition of the catamaran to its fleet, serving the Balearic islands,
Condor's Operations Director Elwyn Dop says the replacement of their older vessels is ongoing.
"Condor Rapide was the next vessel to be changed as part of our rolling fleet replacement programme. After many years of good service it was time to replace her, so the much larger Voyager will significantly increase capacity on our key routes and this change demonstrates our commitment to the Islands."
The Rapide made its final journey in the English Channel from Poole on 7 July on its way to Spain.
The much larger Voyager - on lease from Brittany Ferries - has taken over the Rapide's duties with increased capacity, following completion of sea and port trials.
The Voyager and Liberation are operating direct services between the UK and Guernsey and Jersey up to five days a week during the summer period.
The ferry firm says that it has boosted seat and car capacity by 40% compared to previous years.
"We wanted to take the opportunity whilst it was available. The ship is very smooth and quiet with large, light open spaces and offers a significantly greater passenger and vehicle capacity than our other high speed craft.
"Her top speed is also higher and will reduce crossing times on the routes she operates. With any change of vessel, there are things to learn about and improve and we will be looking at various options and modifications in the future but we view her introduction as a positive step for ourselves and the Islands."
Voyager is based in St Malo from where she is operating to Jersey, Guernsey and the UK.