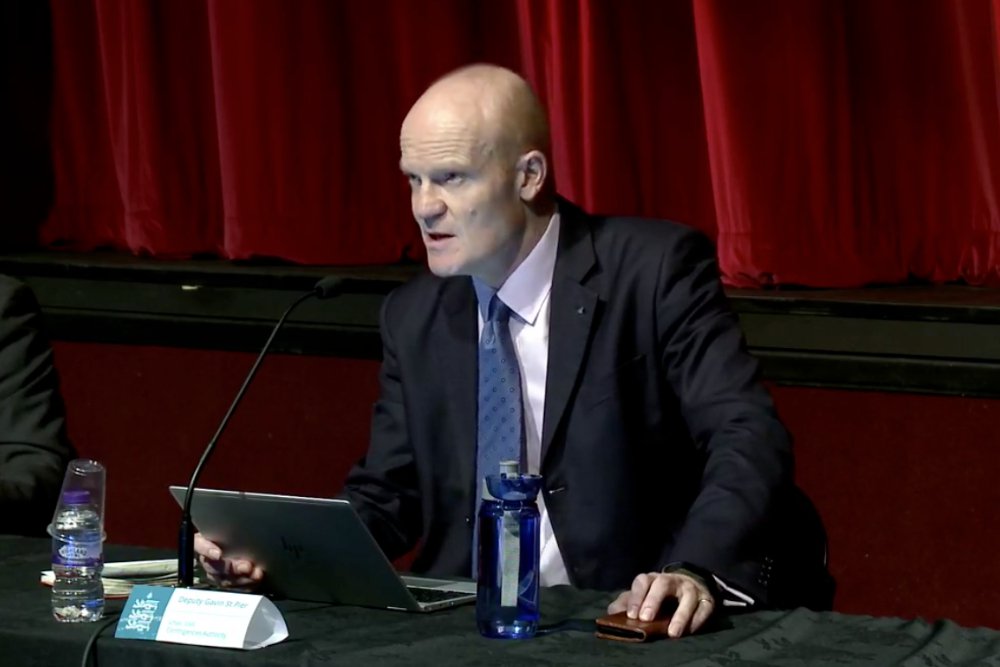 Deputy Gavin St Pier announcing the changes
Guernsey is set to move to Phase 5c of its lockdown exit on Monday 26 October, but it has been changed heavily from previously-announced plans because of rising coronavirus rates elsewhere.
The Civil Contingencies Authority says it is reacting to infection rates in all of the Bailiwick's neighbouring jurisdictions and around the world.
The previous model of 5c would have introduced arrivals testing and meant inbound travellers from Group B countries would not have to self-isolate beyond getting a first negative result.
That has been reviewed on the basis that Covid-19 rates have risen considerably in the UK and the trend is unlikely to reverse in the short term.
Phase 5c will now see testing on arrival for the 'vast majority' of arriving passengers.
"While the model allows for more resticted travel in principle for places that meet the right criteria, at the current moment none of the places where we have direct travel links actually meet those criteria. It's really important to stress this point to the many people who may be concerned that we may be relaxing our borders at a time when the world around us is relaxing its borders - we are not, we are absolutely not doing that. Based on the current prevalence rates arrivals from the UK, from France and from Jersey will all need to self-isolate for an absolute minimum of seven days and in the majority of cases for 14 days." - Deputy Gavin St Pier
Group A,B and C countries are being replaced with Categories 1-4.
Category 1 – will be for countries and regions where there is no requirement for any travel restrictions, as is the case currently for only the Isle of Man.
Category 2 will introduce a category where arrivals coming from countries with a low prevalence of COVID-19 cases (between 0 and 30 cases per 100,000 of population) can enter Guernsey and, provided they take a test on arrival, they would only be required to self-isolate until they receive an initial negative result. Once that negative result is confirmed, they will then come under rules for 'enhanced passive follow-up*'.
Categories 3 and 4 passengers will also be tested on arrival, but in most respect they will be similar to our current Group B and A countries, where there will be a requirement for arrivals to self-isolate for 7 or 14 days respectively.
The CCA says there are currently no jurisdictions with direct links to Guernsey that would meet the criteria for Category 2.
Final dry-run testing is underway, with the intention of Phase 5c taking effect on 26 October.
"With cases rising around us, there's no doubt that the risk to our community increases. There is no way to be completely risk-free, but certainly now is not the time to lower our defences. The revisions to phase 5c maintain similar restrictions for arrivals as are in place now, and add testing on arrival as yet a further measure to our contact tracing capability, which is key to ensuring cases do not spread within our community.
We want this model to be one that is sustainable and will see us through the coming months, and so we have sought to build into it a sensible way for allowing less restrictive travel from low-risk destinations for if and when cases begin to come down to much lower levels, knowing that none of our neighbours fall into that category right now, but will do at some stage. Reducing those restrictions for travel very much remains our intention but only when it is safe to do so." - Deputy Gavin St Pier .