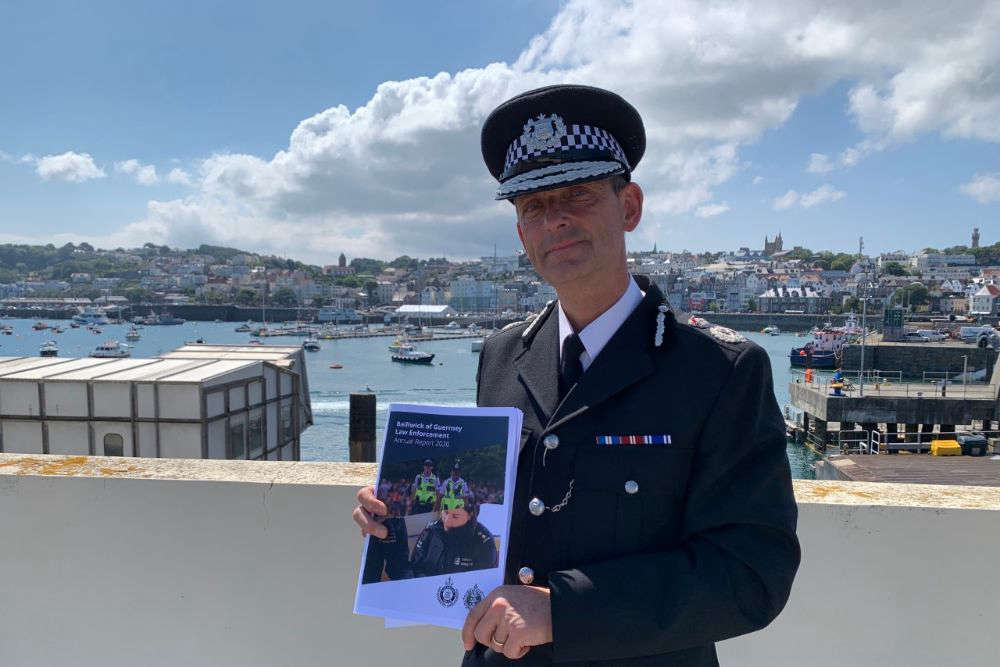 Levels of crime in Guernsey and Alderney have dropped, with 2,122 offences recorded by police in 2020.
Latest figures, published in the Bailiwick Law Enforcement annual report, show a slight reduction in crime from 2019.
Head of Law Enforcement Ruari Hardy says it is possible that coronavirus lockdowns led to a fall in the overall number of crimes.
However, the pandemic is also thought to be responsible for a big rise in domestic abuse - with reports up by more than three quarters.
A fifth of all crimes were incidents of criminal damage (400), while assaults were the most common type of offence committed last year.
"We understand that criminal damage has an impact on communities more generally because it is a frustrating crime and a difficult crime to detect. Assaults, particularly linked to domestic abuse and linked to the night-time economy which is often driven by alcohol-related problems, they are a major concern for us.
We do work really hard to work in the space of domestic abuse and domestic violence, working with our partner agencies to reduce that level of offending. Also, in terms of the night-time economy, it's the same – we try to have a visible police presence.
When it comes to other crimes, we've obviously seen an increase in levels of drug offending. That is down to really proactive and targeted work, particularly by the Guernsey Border Agency."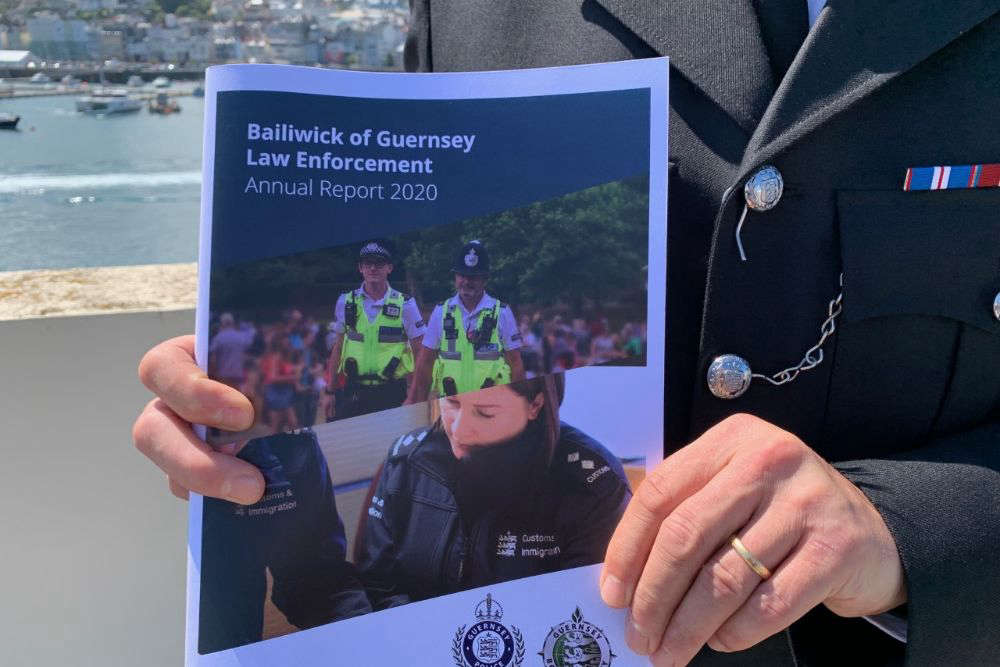 Policing the Pandemic
Throughout 2020, the police in both Guernsey and Alderney were involved in enforcing coronavirus rules, policing unlawful social gatherings and people breaking self-isolation regulations.
The Guernsey Border Agency was tasked with monitoring and enforcing entry rules and restrictions and taking on the duties of collecting personal information from arrivals and serving the legal paperwork required for those who had to self-isolate.
Officers investigated 32 reports of Covid-19 restrictions being breached. There were 13 prosecutions and another is still pending.
Fines totalling £83,000 were served on those found to have breached coronavirus rules.
Domestic Violence
Call-outs to domestic disturbances shot up by 77% compared to 2019.
Police Chief Ruari Hardy says this is, in part, because of lockdowns and people being at home more often.
"From an organisational point of view, we coped very well. There was never an issue where we couldn't respond. There were always staff available to deal with these types of incidents.
We do a lot of training and we work with a lot of other third sector agencies in the area of domestic abuse about identifying it, making the right referrals and trying to prevent situations escalating.
From a broader perspective, it is a problem that society has to come to terms with. It is about education, it is about people recognising their behaviours and how their behaviours impact on others."
533 cases of common assault against an adult, and 100 against a child were recorded last year.
Drugs
The Guernsey Border Agency seized £1.8 million in drugs during 2020, with cannabis resin being the most commonly-recovered substance.
In one incident in January last year, border agents uncovered more than 40kg of cannabis resin hidden in the boot of a car travelling to the UK from Guernsey.
The male driver of the vehicle was arrested, prosecuted and sentenced to six and a half years in prison.
In another case, two men were each jailed for six years and nine months for importing 9.6kg of the drug.
"Drugs will remain a huge priority. Drugs do huge harm to our communities and we know that it leads to organised crime. It leads people using drugs to make money out of others individuals who are less fortunate. This sometimes leads on to violence between individual users or dealers. It leads to mental health issues and huge health problems in our community. Sometimes abuse of drugs leads to the death of some in our community – particularly Class A drugs.
"The drugs market is driven by organised crime. They are people who seek to make vast amounts of money out of other individuals' misfortune. That will always be a key focus for law enforcement to stop that illegal activity. Particularly at our borders, we've seen some superb work in terms of intercepting the importation of commercial amounts of drugs." – Ruari Hardy, Head of Bailiwick Law Enforcement
Fraud
Instances of fraud were less prevalent, with 20 fewer investigations in 2020 compared to the previous year.
Mr Hardy says just because the number is lower, it doesn't mean less fraud is occurring:
"Some of these offences involving international money laundering. They do take a significant amount of time and resources to investigate, so there may be some offences that were reported in 2020 that have yet to be concluded in terms of investigation."