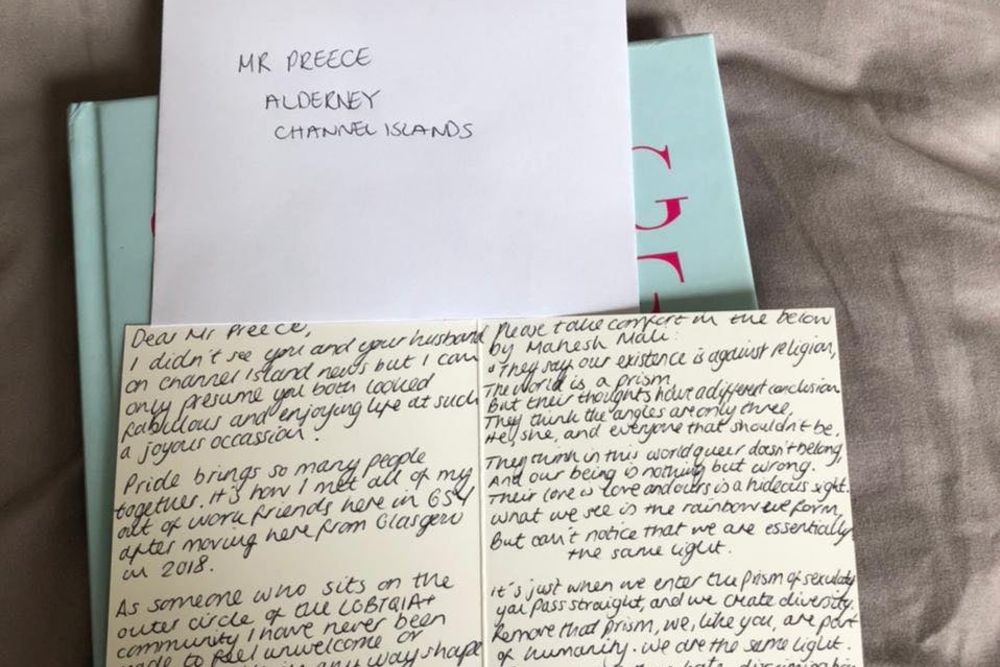 One of the letters of support from Liberate
Liberate is rallying support from Channel Islanders for an Alderney couple who received an anonymous homophobic letter.
The equality charity has expressed its outrage at the handwritten letter sent to Dits Preece following Alderney Pride.
Mr Preece, who married his partner Allen Jones in 2018 in Alderney's first same-sex marriage, shared the note he'd received on social media.
Mr Preece called the writer 'pathetic' and 'narrow-minded'.
Liberate called the correspondence 'horrible' and said it shows why Pride is so important, and that people need to challenge homophobic attitudes whenever they come across them.
Ellie Jones from the charity has been telling Island FM about the initiative.
"So, we shared it on our social media channel and one of our team came up with the idea of writing another letter to Mr Preece to show the outpouring of love and support that actually exists across the globe, not just the island itself.
Its members have been writing to Mr Preece 'to show him and his husband how many people are supportive and are not homophobic
' and are asking Channel Islanders to join them 'to show that love outweighs hate by a landslide!'
"We're encouraging people to send a letter to 'Dear Mr Preece' and just asking people to outweigh hate with love and hopefully an avalanche of letters will arrive on his doorstep."
Guernsey Post has provided a free postal address:
Mr Preece
Freepost
Alderney
GY9 3XD
Liberate hopes to get letters from across the world, and is also asking people to share their letters and selfies on social media using #DrMrPreece.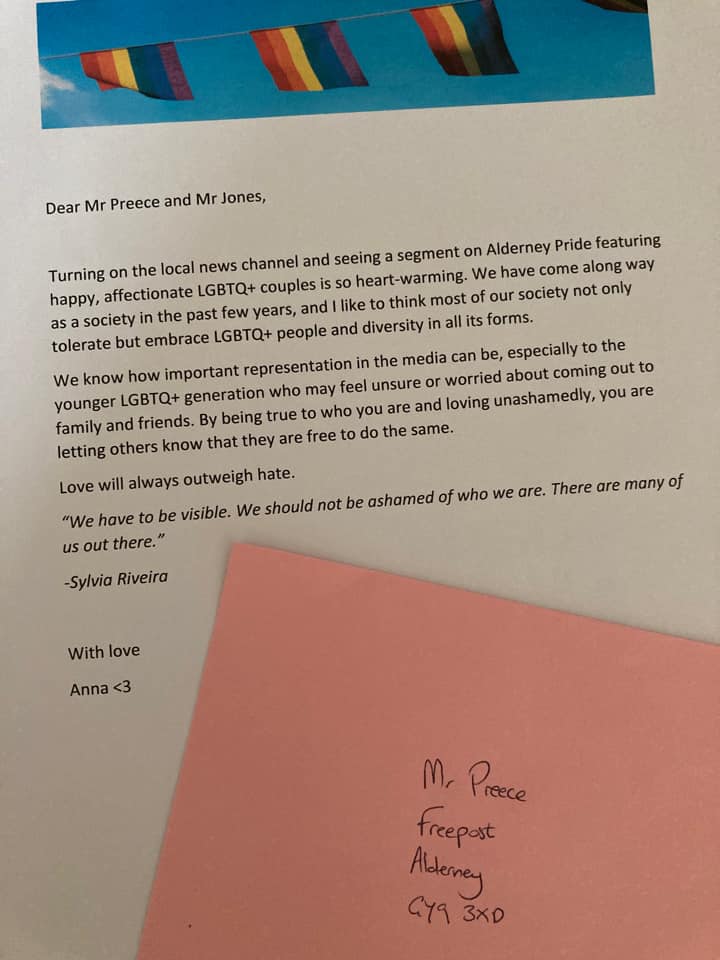 #DearMrPreece my card will be in a postbox tomorrow pic.twitter.com/4XXPl1oC3m

— Fiona Pizzey 💙 (she/her) (@FionaPizzey) June 26, 2021
#DearMrPreece Ignore the cowardly actions of this person. I feel sorry for their grandson growing up in a hate filled house. Love trumps hate every time.

— Chris (@Summerlightning) June 28, 2021