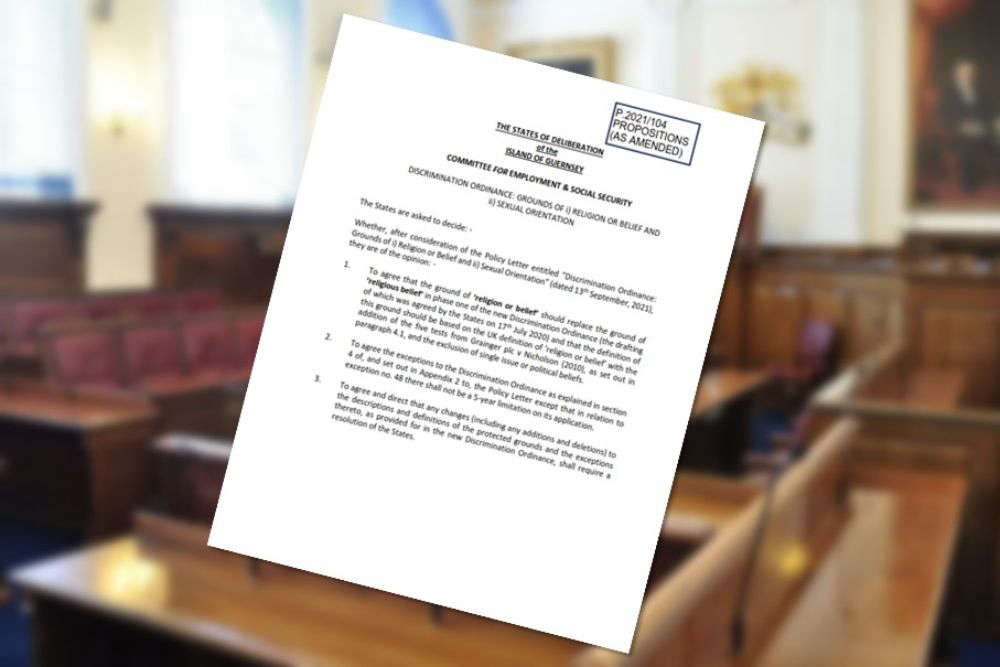 Guernsey's politicians have voted to protect 'religious beliefs' in new anti-discrimination legislation - but not secular views.
The majority of deputies have voted against the proposal to change the term 'religious belief' to 'religion or belief', as it is in the UK, in upcoming anti-discrimination legislation.
It means that the beliefs of non-religious people will not be protected under the law in Guernsey when it takes effect next year.
The States of Deliberation has been focusing on the sexual orientation and religious sections of the proposals. The full legislation will also cover race, disability and carer status.
All of the proposed exemptions to these law changes have been approved.
They include:
Letting religious schools alter religious education to reflect their values
Allowing religion to be considered for roles that involve religion eg. ministers
Allowing religious groups to reserve goods and services for people of their religion
Allowing religious groups to discriminate based on religion when letting properties like church halls
Letting religious groups choose members based on religion
Unlike in the UK and the Isle of Man, Guernsey will not provide exceptions to religious organisations to allow them to consider sexuality when employing people.
Proposition 3 was voted on by recorded vote and it was carried. The recorded votes will be published later.

Propositions 2 and 3 were carried. pic.twitter.com/rBOyTA81BD

— States of Guernsey (@Govgg) November 4, 2021
On the second day of debate, Employment and Social Security Committee President Deputy Peter Roffey urged other deputies to vote in favour of the proposals, saying that those with disabilities - in particular - have been waiting on this legislation.
"Pass these proposals, move it forward. You can make any amendments when the legislation comes back you want next year but simply voting these proposals down would actually put back the day they've been waiting for even longer.
He also called criticism from some colleagues that there has not been enough consultation 'balderdash!'
I can't remember an issue in which there was a more massive consultation or engagement than over this one. We had over 1,000 responses from the community throughout our consultation exercise - meeting repeatedly with business groups, with civil society groups, with legal practices to talk about this."
The full draft legislation will be presented in 2022.
Any other changes to it will have to be approved in the States.
Once passed, it will take effect in last quarter of the year following businesses, employers and service providers receiving training.