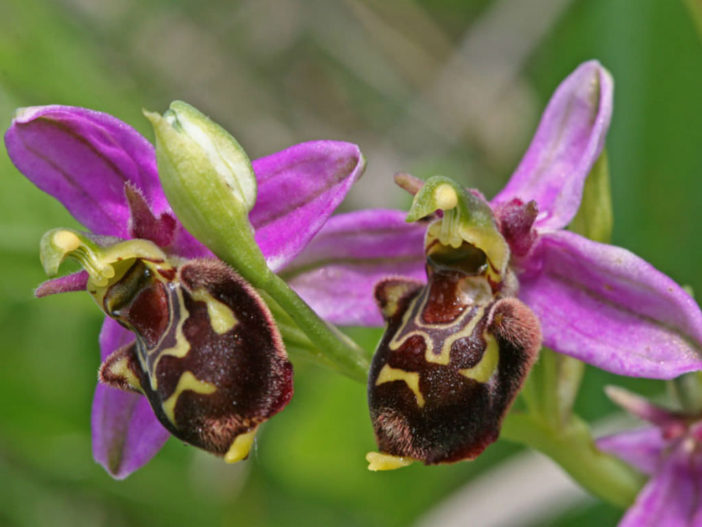 Pic courtesy of worldoffloweringplants.com
Sensitive management pays off as bee orchids bloom at St Germain Nature Reserve in the Castel for the first time.
A swathe of bee orchids have bloomed at St Germain Nature Reserve for the first time since its establishment 20 years ago.
St Germain has had an industrial past – it was first quarried for stone in 1639 and it was still actively worked up to the 1940s. During the 1990s, the site was used as a landfill site for inert waste. When full, in 1996, the site was sensitively converted to a 'hougue' (a hill) and has been managed as a nature reserve by Agriculture, Countryside & Land Management Services ever since.
First opened to the public in 2006, the site includes a wooded nature trail and a large grassland plateau with wooded boundaries offering views across the west coast. An area on the western side of the plateau, known as 'the butterfly slope', is being managed to encourage native wildflowers for butterflies and other important pollinators.
Five species of butterflies are known to breed in the reserve: common blue, holly blue, speckled wood, meadow brown and gatekeeper. But this year, the butterfly slope is home to a fantastic display of bee orchids. They are a rare species in Guernsey, restricted to only four known sites.
Bee orchids have a clever trick to make sure they're pollinated – their flowers mimic a female bee which fools male bees into flying into their flowers to try and mate. In doing so they 'accidentally' pollinate the orchid.
These bee orchids will be in flower for the next week or so and are well worth a visit. Andrew McCutcheon, Principal Environmental Services Officer commented: "The presence of bee orchids adds to the biodiversity that we all already enjoy at St Germain. This nature reserve, like many others, takes time to develop and flourish but our patience is paying off. At the same time it underlines the importance of taking a long term approach to conserving our biodiversity."
Julia Henney, Biodiversity Officer commented: "St Germain was once a landfill site and now, with careful management and many years to recover, we can see nature thriving once again. It goes to show that if we can only reduce the pressures on our natural environment and provide sensitive
management, it can recover."