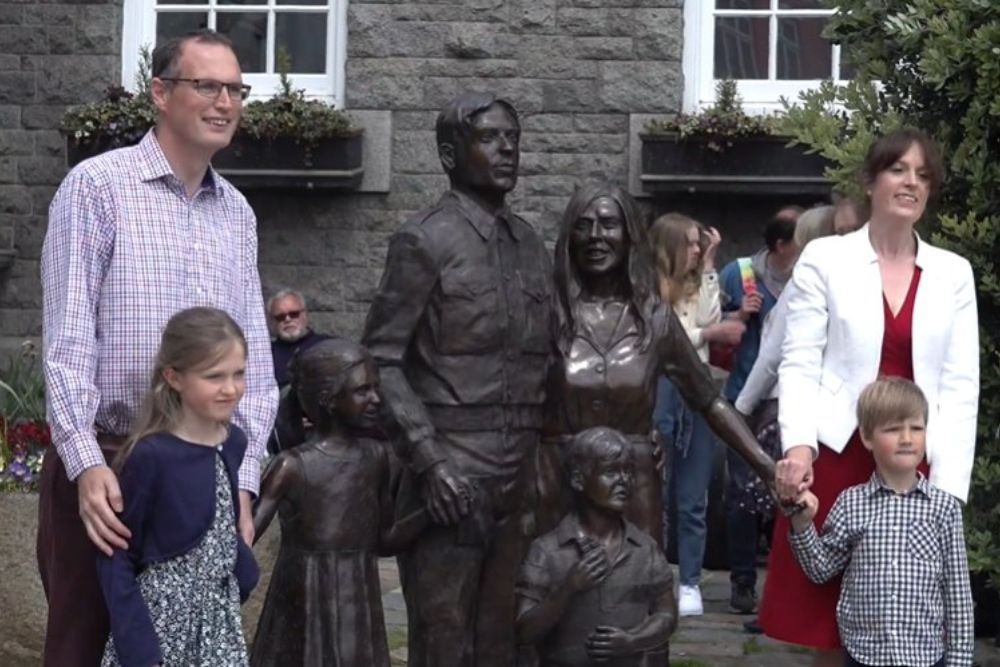 Thousands of people turned out in their parishes to hold Liberation Day celebrations, which included the unveiling of a new statue in town.
The bronze artwork was initially going to be put up last year, to mark the 75th anniversary of the end of Guernsey's Occupation, but COVID-19 restrictions meant it had to be delayed.
The statue depicts a modern family who are dressed up to celebrate Liberation Day.
It was created by College of FE teacher, Mark Cook, who got his students involved in the project too:
"The actual sculpture is entirely my own work but the students were involved in documenting and seeing the whole process. They put together a number of animations and videos and photographs, so it was used as an educational exercise."
Mr Cook was given a brief by Education, Sport & Culture, before being left to his own devices:
"I picked up a pencil and I started doing some sketches and I germinated a concept in my head. Once I'd finalised the sort of idea I was after, I got the models to come in - people to pose for me. They actually push the idea forward as soon as they arrive because they come with their own personalities. So you may think that you want someone to stand in a specific way, but actually when they stand there they might look better in their natural stance."
The sculpture was unveiled by former Bailiff Sir Richard Collas.
Meanwhile, the current Bailiff Richard McMahon laid a wreath at the War Memorial in St Peter Port to mark the day.
Due to ongoing concerns about the spread of Covid-19, local celebrations were unable to take place in town as they usually do. But that didn't stop islanders from celebrating, with lots of events held across the island throughout the day.
It started with the sound of the siren from Victoria Tower in remembrance of those who fought in the Second World War, followed by a two-minute silence.
Celebrations then got underway with a school relay race and road run, and a commemorative service at the Town Church.
Then the cavalcade departed for its tour around the island, where people were waiting outside to wave their flags and cheer the old cars on.
The day was brought to an end with a firework display from Castle Cornet.