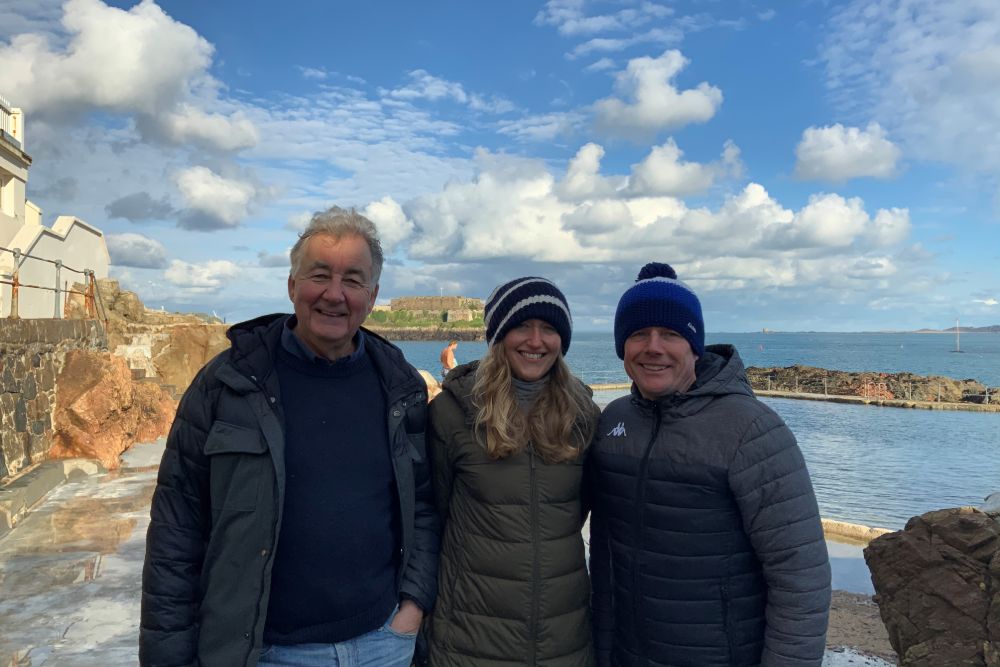 L-R: David Warr, Helen Bonner-Morgan and Steve Sharman from the Vive La Vallette group.
The Vive La Vallette project has received a funding boost of £25,000 from the Guernsey Community Foundation. 
This latest donation means that £900,000 of the £1.5m. needed to complete the project has been raised. It's one of six sites identified as part of the States Seafront Enhancement Area Programme.
Building work starts this month to transform the area, providing a new café, community function space and changing rooms, which are due to be ready by spring 2022.
Jim Roberts, chief executive of the Foundation, says they were keen to support the project:
"The team behind Vive La Vallette showed the Foundation how they intend for the new development to be an asset for the whole community to enjoy, with the new-look building providing accessible space, shelter and facilities for young and old alike. It's well-established that cold water swimming provides huge benefits to an individual's physical and mental wellbeing, and we're pleased to be able to support a project that puts health and happiness at its core."
Since 2019, when Vive La Vallette was announced as the preferred bidder for the first site to be redeveloped under the programme, the charity has completed its negotiations with the States, finalised architectural designs and obtained planning permission. In addition, the States has committed to the long-term maintenance of the ladies' and children's pools.
Helen Bonner-Morgan, Vive La Vallette community lead says: "The pools are a much-loved part of the island's community, with swimmers of all ages getting pleasure from the water throughout the year. In just over a year's time, islanders and visitors will be able to enjoy a brand-new all-access facility 365-days-a-year. We hope that the facilities will become a valuable asset for Guernsey's social and business community, with other charities, clubs, associations, corporates and special interest groups using the space."