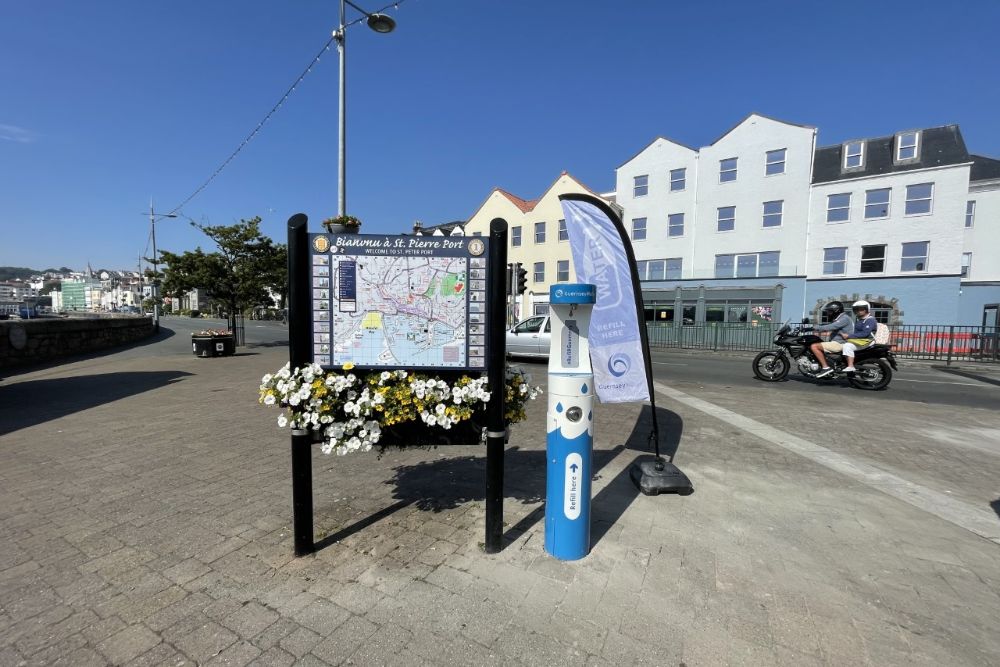 A new permanent water refill station has been unveiled in Guernsey to make it easier for islanders to top up their bottles and cut sales of single-use plastics.
Guernsey Water has installed the refill station at the Liberation Monument in St Peter Port.
It has been unveiled on National Refill Day - a global public awareness campaign aiming to prevent plastic pollution.
Planning permission for the station was granted last year.
The location has been chosen because it is busy with pedestrians. It is hoped it will be popular with town shoppers, visitors and those attending events such as Seafront Sundays.
"People want to make changes to the way they live their lives to reduce their impact on the environment, this is one of many Guernsey Water refill points that makes it easy for people to just that. The difference with this station is that it is permanent, and we will be measuring how much water is used so we can see the amount of plastic waste that is prevented. The stations we have installed so far have been temporary, to support some of the outdoor events that happen across the island each year." - Steve Langlois, Guernsey Water's Managing Director.
The utility has worked with Public Health to ensure the cleanliness of the refill station with a schedule of routine maintenance, cleaning and testing.
Madeleine Norman from Plastic Free Guernsey has welcomed the water station;
"We're proud to be part of this initiative to help reduce the use of single-use plastic bottles on the Island. Every year tons of unnecessary plastic waste is created. Proposals like this will not only help to decrease this, but also allows access to clean safe water for every member of the public at any time of the day."
Refill Guernsey was launched in 2018. There are 63 refill business supporters dotted across the island where people can pop in and full up for free.
Meanwhile, Longis Bay is to be the site of Alderney's new water station.
It's being paid for by the Coastal Fountain Fund hosted by Sea-Changers, a UK based marine conservation charity.
Dr Mel Broadhurst-Allen, from the Alderney Wildlife Trust, says this is another step towards the island being a plastic-free community:
"We really want to reduce out plastic bottle purchases on Alderney, so whilst people are walking around enjoying our coastlines they can carry a bottle and fill up as they go rather than thinking 'oh, I'll just pop to the shop and buy a bottle."
Sadly, something like 70% of urban waste enters the sea - so if we can reduce plastic bottles, that is a good model to use."