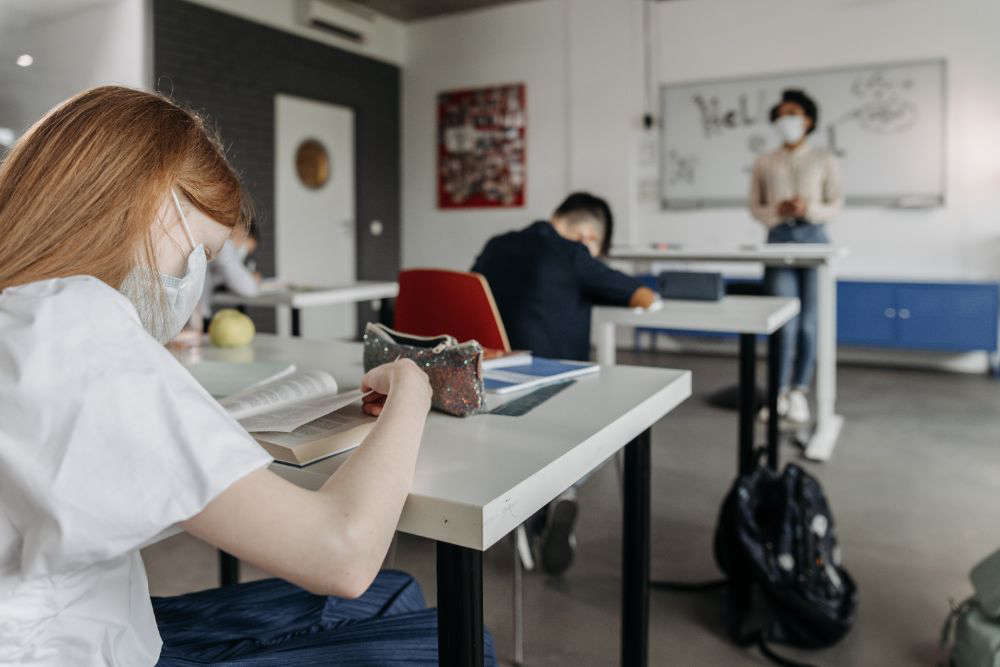 Face masks are no longer required in classrooms in Guernsey's schools. 'Work from home' guidance has been lifted and Covid-19 isolation has been cut to six days.
Children won't be expected to wear a face mask in class from this week (24 January).
They had been 'strongly recommended' in secondary schools and post-16 settings since the beginning of term as part of mitigations to curb the spread of the Omicron coronavirus variant.
They will still need to be worn in communal school areas.
Measures are being eased in response to falling case numbers across the Bailiwick.
Nick Hynes, Director of Education, hopes it helps students and staff return to a more 'normal' education experience,
"I want to thank staff and students for the way they have adhered to the expectation around wearing face coverings in classrooms in recent weeks. In particular, our young people have acted with great maturity and are a credit to the island. At this stage we are maintaining the compulsory wearing of face coverings in communal areas but we hope to be able to relax mitigations further in a stage approach over the coming weeks."
Classroom bubbles were scrapped last week, extra-curricular activities were reintroduced and visits between schools, for example for swimming lessons, were allowed again.
Meanwhile, many people are returning to offices and workplaces today as the government's 'work from home' - reintroduced on 14 December 2021 - has been lifted.
It's expected to provide a boost for Guernsey's retail and hospitality sectors.
Jonathan Creasey from the Guernsey Retail Group told Island FM that shops and restaurants in St Peter Port have missed the footfall at lunchtimes.
In another policy change taking effect from today, the isolation period for people with Covid-19 has been cut from seven days to six.
That is so long as they don't have any symptoms and have tested negative on days 5 and 6.
The Civil Contingencies Authority is meeting this week to discuss how and when to remove remaining Covid-19 measures, which currently still include the mandatory wearing of face masks in indoor public places.
Deputy Peter Ferbrache has said he wants to 'provide the community with as much certainty as possible about our "end game" plans' but that would mean islanders 'continuing to do the right things' to 'live responsibly' with the virus.