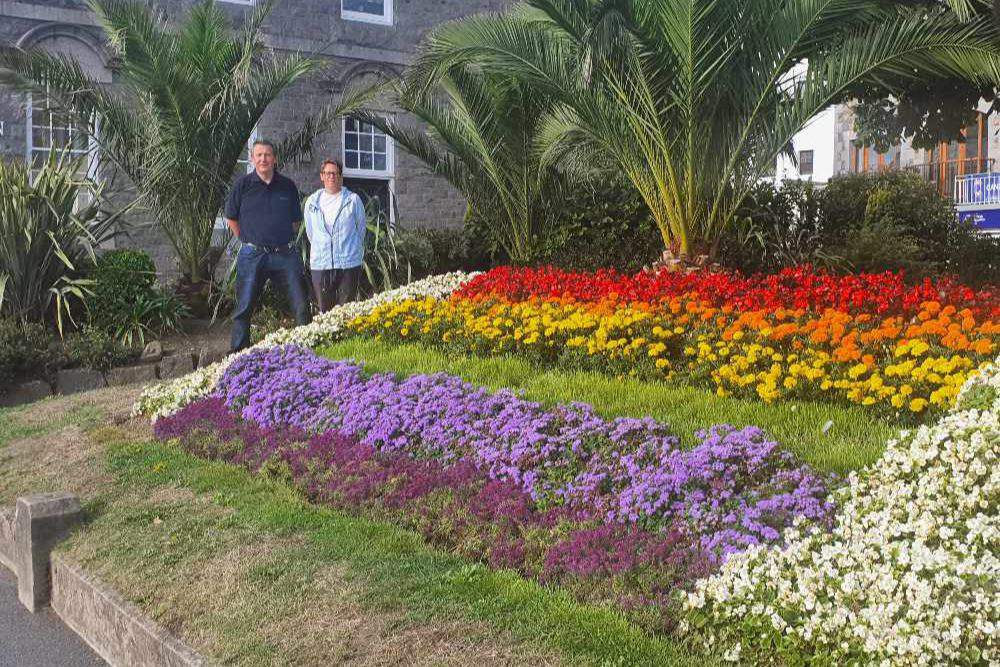 A colourful rainbow carpet bed is in full bloom on North Plantation ahead of Channel Islands Pride 2020.
The beautiful and eye-catching bed of flowers has been planted in a prominent part of St Peter Port to celebrate Channel Islands Pride 2020.
The display, which is next to the Visitor Information Centre on North Esplanade, has been planted and maintained by States Works' Land Management Team.
It was the idea of the team at Liberate Guernsey who, back in the winter months, thought it would be lovely to see the rainbow flag, the symbol used by Pride's across the world, displayed florally in time for Channel Islands Pride 2020 event on Saturday 12 September.
Ellie Jones, Liberate's vice chair – co-ordinator, said: "Each year we try to do something new and unique to catch peoples' attention and start a conversation. One of our team had some contacts in the States and manage to get the request to the right people, and low and behold it has appeared in time.
"The display that's been created is beautiful and sends out such a strong message of Guernsey being inclusive. We are very grateful to the States Works team for putting the display together. The rainbow seems to have become a symbol of 2020 and #GuernseyTogether so it has a dual purpose."
The plants used were Begonia Devil Red, Marigold Bonanza Deep Orange, Marigold Bonanza Yellow, fine green turf, Ageratum F1 Bermuda Blue and Alyssum Wonderland Deep Purple.