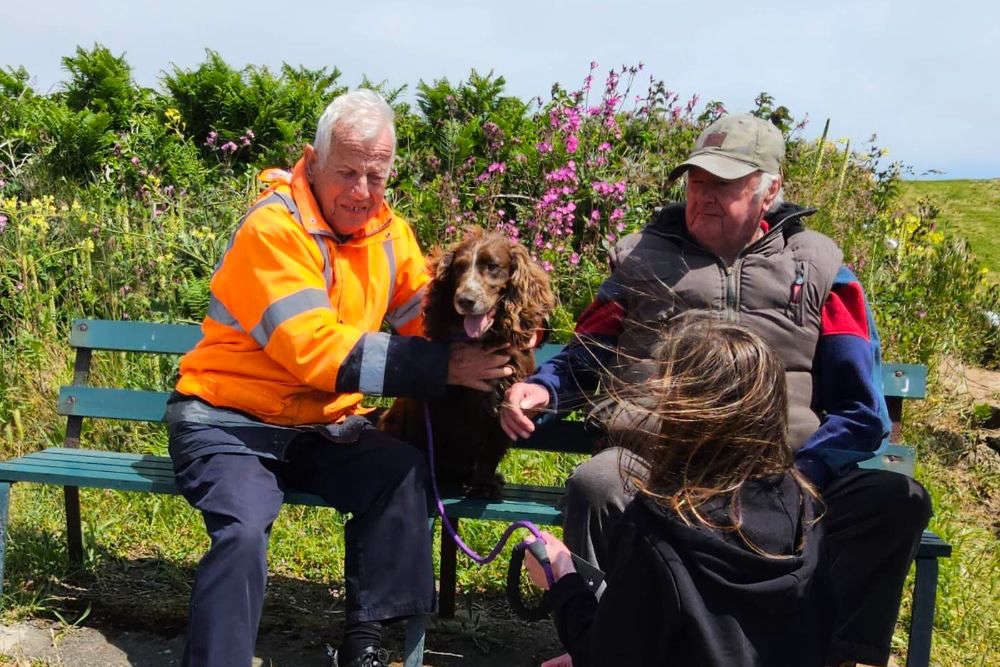 Albie, the cocker spaniel, has been reunited with his family after multiple emergency services searched Guernsey's south coast cliffs.
On Saturday evening (3 June) the GSPCA had a report of a missing dog called Albie.
After kayakers reported seeing a dog on the cliffs between Icart and La Jaonnets bay on Sunday night (4 June), the coastguard went out.
The inshore lifeboat, fire service and cliff rescue team all attempted to search for Albie before daylight was lost.
Plans were made to involve the Channel Islands Airsearch plane which was going out on a training flight around midday.
It before take-off, a report came in from the Icart area that the dog had been located half way down a cliff.
Albie was rescued safely by the cliff rescue team at around 1pm and his owners were nearby.
GSPCA team members Geoff George and Neil Hughes were at the scene.
Steve Byrne GSPCA Manager told Island FM:
"What a worry it was for Albie's owners over the weekend, but thankfully he is now home safe and sound and the owners are delighted.
The owners were overwhelmed. They were just so happy. If you go to our social media (there's) hundreds and hundreds of likes, loves and nice words really showing what a wonderful, caring island we have here in Guernsey for dogs and how happy everybody is to see him safe and sound and back home again."
Here is the moment Albie was brought to safety:
MISSING DOG ALBIE UPDATE – Albie safely rescued and home with his owners https://www.gspca.org.gg/blog/missing-dog-albie-update-%E2%80%93-albie-safely-rescued-and-home-his-owners

Posted by GSPCA, Guernsey SPCA on Monday, June 5, 2023