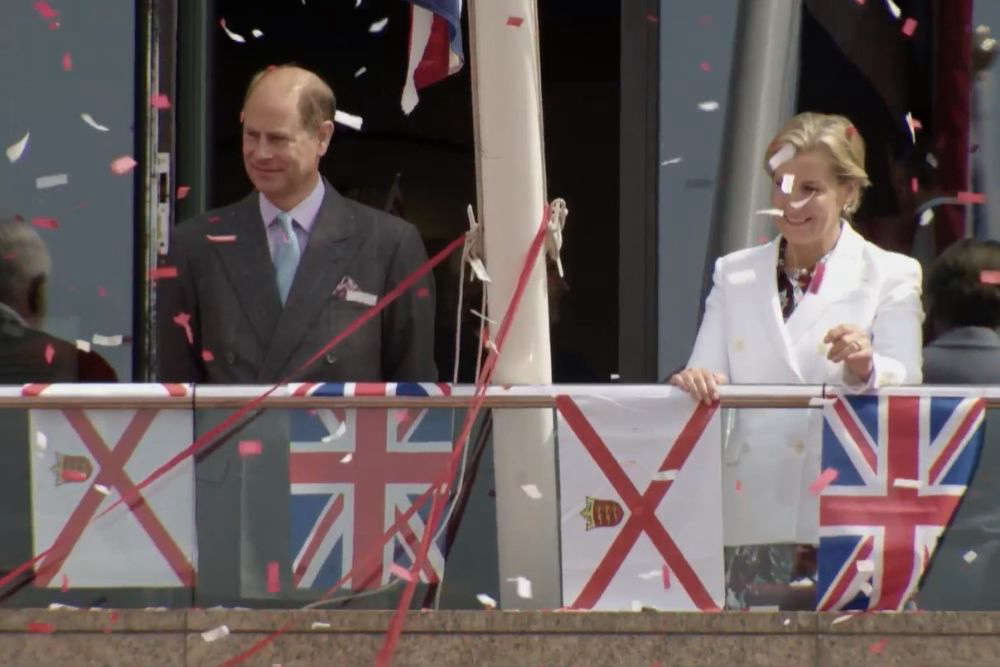 The Earl and Countess of Wessex will visit Alderney and Sark today to wrap up their Royal visit to the Channel Islands as part of the celebrations of both Liberation and the Queen's Platinum Jubilee.
Sophie and Edward arrived in Guernsey from Jersey in time for the Liberation Tea Dance where they met veterans of the Second World War and those who lived through five years of occupation.
👋 Guernsey

The Earl and Countess of Wessex get involved in a special #LiberationDay Tea Dance with some of the Island's Occupation Generation and @RobbieRinder who was leading today's party. pic.twitter.com/JtBgg69DQS

— The Royal Family (@RoyalFamily) May 9, 2022
They spent the remainder of the afternoon at Castle Cornet and the Castle Emplacement, meeting islanders and viewing a number of events, including the 100 strong Liberation Day Cavalcade.
This morning, they are planting a tree at the Forest Primary School to commemorate Her Majesty's Platinum Jubilee.
From there, the Royal Couple travel to Alderney, where they will visit the Alderney wildlife Trust in St Anne and attend a reception at the Island Hall.
They will be taken to the Nunnery at Longis, which is believed to be the oldest Roman building in the Channel Islands. There, the Countess of Wessex will officially "break ground" ahead of a new archaeological dig.
The Alderney Railway platform below Fort Albert has been decorated in a Platinum Jubilee theme and the Royal coupe will take the train from there to the terminus at Braye.
Their final stop will be Sark, where they will present the island's emergency service personnel with a Queen's Platinum Jubilee Medal and meet Sarkees who stayed on the island during the occupation.