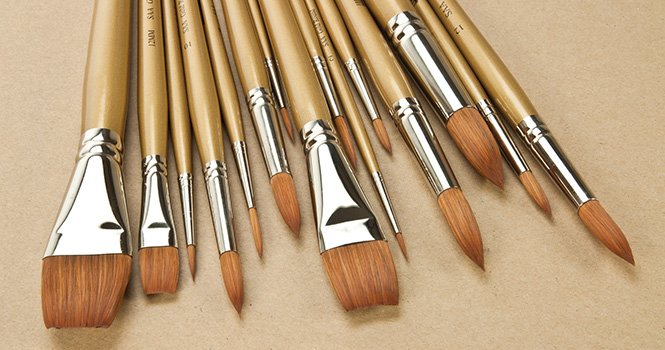 Sarnia Arts & Crafts Club are not letting the Coronavirus get them down.
Despite having to cancel or postpone all their forthcoming meetings for the time being artists are being encouraged to get creative and share their work online through the club's Facebook Page.
Each year the club holds a 'publicity competition' for its members to come up with a design to be used on all the publicity material for their annual Summer Exhibition. This year the theme was 'Liberation' to tie in with the island's 75 years of freedom celebrations. Ironically the competition was to be judged on the very day that the island went into 'Lockdown' so instead of meeting to display their work members submitted their entries
digitally.
This year's judge was St Peter Port Constable and Secretary of the 'Friends of the Priaulx Library' Jenny Tasker. Although she was not able to see the original entries she found that viewing them digitally from the comfort of her own home in fact gave her more time to consider each one although it was still a very difficult decision since all the entries were excellent.
In the end the winner was Maggie Perkins for her Mixed Media entry entitled 'V for Victory'. In second place was Gillie Drake with a watercolour and
acrylic painting entitled 'Liberation' and in third position was Liz Potter with a Pastel Pencil drawing entitled 'Lest we Forget'. All three will receive vouchers from Officepoint Guernsey as prizes and Maggie will have her name engraved on the 'Publicity Competition trophy'.
Usually this would be presented to her at the Summer Exhibition for which her design would be used in all the publicity material produced however sadly, due to the current crisis, a question mark hangs over whether or not there will be an exhibition this year. Watch this space! In the meantime all the entries for the competition together with Jenny's comments on each one can be viewed on the club's Facebook page.
The club was due to have a visit from UK artist Jennie Gaywood later this month however
this has had to be postponed so instead the committee have come up with a new creative
challenge for artists which they are inviting the whole island to take part in.
The club are very keen to keep artists inspired and engaged during this difficult time and will be posting a variety of creative ideas, short 'how-to' videos and mini-challenges on their Facebook Page to inspire and keep you busy throughout these days of isolation so 'like' and share their page in order to join in the fun.
For more information about Sarnia Arts & Crafts Club please see their Facebook Page or contact Liz Potter on 07781 148391